If you love to pamper your skin but don't have the budget to splurge on high-end products, you're in luck!
It's K-Beauty time! There's a good reason why Korean beauty products are so popular in the beauty world. They're not only great, but they're affordable too.
And now, with K-Beauty dupes appearing, you can get some of the ingredients and formulations you'd find in expensive western products for less.
So let's uncover the best K-Beauty dupes for high-end products that work like the real thing but don't cost a fortune.
1. Isntree Hyaluronic Acid Aqua Gel Cream
Dupe for: Clinique Moisture Surge 100H Auto-Replenishing Hydrator ($44)
Price: $7
With Isntree Hyaluronic Acid Aqua Gel Cream, your skin gets hydration without feeling heavy. Quickly absorbs into the skin and is a god-sent for oily skin. 
The Clinique Hydrator delivers 100 hours of lasting moisture through an oil-free, gel-based formula that penetrates deeply into the skin. A dewy, plump complexion is guaranteed with this product.
What's common?
Rich in hyaluronic acid.
Contains Aloe vera as a key ingredient.  
Provides long-lasting hydration. 
Enhances skin's plumpness and hydration.
Lightweight, non-sticky formula.
Absorbs quickly into the skin.
Gel-based texture.
Suitable for all skin types.
Fragrance-free.
What makes it better? 
One, both products contain hyaluronic acid, but the Isntree cream contains five types (high, medium, and low molecules) to replenish moisture quickly. Low molecular HA absorbs quickly into the skin and hydrates deep within, medium HA improves moisture density, and high molecular HA prevents moisture loss. 
Two, it contains soothing ingredients like Centella Asiatica extract and licorice root extract, among others. Plus, they keep your skin cool, especially in the summer. 
Three, it contains Sodium PCA and betaine, which prevent moisture loss. In this way, moisture remains in the skin for a long time. 
Four, tubes are more hygienic than tubs. No matter how clean your hands are, using tub packaging exposes you to the risk of contaminating the product. That's why squeeze packaging makes sense. 
2. Face Republic Purity Sun Essence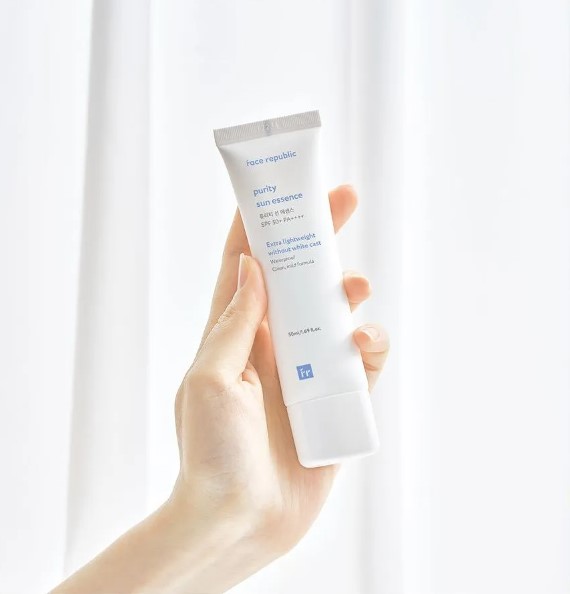 Dupe for: La Roche Posay Anthelios Ultra Light Fluid Facial Sunscreen ($31)
Price: $12
Face Republic Purity Sun Essence is a broad-spectrum sunscreen with a light formula similar to an essence. This non-sticky, lightweight formula absorbs beautifully into the skin. Non-nano mineral filters provide a clean, white-free finish. 
The La Roche Posay sunscreen is multi-award-winning with a lightweight, matte texture. Cell-Ox Shield® technology offers broad-spectrum UVA/UVB protection and antioxidants to help minimize the appearance of sun damage. Dermatologists recommend it highly. 
What's common?
Runny, lightweight texture.
SPF 50+ PA +++ protection. 
Non-sticky.
Non-greasy.
No piling. 
Does not sting the eyes. 
Suitable for all skin types. 
No white cast. 
What makes it better? 
La Roche Posay Anthelios Ultra Light Fluid Facial Sunscreen has won the hearts of thousands of people across the globe. Here's why the Face Republic Purity Sun Essence beats it hands down. 
First, it has niacinamide! Skin brightens up, protects the skin from UV damage, and helps build healthy skin cells. The ingredient also prevents premature wrinkles and minimizes hyperpigmentation. 
Second, the sunscreen has an almost water-like texture. When applied, it feels refreshing and cooling. It feels really hydrating on the skin. 
Third, Face Republic carries some of the best Korean skincare ingredients. Licorice root reduces inflammation, sunflower and jojoba seed oils hydrate the skin, while Centella Asiatica provides anti-aging benefits. This shows the superiority of the ingredients. 
Finally, all Face Republic products are cruelty-free and vegan! 
3. Missha Time Revolution Night Repair Ampoule 5X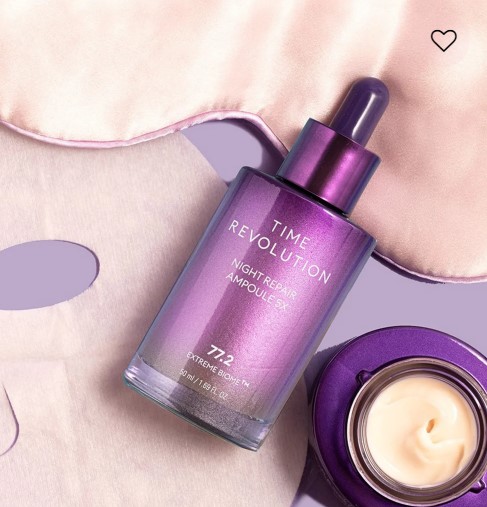 Dupe for: Estee Lauder Advanced Night Repair Serum ($110)
Price: $26
Missha Time Revolution Night Repair Ampoule 5X transforms your skin overnight with its high-concentration ampoule cream. Deeply hydrating, it restores and rejuvenates your skin. Skin will glow naturally while also receiving powerful anti-aging benefits. 
The Estee Lauder Advanced Night Repair Serum reduces the obvious signs of aging on your skin through a comprehensive, high-performance anti-aging serum. Providing 72-hour long hydration and 8-hour antioxidant protection. 
What's common?
Intensively hydrating. 
Smooth, supple skin overnight. 
Reduces the appearance of pores.
Evens skin tone. 
Contains Vitamin A derivatives. 
Lightweight formula. 
Contains hyaluronic acid and bifida ferment for intense hydration. 
Provides anti-aging benefits. 
Non-comedogenic. 
What makes it better? 
Unlike the Estee Lauder Advanced Night Repair Serum, Missha Time Revolution Repair Ampoule 5X contains ten fermented ingredients. Fermented ingredients keep the skin's healthy bacteria flowing and strong. In the absence of a healthy skin microbiome balance, you'll experience a number of skin problems.
Two, Missha contains more humectants, including sodium hyaluronate, betaine, glycerine, polyquaternium-51, and panthenol, besides hyaluronic acid. Sugar cane extract and Swiflet bird's nest also contribute to the softness of your skin by adding moisture. 
Three, humectants aren't the only essential ingredients that benefit your skin. Adenosine is an amino acid that reduces wrinkles. Niacinamide and Vitamin E also brighten the skin and protect it from free radicals. Squalene, ceramides, and sunflower seed oil help heal damaged skin by creating a protective barrier. Pomegranate extract aids in cell regeneration. 
4. ONE THING Calendula Officinalis Flower Extract Toner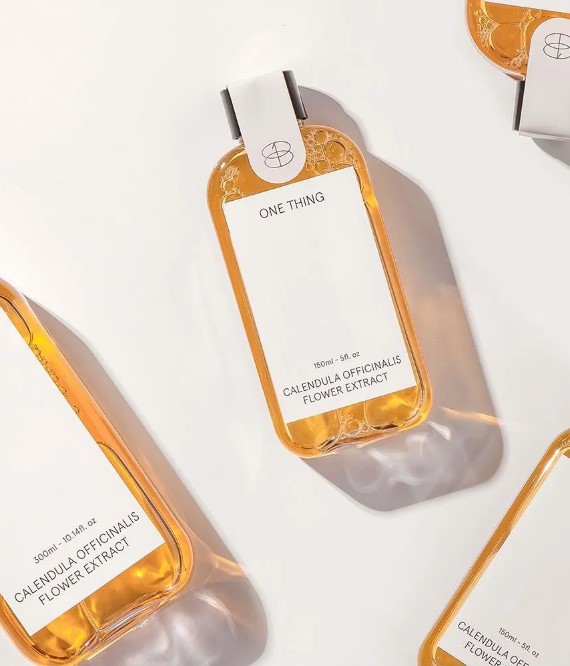 Dupe for: Kiehl's Calendula Herbal-Extract Alcohol-Free ($72)
Price: $14
One thing Calendula Officinalis Flower Extract is a watery, multifunctional extract that calms the skin. Calendula, also known as pot marigold and field marigold, is a natural healer. Because of the formula, you can use the extract as a toner, a mist, a DIY mask, or even in combination with other treatments. 
Kiehl's Calendula Herbal-Extract Alcohol-Free cleanses the skin and promotes a healthy, radiant appearance. Allantoin, Calendula flower petals, and Burdock Root Extract work together to tighten the skin and give it a youthful glow. It's suitable for normal and oily skin. 
What's common? 
Alcohol-free
Soothing irritated and damaged skin.
Anti-bacterial and anti-inflammatory
Does not dry out the skin
Adds hydration 
Beautiful amber color
What makes it better? 
First of all, the One Thing toner has only four ingredients. That's it! Calendula makes up 95% of the toner. Then there's butylene glycol, another humectant for maintaining moisture. As well as adding moisture, it's also anti-microbial. 
Second, it's a versatile extract. Not only is it a toner, but it is also an extract that you can mix with other products. Add it to your moisturizer or face pack. 
Third, it's paraben free. Kiehl's Calendula Herbal-Extract Alcohol-Free contains parabens, while One Thing's toner contains no parabens and is 100% natural. 
5. NEOGEN Dermalogy Real Ferment Micro Serum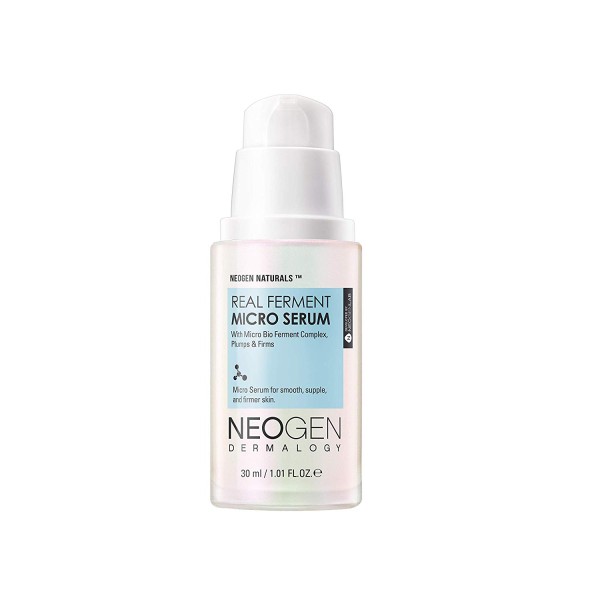 Dupe for: Lancome Advanced Genefique Face Serum ($88)
Price: $27
Neogen Real Ferment Micro Serum contains 61% fermented ingredients in its gel-like formulation to offer the skin a boost of nutrients and antioxidants. 
Lancome Advanced Genefique Face Serum improves dull skin and signs of aging. A blend of 10% Bifidus Prebiotic, Hyaluronic Acid, and Vitamin C designed for smoothing wrinkles caused by thinning or dry skin.
What's common?
Provides intense hydration
Adds radiance and brightens
Reduces hyperpigmentation
Strengthens the skin barrier
Suitable for all skin types
Lightweight texture
What makes it better? 
One, Neogen serum is humectant-rich. Hyaluronic acid, glycerine, butylene glycol, and hydrolyzed collagen add a ton of moisture. It's moisturizing and occlusive enough to use at the end of your skincare routine. 
Two, it's got lots of soothing ingredients, like cica, rice ferment, panthenol, etc., that help repair the skin barrier. 
Three, 61% contains fermented ingredients that help balance oil production and brighten the skin. The Bifida Ferment Lysate, Saccharomyces Ferment Filtrate, Betula alba Juice, Rice Ferment Filtrate, and Kojic acid in this serum work together to make your skin supple and bright. 
Four, it's way cheaper. For the same quantity, it costs one-third of what Lancome does. 
6. Dear Klairs Freshly Juiced Vitamin Dark Spot Brightening Drop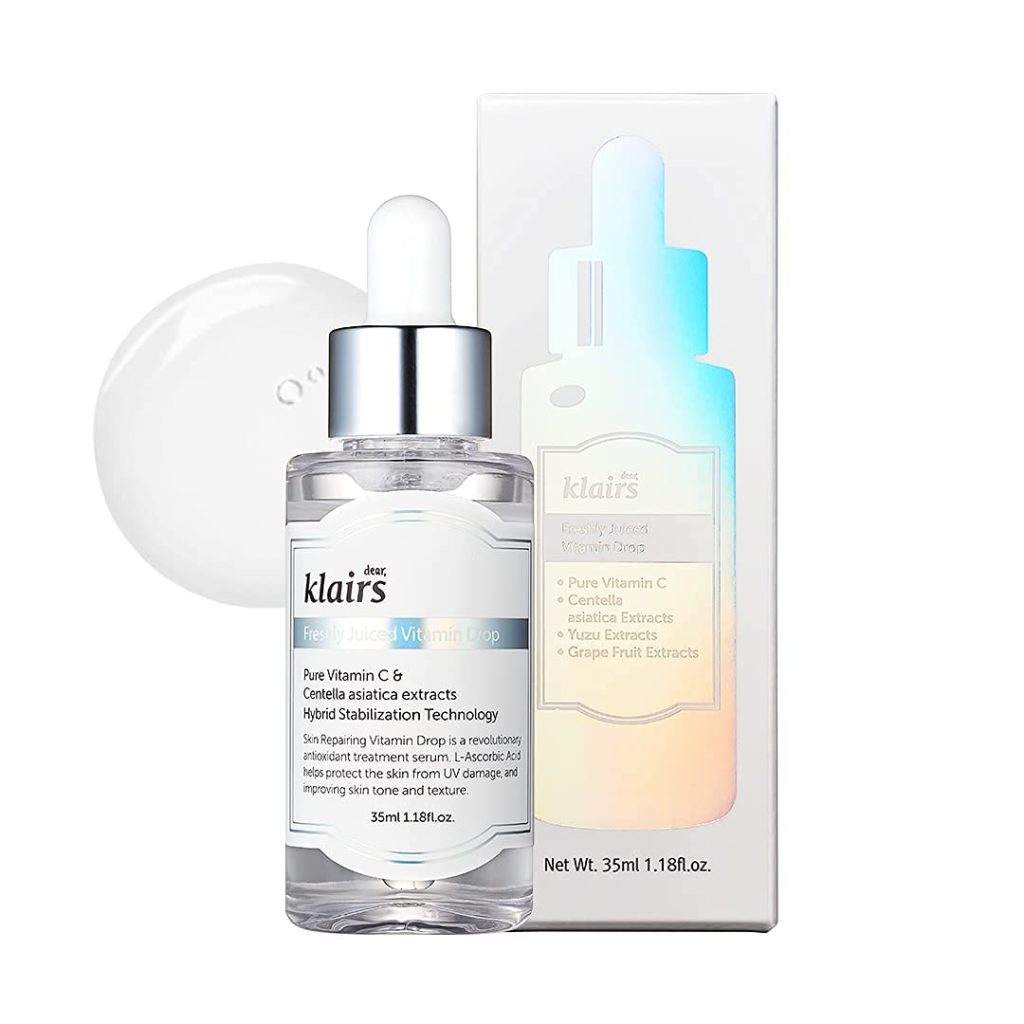 Dupe for: Caudalie Vinoperfect Radiance Serum ($82)
Price: $16
With the power of pure vitamin C, the Freshly Juiced Vitamin Drop revitalizes and renews your skin. Moreover, it helps with dull and enlarged pores on the skin. With 5% ascorbic acid, it's perfect for all ages and skin types, even sensitive skin. 
Millions of women around the world love Caudalie Vinoperfect Radiance Serum Complexion Correcting for its powerful anti-dark spot properties. Achieves an even complexion, brightens it and makes dark spots less noticeable.
What's common? 
Vitamin C is a key component
Brightens skin
Effortlessly reduces the appearance of dark spots and pigmentation
Evens skin tone
Gives a healthy glow to the skin 
Suitable for all skin types
Lightweight formula
What makes it better? 
One, Klairs' texture is superior. Compared to Caudalie serum, it's more water-like and lightweight. This allows for easier layering and much easier absorption. 
Two, the active ingredient is Centella Asiatica extract, a hydrator that combats aging, inflammation, and free radical damage. Moreover, it helps to clear up acne and blemishes. 
Three, it adds elasticity and radiance to your skin.
7. COSRX Advanced Snail Peptide Eye Cream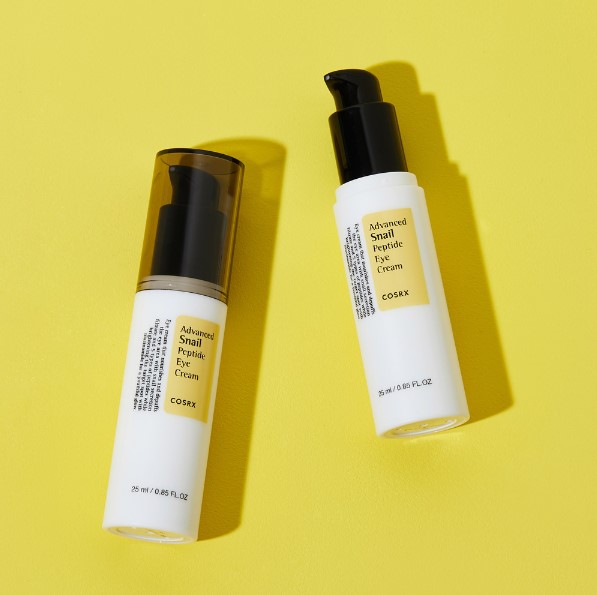 Dupe for: LA MER The Eye Concentrate ($260)
Price: $15
With five types of peptides, the COSRX Snail Peptide Eye Cream restores elasticity, reduces fine lines, and brightens the area around the eyes. It's paraben- and alcohol-free. 
The LA MER Eye Concentrate, formulated especially for the eye area, delivers intense energy and healing moisture to transform the appearance of lines, wrinkles, and dark circles.
What's common?
Reduces wrinkles and fine lines
Lightens dark circles
Enhances skin's hydration
Reduces puffy under-eye bags 
Smoothes and softens under the eyes
What makes it better? 
First, the price. Most people can't afford LA MER. With a price tag of $260, the product does not come cheap at all. While providing the exact same benefits, the Cosrx Eye Cream costs a tenth of the price. 
Second, the ingredients list is incredible. Recent trends have made snail mucin all the rage, thanks to Cosrx products. It's got 72% snail secretion goodness. Plus, peptides enhance under-eye beauty and reduce fine lines. Likewise, niacinamide helps brighten and alleviate dark circles. 
Third, it is alcohol- and paraben-free. Most products contain alcohol, but using alcohol under the eyes can be irritating, especially if your skin is sensitive. With its alcohol-free formula, Cosrx is gentler on the sensitive area under your eyes. It's also fragrance-free. 
8. Skinfood Tomato Jelly Tint Lip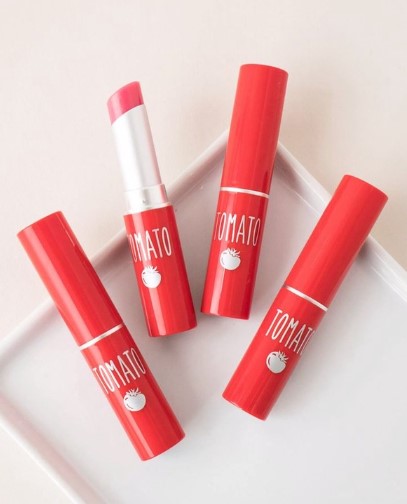 Dupe for: Dior Addict Lip Glow ($38)
Price: $6
This best-selling lip balm gives your lips a burst of moisture and a subtle rose hue. Tomato seed oil, an ingredient of the formula, aids in the healing of dry, cracked lips thanks to its high concentration of Omega 6 essential fatty acids and Vitamin E.
Featuring 97% natural ingredients, Dior's first lip balm gives lips an all-day radiance while restoring their natural color. Thanks to its color reviver technology, this lip balm instantly restores a healthy glow to your lips. Besides being a lip balm, Dior Addict Lip Glow is also a lip primer.
What's common?
Hydrates and nourishes
Heals lips
Subtle shine with a touch of color 
High concentration of natural ingredients
What makes it better? 
One, Skinfood tint has sun protection ingredients such as Vitamin E. It also helps with cell turnover and provides anti-inflammatory benefits to the skin. Moreover, Omega 6 helps retain moisture in lips. Keeps your lips healthy with tomato extracts and botanical oils. 
Two, it keeps the lips moist and provides a fresh sensation. The lips look great with just a hint of color. 
9. Etude Double Lasting Foundation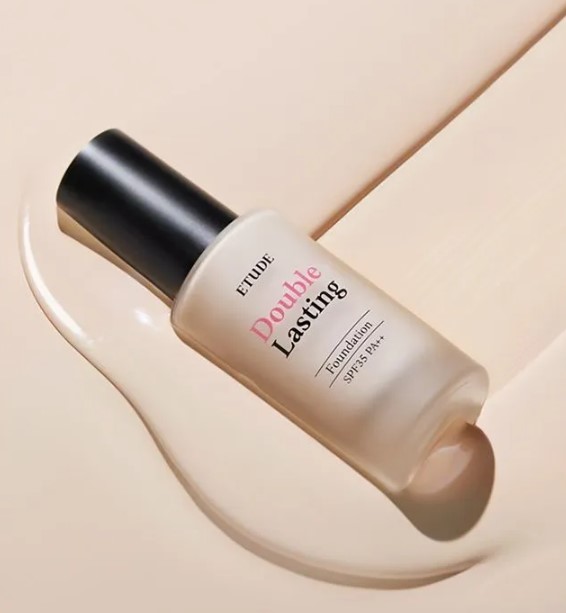 Dupe for: Estee Lauder Double Wear Stay-in-Place Foundation ($45)
Price: $15
The Etude Double Lasting Foundation provides a 24-hour perfect stay with a soft, matte finish. The double-fixing system prevents oil loss and pore-clogging. Since it's lightweight, it gives high coverage without looking cakey. 
Estee Lauder delivers a flawless finish with its fresh matte foundation. This helps control oil, sweat, and heat on your face. 
What's common? 
Matte finish
Protects against UV rays 
Lasts for 24 hours
Long-lasting
High coverage 
What makes it better?
One, Etude House's foundation provides better sun protection than Estee Lauder's. You get SPF 34 PA++ protection with Etude House, while Estee Lauder offers SPF 10. 
Second, it has double-shot technology, so you get double coverage with minimal product. This way, you use less product, preventing your makeup from getting cakey. 
Overall, it gives the skin a natural glow. There's nothing better than the Korean glass glow, which this foundation definitely delivers. 
10. The Saem Cover Perfection Tip Concealer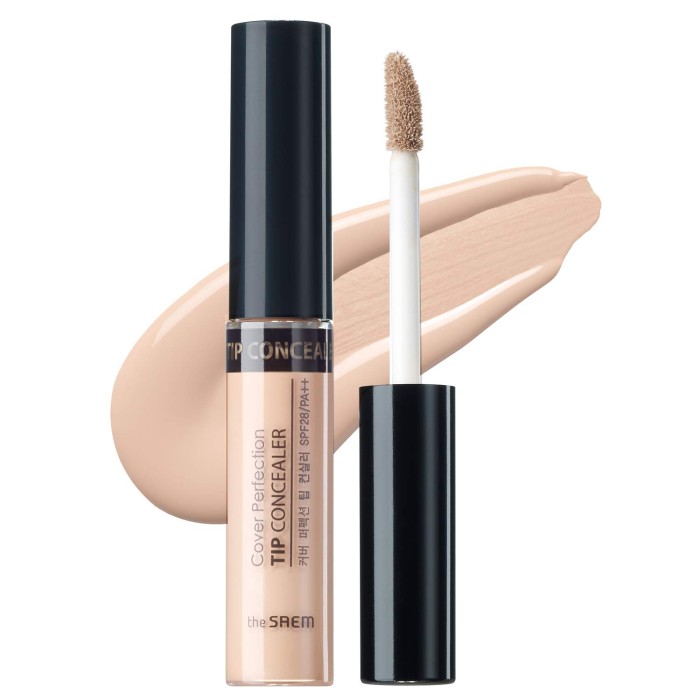 Dupe for: Nars Luminous and Silky Concealer ($37)
Price: $4
With Saem concealer, you'll have a flawless look thanks to its lightweight nature. Oxygen complex, glacial water, and reflecting powder give skin a glowing, healthy glow.
Whether you're a makeup artist or not, you'll love the Nars concealer's luminous finish and 16-hour stay. It keeps moisture in your skin, so you don't get cakey under your eyes. 
What's common?
Provides full coverage
Lightweight formula
Blurs blemishes and reduces redness 
What makes it better? 
One, the powder formula provides the most natural coverage possible. 
Two, it offers sun protection. SPF 28 PA++ protection protects your eyes from the damaging effects of the sun. 
Three, it works better for oily skin than Nars' concealer, which is a little heavier.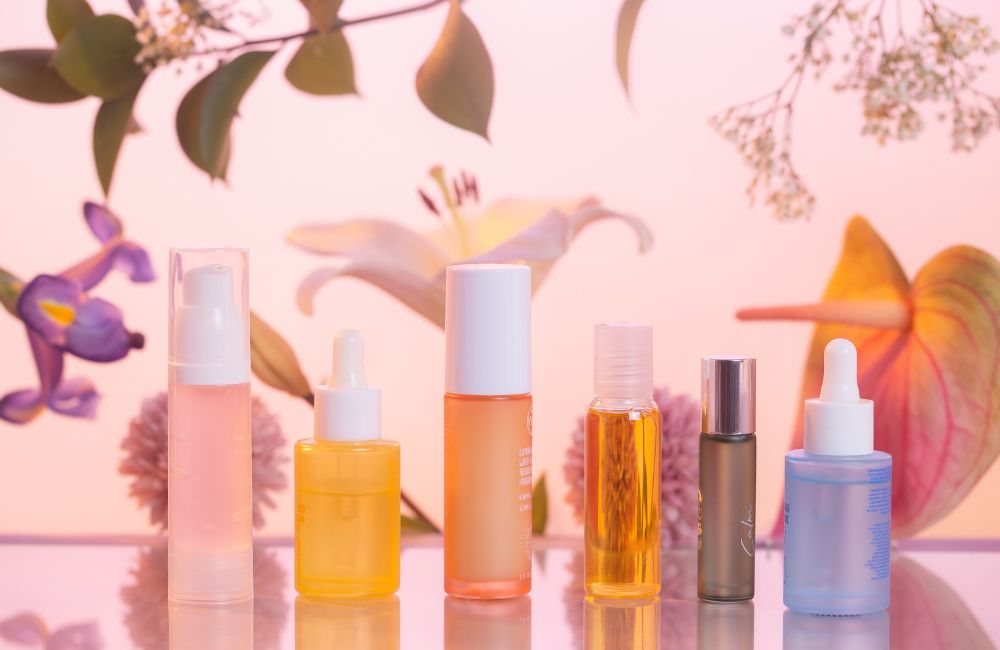 What makes K-beauty dupes better?
Korean culture values skincare as a necessity rather than a luxury. It's a Korean thing to care for your skin from a young age. It's why K-beauty products boast natural, gentle ingredients. Whether it's BB creams, cushion foundations, or sheet masks, they've got it all.
Hydrating
K-products are all about hydration. They're formulated with hydrating ingredients like hyaluronic acid, which hydrate, soothe, and repair your skin barrier. So, they're the best thing for dry, sensitive, and acne-prone skin. 
Innovative ingredients
Mugwort extract, bamboo extract, bee venom, fermented grains, and even snail mucin and bee venom pop up in many Korean beauty products. Skin looks young and healthy with these ingredients because they're anti-aging and antioxidant powerhouses.
Aesthetic packaging
From single-use sheet masks to futuristic-looking eye creams, K-beauty has it all, including textures and colors, ensuring you'll find the perfect product. Plus, you get extra goodies like bonus samples and free gifts, that's always nice.
Highly effective
Research-backed Korean beauty products deliver real results. It's all here, from traditional Korean skincare like essences and sheet masks to more modern products like BB cream and cushion compacts. These treatments incorporate natural ingredients such as fermented yeast, ginseng, and green tea, so you're sure to get incredible results.
Affordable
A Korean beauty product typically costs less than its western counterpart. As they are developed in a low-cost country, they often produce higher quality products at a lower price. As they're so affordable, you can stock up on multiple items for your perfect skincare routine.
So there you have it: Korean beauty products are better than western ones for their effective ingredients, affordable prices, innovative packaging, and gentler formulas—result: powerful luxury ingredients at an affordable price. 
Bottom line
We hope you find the best K-beauty dupes for high-end makeup products on this list! That's a great way to save on high-end makeup and skincare. Why not start now? We hope this article helps you love K-beauty even more!
If you're interested in purchasing the K-Beauty dupes directly from YesStyle, use the coupon code: YESSTYLE to get 10% OFF for NEW Customers above US$35 orders.