Microneedling is all the craze these days. Before you try something like this, do your homework, find out the science behind it, and decide if you can do it.
When looking for books about microneedling, what should you read?
As an esthetician, you can find microneedling information here as well.
The following are some of this year's best microneedling books.
#1 The Concise Guide to Dermal Needling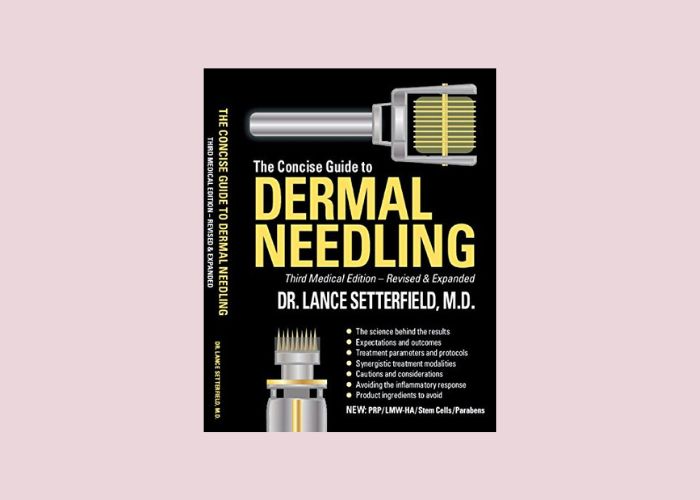 Buy Now
The author of this book uncovers the science behind microneedling and tells readers how to get results.
The book is a must-read for anyone who has failed to see results from at-home microneedling sessions.
Dr. Setterfield, who has spent years researching the field, provides the answers to your questions based on his research and his clinical experience.
You will learn why microneedling works, what products are safe for this procedure, what conditions are best treated with microneedling, and what complications to expect.
Also, it covers what you need to keep in mind when purchasing a microneedling device and how much training you need to use it effectively.
The doctor talks about all the details of the procedure, how it works, and how it's combined with existing treatments.
Professionals seeking knowledge and confidence to succeed in business will find this book most practical. This book discusses the basics and advanced elements of derma needling to provide the best guide for practitioners to ensure maximum results and minimal complications.
#2 Holistic Microneedling: The Manual of Natural Skin Needling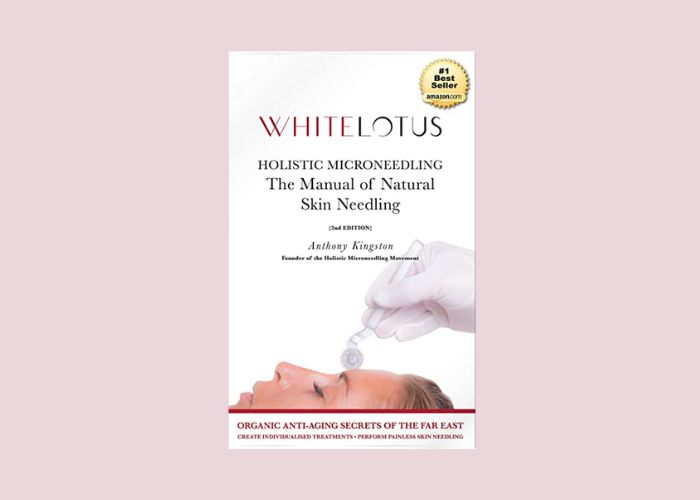 Buy Now
With the first-ever specialist skin needling clinic in the Southern Hemisphere, Anthony Kingston has the unique experience of studying cosmetic skin needling throughout Asia.
So, this means you can trust him when he talks about different skin needling techniques and how to apply microneedling holistically.
The book will teach you how to:
Perform painless skin needling treatments
Reduce or remove side effects
Customize treatments for your skin type and condition
Work with the body rather than against it
Kingston draws inspiration from ancient skin needling and anti-aging techniques. With his methods, you can perform microneedling less invasively and achieve more promising results than aggressive techniques.
What's more, you will understand a new creative way to conduct microneedling treatments, whether you are a clinician or just someone who wants to try their hand at it at home.
One of the best microneedling books available, this book is all-around, educational, and easy to read.
#3 MICRONEEDLING: For Aestheticians and Beauty Therapists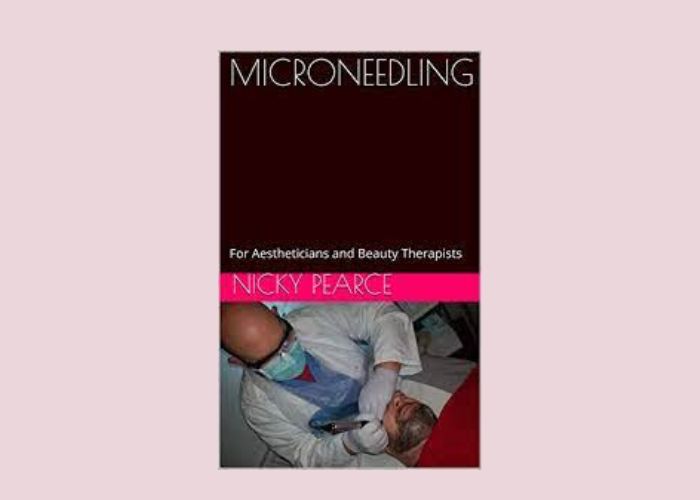 Buy Now
A concise, practical book. A veteran in the beauty industry, Nicky Pierce provides the guide that students in this field need to succeed.
Plus, if you're trying to become an esthetician or a beauty therapist, this book can teach you the academic knowledge you will need to start your clinical career.
The book covers the basics of microneedling and then specific topics like:
Pathophysiology of wound healing
Biochemistry of collagenases
Scarring and fatal wound healing
Stem cells
Pharmacology affecting the skin
Moreover, you'll learn about the treatment's ins and outs, from consultation requirements to necessary precautions.
The author also discusses the various features of derma rollers. At the end of the book, there are links to useful online resources.
If you're serious about training in this field, this is your go-to microneedling textbook.
#4 Microneedling – The Ultimate Guide For Beautiful Healthy Skin and Anti-Aging Results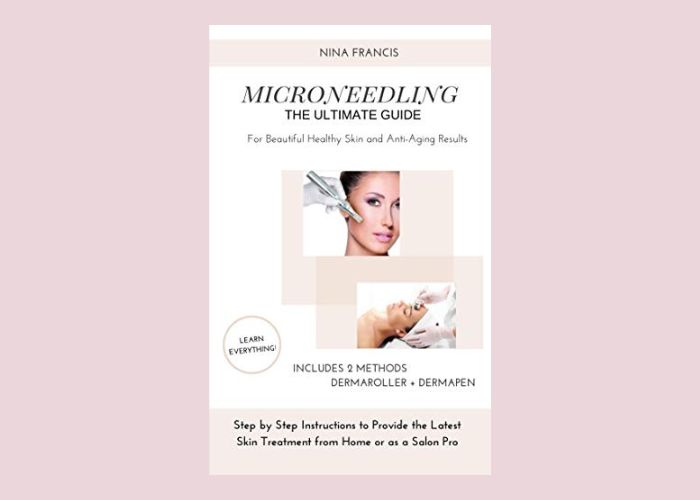 Buy Now
Nina Francis, an esthetician and beauty enthusiast, discusses microneedling and how you can use it to combat several skin imperfections.
You'll find Nina's knowledge and personal experience invaluable whether you're trying to earn a six-figure income by microneedling or just want smooth, glowing skin.
From skin basics to skin needling history, she discusses everything from derma rollers to derma pens. Moreover, she explains how to use derma rollers in different ways and maintain them properly.
As a professional, Nina also offers tips on preparing your clients for the treatment and the realistic income possibilities of a microneedling business.
And for everyone, she also offers step-by-step instructions for achieving beautiful, healthy skin.
This book is a great resource to read before starting microneedling on yourself. It's a microneedling PDF you can get as a Kindle edition.
#5 Facial Danger Zones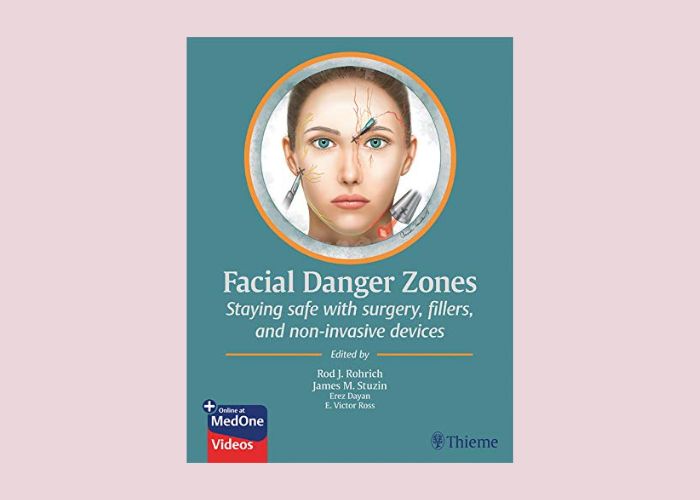 Buy Now
With co-authors James Stuzin, Erez Dayan, and E Victor Ross, internationally renowned plastic surgeon Rod Rohrich offers a guide to achieving optimal yet safe results from facial cosmetic procedures.
User-friendly, this book provides multidisciplinary insights and expertise on detailed facial anatomy, navigating safe and dangerous facial zones, and using minimally invasive technologies.
There are three focuses of the book:
A summary of facial tissue anatomy, facial nerve danger zones, and precautions for procedures involving the face
Fillers and information on staying safe by using six facial danger zones
Safely using energy-based devices such as radiofrequency (used with microneedling) and combination chemical peels
This book will be helpful to residents and professionals in related fields of facial surgery and rejuvenation.
Even better, explanatory illustrations accompany the text, making it easier to read. Engaging and informative, it deserves your attention.
#6 Microneedling: Global Perspectives in Aesthetic Medicine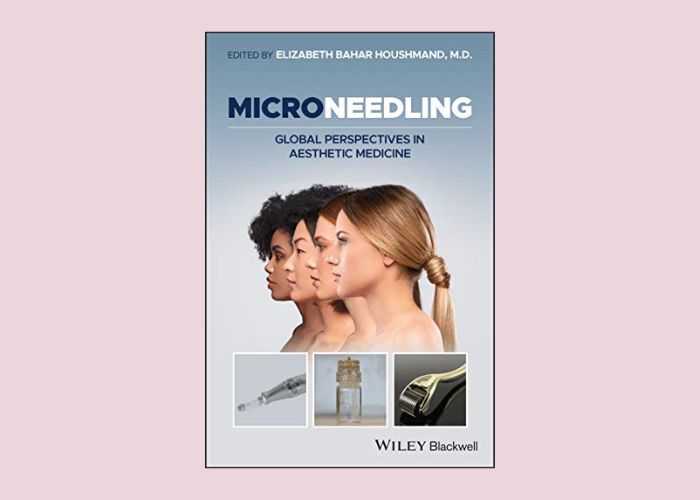 Buy Now
With practical instructions, expert advice, and fascinating new research, Microneedling is edited by a leading dermatologist and double board-certified dermatologist, Dr. Elizabeth Bahar Houshmand. A guide to microneedling for estheticians, essentially.
Among other topics, Dr. Houshmand discusses:
The benefits of microneedling when skin injury, disease, or aging causes unwanted skin changes.
Microneedling has fewer side effects, like hyperpigmentation and scarring than other procedures.
Tools and skills needed to perform different microneedling techniques
How to customize microneedling for different skin types
How to inject platelet-rich plasma using microneedling
All in all, this is an excellent book for dermatologists, dermatologic surgeons, or estheticians who want to give their clients the best results.
#7 Dermarolling Bible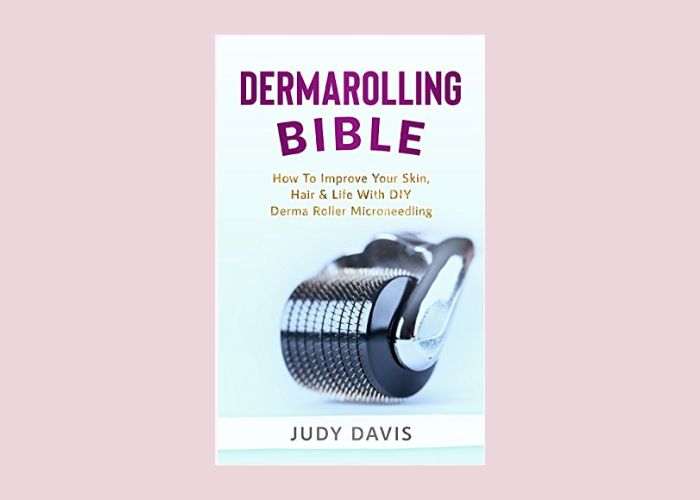 Buy Now
In this 88-page book, Judy Davis discusses the different aspects of microneedling and why it might work for you.
Here, you learn about derma rolling and the components of a derma roller, and how to make your microneedling experience holistic.
Davis draws inspiration from traditional Chinese medicine throughout the book. Her next step is to discuss the science and history of microneedling.
As you compare microneedling with other skin treatments, you'll be able to determine if it's a good option for you.
Throughout this book, you'll learn everything you need to know about microneedling, including the dangers and benefits if you're considering it.
Overall, the book is worth reading if you are a beauty enthusiast.
#8 Percutaneous Collagen Induction With Microneedling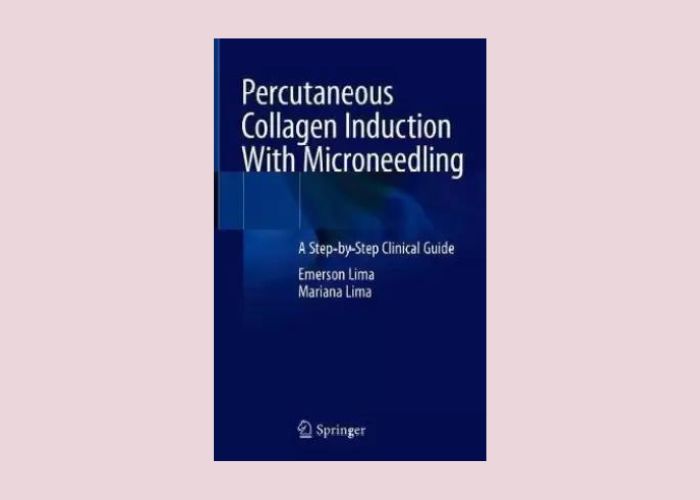 Buy Now
Emerson Lima and Mariana Lima, two highly educated dermatologists, have developed three novel techniques in dermatology over the past decade. Here, you will read about one of the techniques.
This book discusses Percutaneous Collagen Induction (PCI) using microneedling and how to treat scarring, melasma, wrinkles, skin laxity, stretch marks, alopecia, vitiligo, and scleroderma. It also talks about optimizing transdermal drug delivery using microneedling.
According to the authors, the book provides a step-by-step approach to microneedling based on their experience. Over 400 illustrations make the text easier to understand.
The book also covers:
PCI devices
Use of PCI to improve aging skin
Correcting acne scars using PCI
Handling PCI complications
Combining PCI with radiofrequency using microneedling to treat scars.
Whether you're a dermatologist or an academic looking to learn new techniques related to microneedling, this well-researched book is perfect for you.
#9 Microneedling in Clinical Practice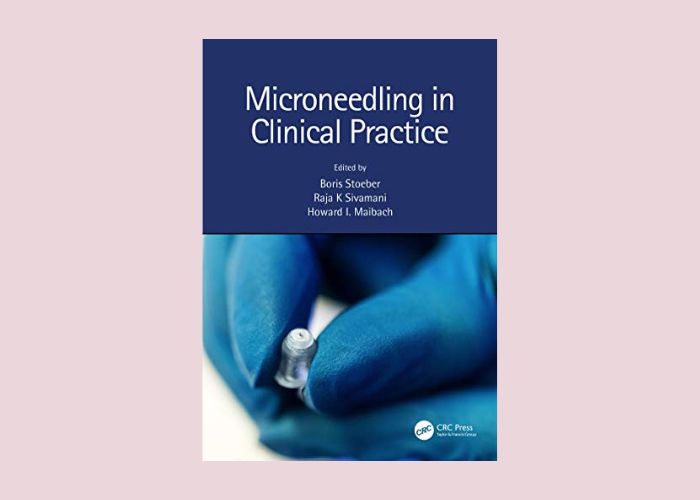 Buy Now
Howard I. Maibach and Boris Stoeber, all leading scholars in their fields of specialization, present a detailed study on integrating microneedling technology into clinical dermatology.
The book comprises a series of research papers written in collaboration with several experts.
Not to mention written for professional beauty industry professionals and academics researching microneedling, this book is thorough and practical at the same time.
Chapters include:
Microneedles and Transdermal Transport
Hollow Microneedles
Microneedles vs. other transdermal technologies
Combination of Microneedles with other methods
Medical Applications of Microneedles
Cosmetic Applications
Since the book explains everything from the start, no matter your level of experience, it's easy to understand.
This book contains detailed data and efficient categorizations, making it one of the most informative on microneedling.
#10 PRP and Microneedling in Aesthetic Medicine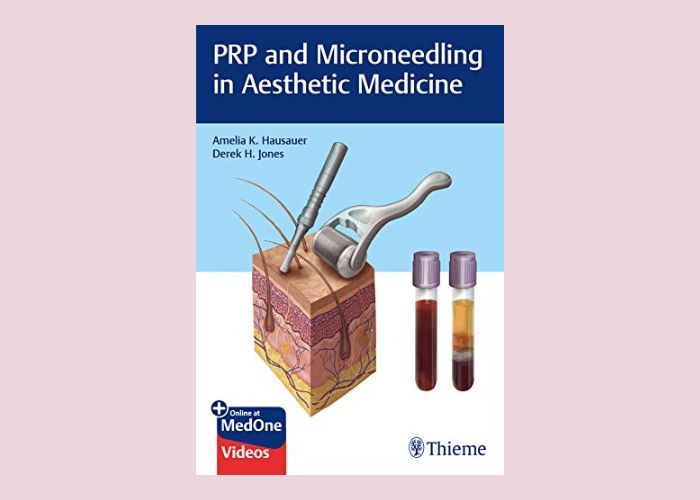 Buy Now
Microneedling with PRP (platelet-rich plasma) is one of the most popular cosmetic treatments. Amelia K. Hausauer, Derek H. Jones, and many other esteemed contributors offer this definitive esthetic guide.
Using this book, you can evaluate different approaches and decide which works best for your needs.
The book covers the basic science of PRP, its mechanism, and how to apply it in conjunction with microneedling.
Additionally, it discusses the applications of PRP for chronic wound healing, scar revision, facial rejuvenation, and hair restoration.
The book discusses in-depth and offers practical tips to help you in your clinical practice as an esthetician.
Since the book contains about 100 explanatory images and links to several videos, there is enough data to help you.
An essential resource for dermatologists, this is one of the most in-depth books available.
The takeaway
Despite being a safe and minimally invasive procedure, microneedling is not an easy process.
Aside from the actual procedure, much goes into selecting the technique and preparing before and after.
These incredible microneedling books are full of advice on how to make an informed decision about microneedling.
So, if you own a microneedling pen, you might want to read one of these books before using it. Even professionals can benefit from these books to learn about microneedling.