From Kylie Jenner to Cardi B, what's the secret to long, glossy hair? We've got it: wigs.
That's right, wigs are no longer just for covering up hair loss. They're a fashion statement too.
Now you must be wondering: what's the deal with all those unnatural seams?
If you haven't heard of lace front wigs, they are all the glam of a wig without the bumpy, unnatural seams at the hairline.
Whether you're shopping for one or just browsing, we've rounded up the best lace front wigs on the market today. With their looks, quality, price, and overall value, they're in a league of their own.
#1 Elesty Long Natural Curly Glueless Lace Front Wig
We've seen a lot of Elesty wigs, and they've all been of very high quality. Certainly, this is no exception.
This is one of the best synthetic lace front wigs in the shade "golden blonde" with a naturally curly hairstyle and a length of 24 inches. There are less tangles than in human fiber and the texture is soft, flowy, and thick.
Featuring soft, heat-resistant, high-quality hair fibers and blonde lace, this wig fits any hairdo. There are also three combs, an adjustable strap, and a wig cap included. The best part about this wig is that it requires no adhesive.
Look closely, and you'll see they look exactly like your natural hair, so you can pass them off as yours.
#2 WIGER Short Lace Front Wig – Short and Curly
The length of this 8-inch lace front wig is 8 inches, and the color is black with a wavy, short bob.
Designed from 100% Brazilian virgin Remy human hair, this wig can be colored and bleached to fit your needs. Additionally, the wig comes with an elastic net, adjustable straps, and three clips for securing it in place.
Short, curly, and soft, this wig is perfect for cosplay and looks beautiful on any head. Also, it's so versatile, that you can pair it with just about any outfit.
What's more, it is a breathable and lightweight option for beginners at a reasonable price.
#3 Metamuclia Water Wave 4×4 Lace Front Wig – Extra Thick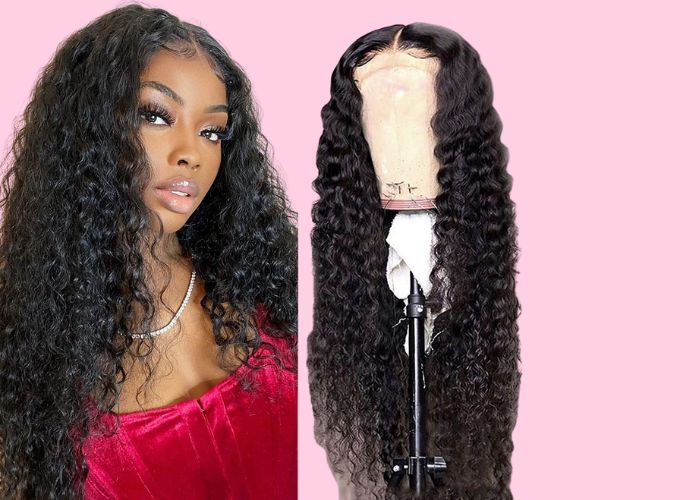 Made with human hair, this lace front wig is in the shade of natural black, 24″ in length, wavy, and wet.
Metamuclia's wig has a good density of 150%. The Brazilian hair used in its production is 100% unprocessed and virgin.
Moreover, it's easy to wear — it comes with three combs and elastic straps, and once you've got it in place, you can simply pull up the wig and put on a hat. It's also odorless and doesn't shed.
You can wash them in the shower and hang them to dry, and they won't get wet from the water. You can pick from different colors to match them with your hair color or pick one that suits you.
The length ranges from 16 to 34 inches, providing a wide variety of options based on your preference. It can be dyed, bleached, and done in any way you like.
#4 Hermosa 13×4 HD Transparent – Poker Straight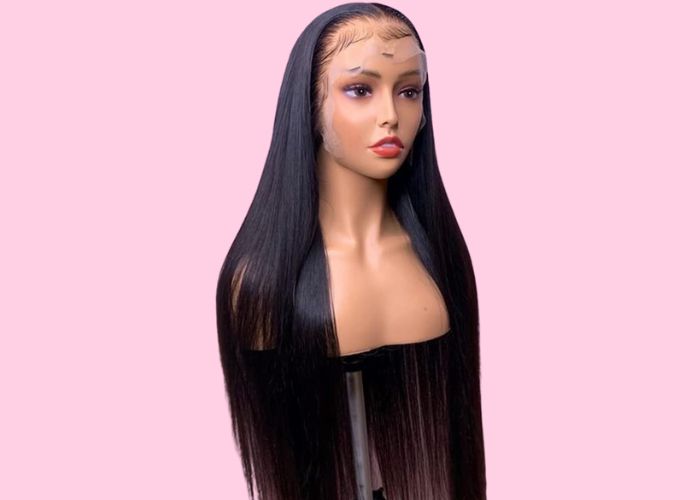 From a well-known wig brand, this is perfect for those looking to switch up their curls.
With a 13×4 inch lace size on the top, it's a straight lace front wig with a natural black shade. This includes one wig, two caps, and eyelashes and is available in sizes 14-30 inches.
The wig itself is created from HD transparent glueless lace. Also, it comes in a staggering 220% density and is made of 100% natural hair without any blends. The hair has a nice weight that is easy to style.
Featuring pre-plucked baby hairs, it creates a natural look. You can color or bleach it to your liking, and it comes with a cap and adjustable straps.
#5 LUVME Hair 4×4 Short Bob – Beginner-friendly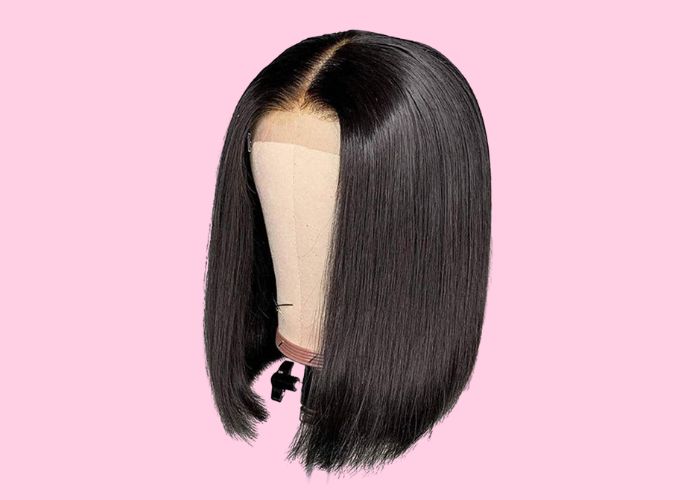 One of the best lace front wigs is made by LUVME, one of the most trusted names in the wig industry.
This LUVME 4×4 short bob is a great option for beginners who want to try a short, low-maintenance hairstyle without the commitment of a long, thick haircut.
This is in the shade of natural black in a straight blunt bob of the length of 10 inches. It's incredibly soft and bouncy and doesn't shed or tangle easily.
With this wig, you will receive a cap and a tool kit for securing it. It also comes with a 200% density.
You can dye it, bleach it, straighten it, and curl it any way you like. Best of all, its hair is of superior quality.
#6 Ten Chopsticks 1B/30 – Ombre Short Bob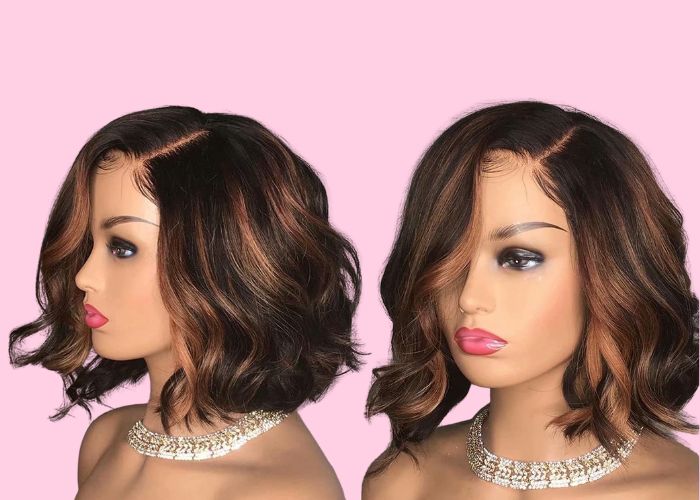 Beautiful caramel-colored human lace front wig in a short, wavy bob with ombre highlights.
You can choose between small and large wig cap sizes depending on your preference with this wig that has a density of 150%.
This is a 13X6 lace frontal wig with a deep part, making it look just like a full lace wig. We love how soft and silky it feels, plus how natural it looks.
The wig comes with four combs and adjustable straps for security. As it is pre-bleached, you cannot color or bleach it, but you can definitely part the hair however you like.
Yes, it's glueless and doesn't require a lot of fuss with adhesives.
#7 YMS Transparent HD Lace Front Wig – Ombre Red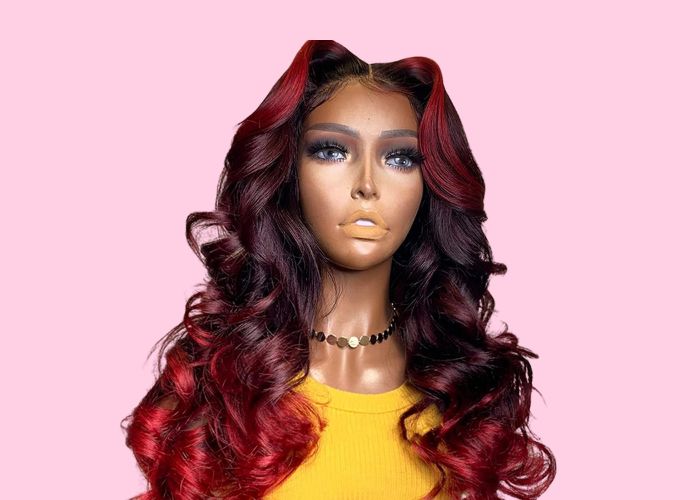 This HD lace front wig features the shade red ombre and a body wave human hair lace front.
With a hair density of 150%, this wig is made of unprocessed Brazilian virgin human hair.
Besides the wig cap, adjustable straps, and combs for securing the wig, the set comes with a freebie false eyelash, an unexpected bonus.
Whether it's Christmas, parties, weddings, or any occasion, the color is "very feminine," so it's ideal for a date or job interview. If red is what you're after, this wig is the way to go.
The lace is natural Swiss lace, so it won't tangle or shed. Moreover, this wig is long enough to style in a bun, ponytail, or any other parting.
You can straighten or curl it, but you can't dye or bleach it since it's already colored. Another great feature: it is glueless.
#8 PERISMODA 32 Inch HD – Pre-plucked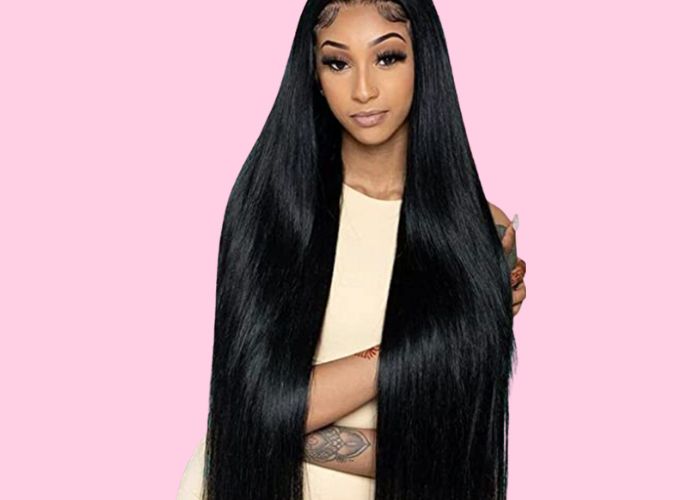 Featuring a lace front wig with a natural black shade in a straight style, this wig measures 32 inches in length.
Made of 100% unprocessed human hair, this wig has a natural hairline and baby hairs at the front. It has a 180% density and provides a natural hairline with baby hairs.
The wig has a breathable elastic mesh cap and four combs to hold it in place.
To top it off, it guarantees minimal shedding and tangling, is true to length, and can be colored, bleached, and styled as you wish.
PERISMODA wig fits perfectly for those transitioning from short to long styles and wants a wig that looks and feels like natural hair.
#9 Beafay Body Wave T-Part – Super Cheap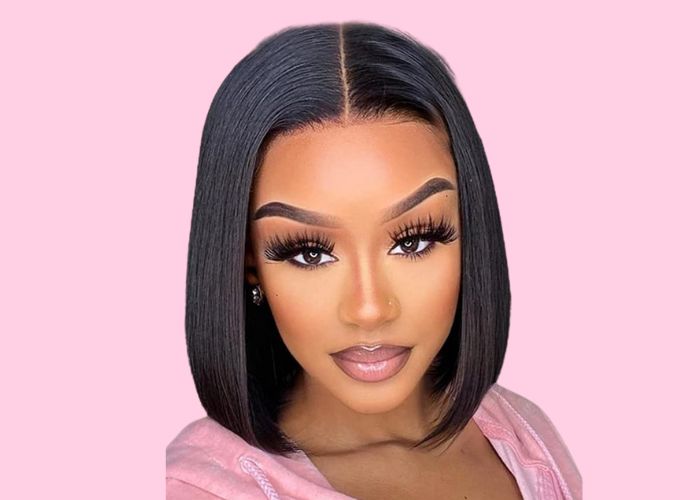 The lace front wig is a ten-inch long made of human hair in the shade of natural black with a body wave style.
With a transparent Swiss lace cap, it features Brazilian hair that is 100% unprocessed and comes in a convenient 150% density free of synthetic fibers.
This wig lacks nothing since it has a fixed middle part, comes pre-plucked, and has baby hairs around for natural-looking styling.
Also, along the front of the wig are lace hair knots, which conceal the hair underneath when worn, so no one will notice that you're wearing it.
There is also a wig cap, three combs, and two adjustable velcro straps. The brand guarantees zero to minimal shedding and tangling.
You can also dye, bleach, and style the wig. It is one of the best affordable lace front wigs that make you feel confident without breaking the bank.
#10 U&A Highlight Colored 13×4 HD Transparent Lace Front – Super Chic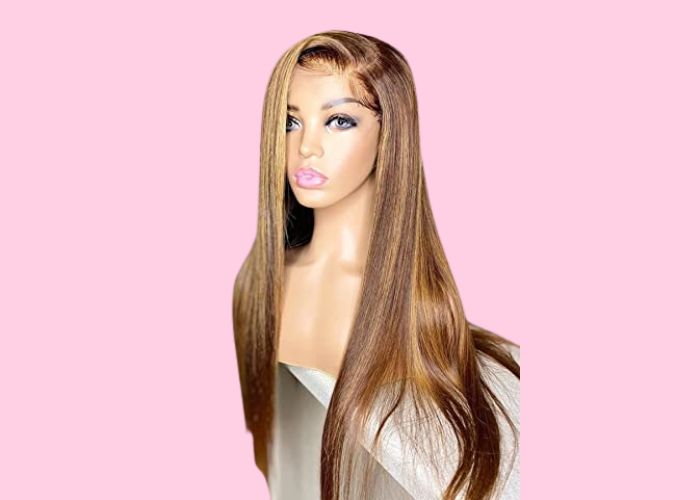 With U&A Highlight Colored wigs, you can instantly add a pop of color to your hair. This lace front human virgin hair wig is styled in a straight cut in the shade of medium brown, with blonde highlights.
This gorgeous deep part wig is so chic and unique that you won't be able to stop wearing your new 'do. The lace is invisible and blends well with your own hair.
The hair is made from 100% Brazilian virgin hair with a good density of 150%. Pretty-looking, it comes with a natural pre-plucked hairline with lightly bleached knots to avoid shedding.
While it cannot be bleached or colored as it already comes with highlights, it is certainly styleable. Plus, you get gifts and freebies.
#11 Katonyo 99J Burgundy Straight 13×4 Lace Front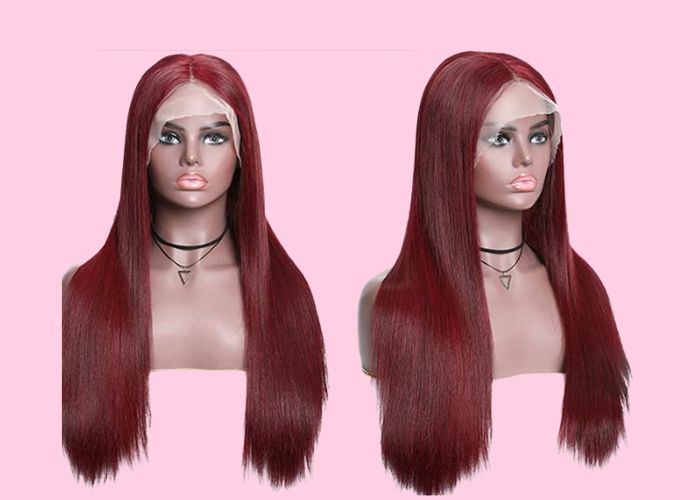 This is a red burgundy shaded human hair lace front wig. The straight look is bang on trend and is sure to please. Size options range between 18 to 28 inches.
With a size of 13X4 and a density of 150%, the wig is made up of 100% Brazilian Remy hair.
The wig comes with a wig cap, adjustable straps, three combs to secure the wig, and a natural hairline in front. Free parting allows you to customize the look of the wig.
With transparent lace, you can wear it everywhere. It is perfect for parties, weddings, costumes, cosplay, daily wear, and more.
The 99J Burgundy Straight Lace Front Wig is chic, titillating, and affordable—what's not to love?
What Exactly is a Lace Front Wig?
It's a type of wig with human hair or synthetic fibers hand-tied to a sheer lace base. The base is attached to the front in a wig cap to mimic natural hair growth.
You can wear lace front wigs with or without glue, tape, or other adhesives. The price is usually higher than other types of wigs, but they can last longer with proper care.
Many lace front wigs come with a sheer strip of fabric at the parting in order to blend your own hair with the wig.
You can wear lace front in various ways. The hair can be styled straight, curly, or wavy, and you can part it in any direction. They can be washed and dried like your normal hair.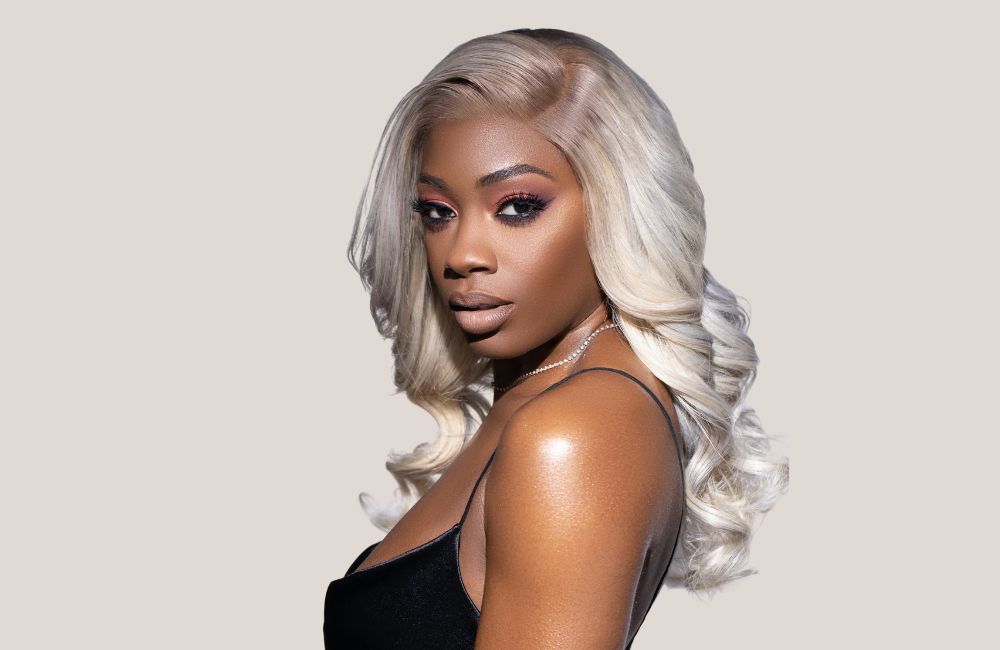 Things to Look for When Buying a Lace Front Wig
To find the best lace front wigs, you need to know what you are looking for. There are many types, each with a different purpose. Here's what to consider:
Fiber type
A wig's quality depends on its fiber type. Three types are available: synthetic, human hair blends, and 100% human hair.
Synthetic lace wigs are less expensive but do not look or feel natural. Furthermore, they can't be dyed or bleached.
Human hair blends are a mix of synthetic and human hair fibers. While their look is more natural and can be dyed or bleached, they are more expensive than synthetic ones.
100% human hair wigs look and feel the most like an original head of hair. They're dyeable and bleachable too.
Pro tip: Make sure any lace you buy is HD lace, which has a finer mesh, making it look more real up close.
Hair quality
Ideally, the wig should be made with virgin hair that blends well with yours.
Most natural-looking wigs are made with the best human hair, which can be bleached, dyed, or colored.
Also, pre-plucked lace front wigs make the process much easier and save you time.
A good selection of lace
Wigs with quality lace will be comfortable and last longer.
Swiss lace is the best type because it is very thin and practically invisible when blended into your own hairline. If you have light hair, Swiss lace is the best choice.
French or Italian lace is thicker and less transparent than Swiss, so it may be noticeable if not blended well. It's better suited to dark hair.
Also, be sure the lace front is carefully plucked to ensure that the wig looks as natural as possible.
Pro tip: Make sure any lace you buy is HD lace, which has a finer mesh, making it look more real up close.
Get the right length
Long wigs trap more heat and make you feel uncomfortable if you're not living in a temperate zone where temperatures and humidity are gentle. Short wigs trap less heat, allow more air to circulate, and are better for humid areas.
Comfortable fit
When looking for the best frontal lace, a wig cap should also fit well, without too much excess hanging down around your face. Caps need to be snug to keep the wig in place all day.
Most wig styles look good on oval heads, while round heads should stick with those with more volume and length.
Consider your budget
Wig prices can range anywhere from a few hundred to several thousand.
Lace frontal wigs are expensive, so make sure you can save up for a purchase before making one.
If you are on a budget, choose a wig with less density. That way, you'll spend less money. For a fuller look, you may need to invest more in hair extensions.
Another option is to choose a wig with lower-quality lace. However, the lace may not be as durable and may start to come apart after prolonged use.
Your face shape
There are different hairstyles of lace front wigs to suit different face shapes.
For an oval face, any hairstyle will do, but these are the best ones:
A-line bob
Long wavy
Shoulder-length
For a round face, choose a hairstyle with more angles and layers. This will help to lengthen your face and make it appear more oval-shaped. Choose:
A long bob with a side part
Long layered hairstyles with a side part
Avoid bobs with blunt bangs and flat-looking pixies
For a square face, choose a hairstyle with softer lines and less volume. This will make your features appear softer and less angular. Select:
Long wavy styles
Long layers with side bangs
A-line chin-length bob
For an oblong face, you'll want a wig with lots of volume and curls to make it appear more oval-shaped. Choose:
Long voluminous curls with arched bangs
Medium bouncy curls with blunt bangs
Medium flip-out hairstyle
For a diamond-shaped face, choose a wig with lots of layers and soft waves to add curves to your angular features. Choose:
Medium layered hairstyles
Angled Pixie
Voluminous shoulder-length styles
For a heart-shaped face, choose a wig with width at the top of your head and narrowness at the chin. It will balance out your features. Select:
Curls with side bangs
Medium-length flicks
Curly side pony
Who Should Buy a Lace Front Wig?
Lace front wigs are an excellent investment for anyone who wants to look better. People with thinning hair or bald spots can benefit from these as they provide full coverage and a natural-looking hairline.
Moreover, people who suffer from medical conditions like cancer may also find it wonderful to get their favorite wig.
Lastly, lace front wigs are a great way to change your hairstyle without committing since they can be removed and reapplied whenever you like.
What's the best place to buy lace front wigs?
Whether you live in the US, the UK, or anywhere in the world, Amazon and well-known online wig stores are the two most popular places to buy lace front wigs.
With Amazon, you can find lace front wigs at different prices and sorts. In addition, it often has sales, making them more affordable than other websites or stores.
Ultimately, finding a wig source with a good selection at a reasonable price is essential.
Taking Care of Your Lace Front Wigs
Because the hair is real, lace front wigs need special treatment to maintain quality, style, and color. Here's what you should do:
Remove tangles gently with fingers or a wide-tooth comb.
Only wash the wig when it is absolutely necessary. Too much washing can strip natural oils from the hair, leaving it dry and brittle.
Use a shampoo and conditioner designed especially for wigs. Follow the label directions to avoid over-conditioning, which can also damage the wig.
Air-dry the wig gently after washing it – do not rub or twist the hair.
Before curling or flat ironing, spray the wig with hairspray or a styling product to protect the hair from heat damage.
Keep the wig in the original packaging or in a plastic baggie when not in use to prevent dust from getting inside.
Store the wig on a flat surface to prevent damage to the cap or wig.
Do not expose a wig to direct sunlight, as this could cause hair to break or damage the wig.
FAQs about Lace Front Wigs
How long do lace front wigs stay on?
You can wear one for roughly two to six weeks before you need to remove it. The specific time depends on the quality of the wig, how you put it on, and how you care for it.
How do they work?
Glueless wigs are available, but most lace front wigs are attached with glue and tape on the front hairline.
Once the glue has dried, the front of the lace wig is attached to the glue-coated hairline, creating a tight bond that holds the wig in place on the head.
Some lace wigs also feature "baby hair" around the temples, covering up visible lace on the forehead, in addition to acting as a hairline.
Once applied, the lace or lace front wig can stay in place for weeks at a time and be maintained with shampoo and styling in the meantime.
Do lace front wigs damage hair?
Some worry that wearing a lace front wig will damage their own hair. However, this is rarely true. According to most experts, if you wear your wig properly, you will not damage your own hair.
On the other hand, synthetic wigs can cause your hair to become oily and greasy, which can lead to scalp problems.
How much do they cost?
Lace front wigs are definitely the cheaper alternative, but they can still be more expensive than you might expect. Human hair lace-front wigs run anywhere from $400 to $3000. Even high-quality synthetic wigs can cost upwards of $1000 from certain high-end wig stores.
Full lace or front lace – what's better?
While both are very durable, full lace wigs have a better grip on the head because they are pasted on. Lace front wigs, however, present a more natural appearance and can be worn every day.
Do lace front wigs work best?
Unlike sew-in lace wigs, lace fronts don't require as much gluing or customizing as sew-in lace wigs. Generally, lace front wigs are more lightweight and comfortable than many other cap constructions, especially in hot weather or when worn for a prolonged period—especially if your scalp becomes warm and sweaty—making them ideal for daily use.
The bottom line
The high-quality lace-front wigs have many different styles and are lightweight and easy to wear.
While some of the best lace front wigs cost a fortune, we also included some budget-friendly options, so you can look fabulous and not break the bank.
Related Posts