Film stars have influenced fashion trends from the start of Hollywood movies. And it isn't unusual now: women's 1960s hairstyles were inspired by the day's major screen stars. There were so many stunning hairstyles in the 1960s, from curtain bangs to the beehive.
So what made this decade so unique? The use of hair spray and back combing gave plenty of volume to tresses with big hair being in. From long hair to short hair, here is a list of 1960s hairstyles to get you caught up on the glamorous era in pop culture.
1960s Hairstyles
1. Beehive
The beehive is a famous vintage 1960s hairdo and one of the early sixties' enduring icons. Margaret Vinci Heldt, a hairdresser from Elmhurst, Illinois, invented it in 1960. The extravagant appearance, which entailed stacking one's hair on top of the head in a conical form and securing it with large amounts of hairspray, was named after the size and appearance of a real beehive.
The exquisite updo was extremely popular, being worn by both ordinary people and famous personalities. Simply put, this style is an icon of 60s fashion. A beehive can also be styled with long hair in a "half up, half down" effect. For example, the French actress Brigitte Bardot's hairdo is a popular one that has stood the test of time.
2. Bangs for Long Hair
The bangs hairstyle is a unique model in which strands of hair cover the forehead above the brows and can vary in length. Bangs have the ability to accentuate and complement your face. Curtain bangs are those unkempt, easy bangs that, as the title suggests, wonderfully outline your face, similar to what a drape does with a window.
Straight bangs combined with wavy hair make an outstanding hairdo. This style is excellent for women who may want to cover their foreheads or soften their faces. Stars such as Brigitte Bardot and Jane Fonda were known for wearing this hairstyle.
3. The Flipped Bob
When it comes to some of the most famous haircuts of all time, the bob unquestionably tops the list. Back in the 1960s, renowned vocalist Barbra Streisand was the queen of the bob hairstyle. She had a flipped bob with bangs.
The bob is reasonably adaptable, and the uniqueness of the cut truly peeks out based on the woman's hair type and thickness. A bob haircut is a reasonable and trouble-free option for fine hair. A straight bob was also an option in the decade. Paired with hair accessories such as bobby pins, one could part their hair for a chic look.
4. Bouffant
The bouffant was popular with women of all ages since it was simple to make and wear. It was popularized by First Lady Jackie Kennedy. Talented hairdressers and a whole era of glam girls including The Supremes elevated bouffant hairstyles to the peak of eye-catching elegance as the decade continued.
To begin with, the hair was placed in a huge curler to provide the necessary bounce. Once set, the hair was backcombed to achieve the desired shape, form, and voluminous style. You could also see this on shows like Star Trek, giving a sci-fi chic look. It happens to be one of the quinessential sixties hairstyles.
Model Twiggy became famous for her short hair in the 1960s. Photo Credit: Allstar Picture Library Limited. / Alamy Stock Photo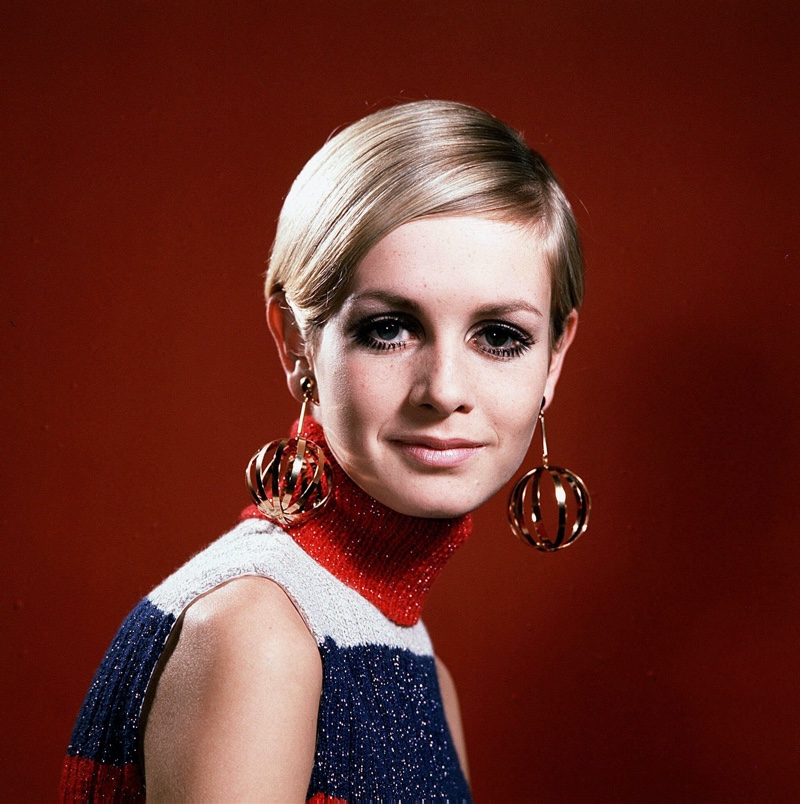 5. Short Hairstyles
This Twiggy short hairstyle combines a classic mood with a new, contemporary look. This Twiggy hairstyle is appealing and easy to manage with a dose of light hairspray. Twiggy's gamine crop revolutionized the early 1960s. This haircut became more desirable with the development of mod-inspired fashions.
The British model Twiggy, with her angelic features, prominent lower eyelashes, and pixie-short hair, is one of the Swinging Sixties' iconic features. Liza Minnelli also became known for this short, signature hairstyle.
Now that you have seen some of the most stand out 1960s hairstyles, you have plenty of inspiration to wear it today. From teased hair to a flipped bob, you will look great with these hairdos.