We all own makeup products for every occasion. Unfortunately, these products are not always safe, and brands do not always involve the best practices to curate these products.
Have you ever questioned yourself whether or not these products are safe on your skin? Most of the time, they contain harsh chemicals that do more bad than good. Let's save this for another time.
Moreover, before launching the products into the market, brands cruelly test on animals to ensure that the products are fit for human use.
However, some brands oppose animal testing for their products. Most companies do not place much thought into brand marketing rather than making safe products. We will share with you the names of some cruelty-free makeup brands in India that are making an impact.
Cruelty-free brands are those that don't test their products on animals. It means – the brand, the product, and the ingredients used are not tested on animals. Therefore, qualifying as cruelty-free. However, it's essential to check the labels and to understand the brand ethics though.
The marketplace on cruelty-free products is, in general, booming globally. Lately, India too has been becoming a thriving market in terms of cruelty-free makeup brands and products.
#1 Colorbar
Launched in 2004, Colorbar is the fastest developing makeup brand with a strong geographical footprint through 100+ stores, 1200+ multi-brand outlets, and more. The brand provides a wide range of cruelty-free products and proves to be one of the cruelty-free makeup brands in India that are gender-equal. They also provide a wide range of shades and textures suitable for all skin types, and this how they gain a huge market of satisfied customers.
#2 Lotus Herbals
Lotus herbals use Ayurveda along with technology in order to broaden their product range and generate long-lasting effects in a shorter time. The products are derived with the usage of 5000-year ancient knowledge of Ayurveda. In other words, their products are handcrafted and developed after years of studies into Vedas with stunning incorporation of Vedic sciences and technology. Lotus Herbals claim to replace chemical ingredients with organic ingredients and abstain from animal cruelty.
#3 SUGAR
SUGAR believes in empowerment, which is why their products are specifically curated to meet every makeup need worldwide. They aim at proving to be cruelty-free makeup brands in India that enable the customers to adjust the products with their skincare routine. Bold to subdued, quirky to crazy, and ordinary to the glam goddess – the purpose is to have fun in every mood.
#4 Iba Halal
Iba Halal is India's first Halal Certified, PETA-certified vegan & cruelty-Free brand. All Iba products are free from alcohol, pig fat, different animal-derived components, and vicious chemical compounds consisting of sulfates, parabens, ammonia, and bleaching agents.
#5 Faces Canada
With a Canadian historical past spanning over forty years, Faces Canada gives one of a kind line of notable makeup and skincare products. For us, all products are proof of your individuality and flaunting your appearance with confidence. The products are also cruelty-free and hypoallergenic. Quality is absolutely one of their core values.
#6 Ruby's Organics
This is among the many cruelty-free makeup brands in India that use hand-picked herbal and organically sourced components to expand a whole variety of makeup staples. Moreover, Ruby's Organics infuse the goods with bio-organic components on the way to nourish and take care of your skin pores. The components are domestically sourced and manufactured.
#7 MyGlamm
One of India's 100% cruelty-free makeup brands, the MyGlamm makeup line contains unique minerals, nutrients, and oils. The European formulations of the products use the best components that each nature and lab ought to offer. Ingredients like Jojoba oil, Argan oil, Tropical Plant oil nourish the pores and skin and are chemical-free.
#8 House Of Makeup
Their products are not tested on animals and incorporate pure organic components. House of Makeup is constructed at the precept of splendor without toxicity. Their purpose is to carry to you a line of Pure, Paraben-free makeup products that looks and feels exactly as required.
#9 Soultree
In an international brand of splendor that abstains from chemically aided makeovers, SoulTree chooses the course of nurture. Backed through heavy research and development, we provide healthful answers for your pores and skin, hair, and splendor care. The awareness is on deep restore that comes from within, with no dangerous side effects.
#10 FAE Beauty
FAE Beauty creates beauty products that suit all skin types, and everyone loves their products. They are 100% cruelty-free makeup brands in India that produce raw, unfiltered, and authentic makeup products. They change the perception of beauty and puts in a new thought about how one should view themselves.
#11 Disguise Cosmetics
Makeup has given women a way to express themselves in extraordinary ways for different moods and occasions. Bogged down with the strain of the traditional definition of beauty, Disguise Cosmetics set out on an adventure to find out what beauty actually in its proper, raw, imperfect, and amusing sense. This independence permits them to create products for real human beings without being tested on animals.
#12 KAY Beauty
KAY Beauty is Katrina Kaif's makeup line that stands for what she believes in. The Indian actress shares that makeup has always been a part of her life from runway to big screen. Therefore she wanted to create products that will represent women in their true selves. Her brand is a bridge between glamor and care.
#13 WOC Beauty
WOC Beauty is an effective effort to make makeup an easy, empowering, and amusing task. For girls finding their tone and undertone can be much of a hassle; therefore, the WOC Beauty ethos will continually be focused on crafting cosmetics that might be formulated based totally on exact undertones and examined on actual human beings with the only and effective goal to create Cruelty-free beauty products.
#14 Bella Voste
Bella Voste is your key to looking gorgeous. It's an expert makeup product and is a women's beauty enhancer. Bella Voste will capture your interest with its velvety eyeliners and Kajal, liquid matte lipsticks, and chubby sticks. Its cruelty-free products are fluttering up the enterprise right away with its attractive variety of beauty products as it's going to provide a hint of luxury in your fashion statement.
#15 Spekta Cosmetics
They are one of the newest vegan and cruelty-free makeup brands in India on the market. They have a wide variety of products available that are suitable for all skin types and complexion. From self-care to lip care, Spekta Cosmetics takes care of it all. Also, the products are durable and stay on the skin for a considerable amount of time.
#16 Blue Heaven
By distinctive features in their willpower and dedication, Blue Heaven Cosmetics has revolutionized the Indian cosmetics industry. The company's product improvement departments consequently operate systematically with the evolution of cutting-edge shades, patterns, and themes. Being a cruelty-free makeup brand in India, Blue Heaven is setting a benchmark in the beauty industry.
#17 Boss Lady Cosmetics
Boss Lady Cosmetics is a brand new makeup brand that knows the desires of the Indian millennial. It is India's first-ever cruelty-free, chemical-free, vegan, and sustainable makeup brand. Boss Lady encourages its purchasers to search for their definition of beauty, vanity, and individualism.
#18 Nyor
Nyor products are formulated with a great knowledge of Indian skin tones and types. Their makeup products celebrate all Indian skin tones, complexions, and types. The most notable point is that all Nyor products are paraben-free, cruelty-free, and vegan, as certified by PETA.
#19 Kiro Beauty
Their makeup products are conscious, luxurious, yet gentle and effective. The products are crafted and formulated with 100% natural and vegan ingredients. Maintaining the luxurious texture and striking the right balance, they are a PETA-certified cruelty-free makeup brand in India.
#20 Daughter Earth
This is one of India's cruelty-free makeup brands aiming to create first-class products through research and plant-based bioactive. The brand in no way test on animals and constantly try to be cruelty-free and vegan.
International Cruelty-Free Makeup Brands in India
#21 Wet and Wild
Wet and Wild are a cruelty-free makeup brand in India. Their products continually prove to be number one in affordability and quality, and it is still growing at a rapid speed. Their carefully chosen ingredients make the customers love their products, and their wide shade range gives them tins of happy customers.
#22 LA Girl
L.A. Girl Cosmetics takes immense delight in focusing on-trend, innovative, and incredible first-class products. With an awesome choice of remarkable beauty products that cater to makeup lovers all around the world, they are cruelty-free and chemical-free.
#23 NYX Professional Makeup
NYX isn't simply makeup! It is a community. NYX produces artists that are brand new professionals. Providing cruelty-free, long-lasting pigments, they are soaring in the makeup industry. Starting their journey from Los Angeles, NYX is gaining recognition in the worldwide market.
#24 Huda Beauty
Launched through popular beauty blogger Huda Kattan in 2013, Huda Beauty is one of the world's quickest-emerging beauty brands. As a brand, they are amusing but sophisticated, and they are constantly innovating! Huda Beauty aims at providing the best quality makeup products that are meant to make every woman feel glam and beautiful.
#25 IsaDora
All their products are perfume-free, cruelty-free, and clinically examined to provide the customers the best of everything. The products prefer to suit all skin types and skin tones, therefore, their makeup products prove to be amusing, and their cruelty-free makeup products gain much popularity and recognition.
#26 Smashbox
Born in LA, makeup artists and professionals test this makeup brand. All of their products are cruelty-free, and they have a wide range of high-quality and comfortable makeup items. Smashbox aims at providing a picture-perfect look anytime, anywhere.
How to Identify Cruelty-free Makeup Products?
Cruelty-free makeup products are becoming extremely popular these days since consumers are looking for sustainable and organic products.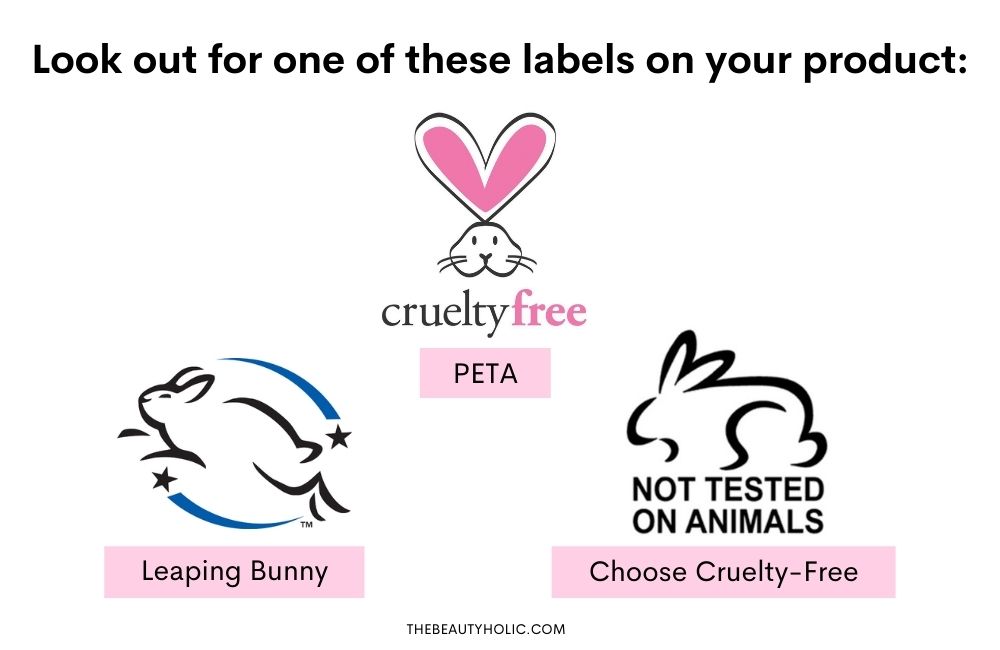 Here are some ways by which you can identify whether or not a makeup brand is cruelty-free:
#1. The quickest and simplest way to identify whether or not a product is cruelty-free is by looking for the bunny logo on the packaging. If the brand is cruelty-free, it will have the pink and white bunny logo or any of the logos we mentioned in the above picture.
#2. If you don't have the product in front of you or if you want to confirm before actually buying the product, then it is a good idea to search through online internet sites for product reviews.
Alternatively, you can download these cruelty-free checker apps in Appstore or Google Play in order to find out whether or not the listing has the brand name of your preference:
Cruelty-Free by Leaping Bunny
Bunny Free by PETA
Cruelty-Cutter by Beagle Freedom Project
#3. Just like you will read online reviews for the actual information of the brand, consulting a beauty blogger can also be a good idea. Beauty bloggers and cruelty-free specialists can provide you with an opinion that is actually going to be right for you.
#4. The last thing that you can do is email the brand yourself. However, if none of these tricks work and you don't feel satisfied, you can reach out to the brand yourself by emailing the brand and confirming your query yourself.
Switching to cruelty-free makeup products and skincare will now be much easier now that you have a whole list of cruelty-free makeup brands in India.
Whether you are shopping online or visiting a store personally, we have mentioned few brand names and some tips and tricks by which you can identify a cruelty-free makeup product. So to save those cute little furries, abstain from brands that test on animals.
Related Posts