Do you feel that if you could just tighten up your skin, you would feel more confident in your skin? 
If you have loose skin on your face, neck, or body, we're sure you're looking for ways to tone it up.
RF skin tightening machines are proving popular lately, sweeping the skin care world. But they're expensive, and home users can't always get their hands on the clinical-grade devices professionals do.
Well, you're in luck because today we're going to explore some best radiofrequency skin tightening machines for treatments at home.
Let's get right into it!
What is radio frequency skin tightening + how does it work?
It's a popular anti-aging treatment that can help tighten the skin and restore its youthful appearance.
Radiofrequency skin tightening uses radio frequency to deliver heat to the deepest layers of the skin. This heated RF energy helps to stimulate the skin by promoting collagen and elastin, which can help firm your skin and reduce fine lines and wrinkles.
The treatment area is typically around the face and neck and can last for an hour. Estheticians or medical professionals perform it in spas or dermatologists' offices.
This skin tightening procedure gives immediate results that can last for months, so it's great for special occasions or if you want to give your skin a lift without surgery.
Do at-home RF skin tightening machines really work?
They absolutely do! At-home radiofrequency devices work just like their clinic counterparts by penetrating the layers of your skin with radiofrequency waves. In turn, this makes the skin heat up and contract, resulting in the face and body skin tightening and lifting.
You can perform these treatments in various settings on your device, tailored to your needs. There are a lot of people who have found success with these devices, but the results will vary.
If you're considering using one of these radio frequency skin-tightening machines, carefully research your options and follow the instructions carefully. Using the right device and following proper instructions will help you achieve tighter, youthful skin.
You can use a home radio frequency machine as part of your regular skin care routine. The great thing about using an RF skin tightening machine for home use is that you won't have to take a trip to a spa or dermatologist's office. Plus, it's a great workout for your skin!
The Benefits 
High frequencies from these skin tightening devices offer an array of benefits if you're looking more than just to achieve firmer skin:
Tightens skin
Helps improve skin texture and elasticity
Triggers skin cells for collagen production
Helps fight off mild to moderate sun damage
Stimulates skin to increase cellular activity
Improve the firmness of your skin by diminishing wrinkles and fine lines
Makes your skin look younger
Gives your sagging skin a natural lift and health
A non-surgical way to slim down your face.
The treatment is not only limited to your facial skin; you can use it on the neck, décolletage, and chest too!
Safe to use for all skin types, including sensitive skin
The Best At-home RF Skin Tightening Devices
1. MLAY Radio Frequency Skin Tightening Machine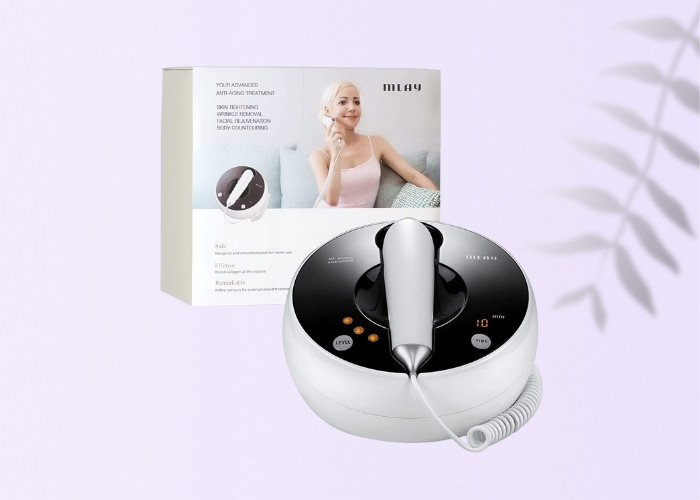 This skin tightening wand is easy to glide, covers a lot of ground, and handles most body parts from face to thighs.
It's lightweight and comes with two different attachments for the face and body that you can pick according to your requirements. It uses the latest bipolar radio frequency technology that reaches deep into the skin to deliver an effective, non-surgical treatment that is safe for men and women alike.
The 1.0 MHz frequency penetrates skin deeply, and the deep heating of the tissue promotes collagen synthesis, which in turn boosts skin elasticity and firmness. The 50/60Hz frequency has strong anti-oxidation and anti-aging effects. 
The built-in safety system automatically adjusts the power depending on the temperature of your skin. So there's very little chance of leaving behind burns or marks.
Use it for at least 10 minutes on each side of your area per session, with three different settings available. Besides the conductive gel that comes with the device, you can also buy separate gels. There are many gels on Amazon, so choose the one you think will fit your needs.
The MLAY's RF machine boasts visible results on average 60 to 90 days, and you just have to use it once or twice a week. Plus, it's backed by a 60-day money-back guarantee and an 18-month warranty.
Pros
Can be used on different body areas
The wand glides smoothly without tugging 
Safe for at-home users
Backed by a decent guarantee and warranty
Cons
Time-consuming treatment session
Some users haven't experienced results
A bit overpriced than other machines
2. LEFAY 5-in-1 Device – Versatile Face Lifting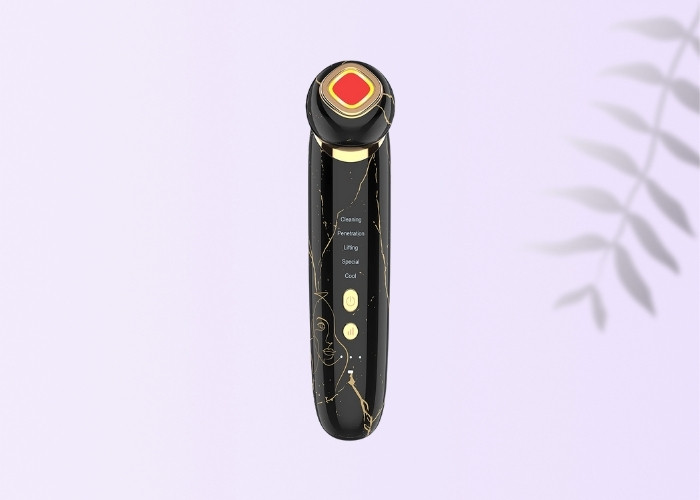 The LEFAY 5-in-1 RF device is impressive for a first-gen model and for the price. The device uses both RF and red/blue light technology. Plus, it also features a smart temperature control system to prevent overheating.
The machine is designed for the face and neck. We didn't test the device long enough to gauge its anti-aging effects, but we did feel some skin tightening after using it for two weeks.
There are 5 different modes to choose from, depending on your needs. You can use it for a thorough facial cleansing, penetration to help with absorption, lifting, special care for your eyes, or cooling mode to soothe and sterilize.
The machine is easy to use, and the cooling and heating function maximizes the efficiency of your treatments. Use it for 8 to 10 minutes per day, and you'll see a noticeable difference in your skin's appearance after just one use – glowy and tighter!
The high-frequency vibration massage provides a massage effect, effectively reducing wrinkles and fine lines and improving skin elasticity. Moreover, the device does have a long track record of high customer satisfaction and offers a solid one-year warranty for quality-related issues.
Pros
Great aesthetics and very comfortable in the hand
The LED and temperature control is well designed
Pretty powerful
Comes with everything you need
Ideal device for face lifting
Cons
Takes about 2-3 weeks to feel the full effects
Some users have reported dry skin after using this product
3. JEOFARN Device – The Expert Made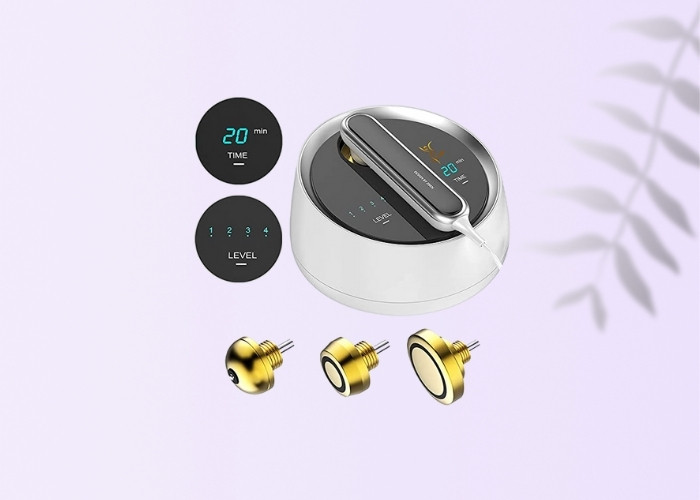 The device is co-developed by beauty salon and dermatology professors all over the world, so you can trust that it's a high-quality product. Even a former aesthetic nurse recommends it!
This skin tightening machine is a good value. You pay a little more than some of the other kits, but you get 4 levels of intensity and 3 probes that fit different parts of the skin. 
With a good grip, it's easy to use–simply apply your favorite hydrating serum, lotion, or acne gel to the area you want to treat and use the device for 15 minutes. When you use an essence targeted for your skin issue, it increases the absorption up to 98%. JEOFARN recommends you use it 2 or 3 times a week for at least 8 weeks.
The 3 smart time modes are the most impressive: 10-minute for RF soothing and lifting, 20-minute for high-frequency firming and wrinkle removal, and 30-minute for a powerful anti aging microcurrent session. On a hotter setting, the device works perfectly.
Compared with other home-use RF skin tightening treatment devices, JEOFARN has a more powerful treatment mechanism that can effectively address sagging skin and oxygenate the skin providing long-term tightening and lifting.
Pros
Super lightweight
Different time modes help you get an effective, tailored treatment
Faster results than other devices mentioned
Comparable to thermage, but much cheaper
Cons
The usage instructions need to be clearer
Takes a while to heat up
4. Sensilift Radio Frequency Anti-Aging Kit – The Lowest Effort Device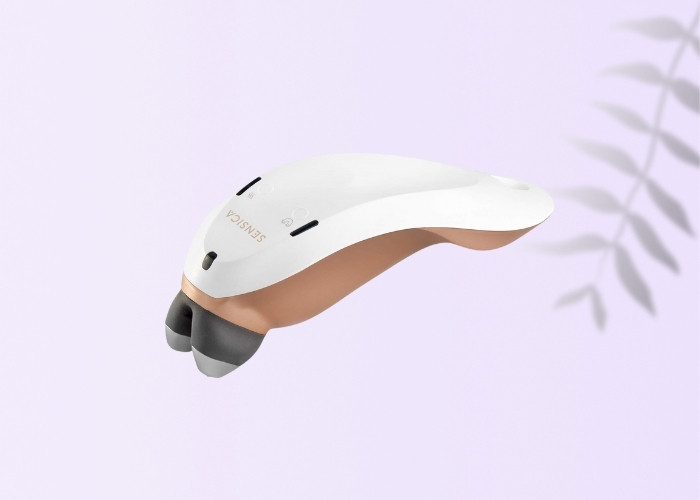 Looking to take years off your appearance? Sensica has just the thing – an FDA-cleared anti-aging tool that delivers even, gradual, and considerable facial tightening without pain or downtime in just 5 minutes a week!
The device features a dynamic RF heating (DRF) technology, combining radio waves and a dynamic massage for effective treatment. While radio waves do the heavy lifting for your skin, the dynamic massage function helps to increase blood circulation, lymphatic drainage, and collagen production in the treated area. You'll feel like you're getting a quick massage.
The stylish design has soft-touch buttons and an ergonomic handle to make it comfy to use. A gift like this would make a great birthday, anniversary, or Christmas present for anyone special, regardless of gender. 
Sensilift has 2 safety sensors to monitor temperature and full skin contact, 3 energy levels, and 2 massage modes. The higher energy levels work well, but it's nice to have the option to use lower levels if you're feeling extra sensitive. Smart built-in sensors constantly adjust the temperature for maximum safety, which is really reassuring. 
Sensilift offers a 2-year guarantee, long enough to determine whether this gadget's results would live up to its hype. Plus, you get one free professional consultation. This machine is the best choice for a painless, low-effort, and noninvasive facelift. It's a solid performer and will improve your skin in noticeable ways.
Pros
FDA-cleared and clinically proven
Features a built-in temperature monitor, which always ensures optimal safety
Effortless to fit into your beauty routine
Intuitive to use
Warm sensation feels relaxing on the skin
Works on all skin types, from dry to oily
Low-effort maintenance sessions
Cons
Can be a bit noisy during use
Requires frequent maintenance sessions
5. Nulift Portable Handheld Radio Frequency Device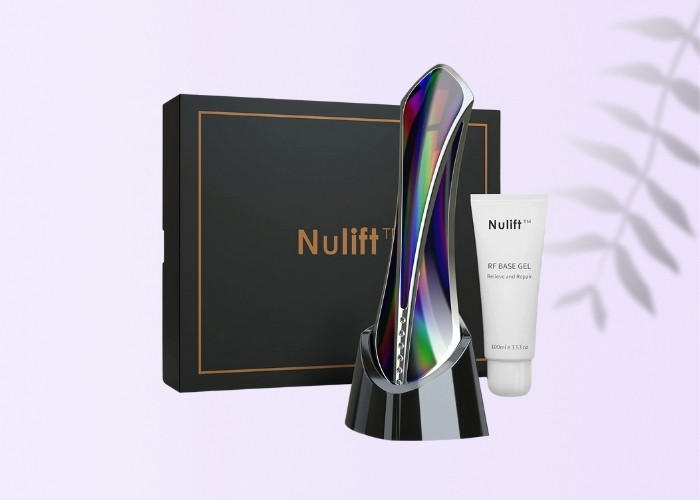 The Nulift RF Skin Tightening Machine is an impressive, stylish device that delivers a serious punch in results for both the face and the whole body.
FDA-cleared, the device features top-of-the-line power that competes with salon devices. What really sets it apart is the combined RF and TS-lifting technology, which enhances its ability to tauten the skin and improve muscle memory to retain that lifted and contoured look.
The treatment head of the device is made of medical-grade stainless steel with gradient color accents, adding a luxe touch. Because it operates on 110V AC, it must be plugged into a wall outlet to work—it's corded. Moreover, the instruction manual isn't straightforward.
The included Nulift Base Gel ensures optimal conductivity during the treatment. There are five modes:
ATV to tighten and tone
IAP import mode for absorption of serum or essence deep into the dermis
TS for skin renewal
LED to restore glow
VR-vibration mode to massage skin
The manufacturer recommends using it 3 to 5 times a week for a treatment time of 5 minutes per area of the face and 10 minutes for the body. Results are impressive in just an average of 8 to 12 weeks, and from our research, most users saw great improvements in their jawline, fine lines, and wrinkles.
Pros
FDA-cleared
Powerful, salon-quality treatment
Sleek, futuristic design
5 modes: 4 for skin tightening and 1 for massage
Comes with treatment gel
Highly effective facial and body skin tightening
Cons
The instruction manual isn't easy to follow
Must be plugged into a wall outlet to work
How to Choose the Best RF Skin Tightening Machine to Use At Home
With our top picks in hand, here's how you can choose the best radio frequency skin tightening at home device for your skin needs!
The type of machine
There are two main types of RF skin tightening machines: mono-polar and bi-polar. Mono-polar machines use one electrode to emit radiofrequency energy, while bi-polar machines use two electrodes. FDA clearance is a plus but make sure it's for home use.
Decide what features you want
Would you like the device to have both heating and cooling features or just the hottest intensity levels? Some machines come with different attachments that can be used for different purposes, and some come with built-in timers so that you don't overdo them. Make sure that the tool specifications are powerful enough to achieve what you want.
Treatment settings
Multiple treatment settings will ensure that you can customize your treatment to your unique needs. Also, devices with automatic settings that adjust automatically to your target area can be really helpful, especially if you're new to RF skin tightening.
Cost
Don't rush—set a budget and stick to it. An average device costs about $200 to $600. However, beware of cheap devices as they may not be as effective.
Pick a good brand 
Invest in one with a great reputation and a solid warranty. This will ensure you're covered if anything goes wrong with the machine. A well-known brand is likelier to have safety features and steady results.
Get a conductive gel
Without a gliding gel, your device won't work. A medical-grade conductive gel helps improve the efficacy of the radiofrequency energy by acting as a coupling agent between the device and your skin. Moreover, it helps to reduce friction and prevent skin irritation.
Read reviews
This will help you see what other people have liked and disliked about each machine and help you figure out which models are the most popular on the market. 
Most Asked Questions about Radio Frequency Skin Tightening Machines
How often can I do radiofrequency at home?
While there is no set frequency, most experts recommend treatments every two to four weeks. Keep your manufacturer's instructions in mind for the best results.
How many treatments will I need?
Often, at least 5 to 6 treatments spaced between 3 to 8 weeks apart are required to see noticeable results.
How long will it take to see results?
Typically, it takes four to six weeks to see the results. For some, the full effects of the treatment may not be apparent for several months, so it's recommended to be patient.
Is it safe?
Generally, radiofrequency skin tightening treatments are considered safe when performed by a qualified professional. But when you perform it at home, there is a greater risk of complications. Luckily, you can minimize them if you follow the instructions carefully and use a reputed device.
Are there any side effects?
Our skin is the largest organ in our body, no secret there. And, as with any organ, radiofrequency (RF) exposure can cause side effects: 
Temporary swelling
Redness
Tingling
Burning (if the treatment is incorrectly performed)
People with darker skin are more likely to experience RF side effects. While we don't yet know all the long-term effects of low-energy radiation, there's no solid evidence at this time that it poses a health risk.
Which is stronger? Ultrasound or Radiofrequency?
Although both have been shown to be effective in clinical studies, the individual's response to each may differ. Ultrasound has a better effect on deeper tissues, whereas radio frequency is more effective at surface-level skin layers. Talk to a professional to figure out which treatment is best for you.
The takeaway
If you deal with loose and sagging skin, it might be worth investing in one of these best home radio frequency skin tightening devices.
Each of these reviewed devices has been carefully selected based on its ability to tighten skin, ease of use, and overall value. 
Not only are they great for improving the look of your skin, but they also work to tighten and tone your muscle. Take care not to go beyond the recommended usage time, as the skin can get damaged if you're not careful.
Feel free to comment below if you have experience with one of these devices – we'd love to hear from you!