Get excited, folks – we're breaking down the top game-changing products from none other than Cheryl's Cosmeceuticals. Founded by the dynamic duo Cheryl and Oscar Periera way back in '69, this brand is all about catering to Indian skin types.
Starting as a small-time operation with just 500 members, Cheryl Cosmeceuticals has since been acquired by L'Oreal Paris – talk about making waves in the beauty industry!
Now without further ado, here are our top Cheryl's Cosmeceuticals products and their honest ratings.
1. Cheryl's Cosmeceuticals Dermashade SPF 30 Sunblock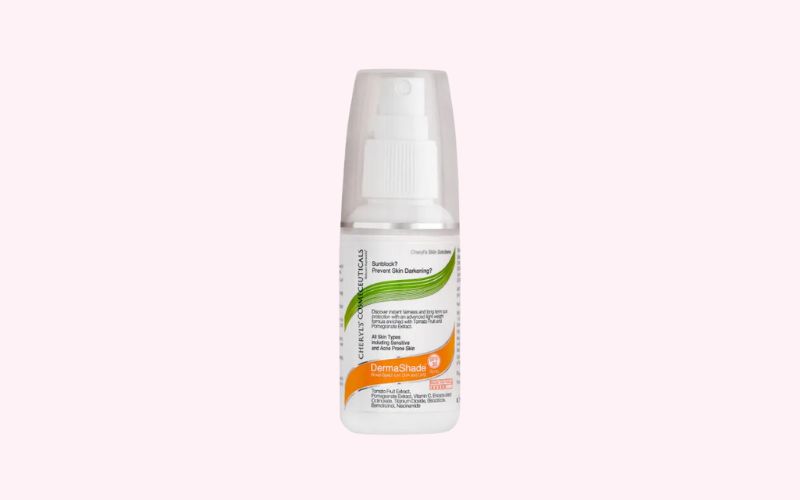 Features
Does leave off a sticky or white cast on the face.
Comes in a convenient spray container.
A bit expensive.
Paraben-free
Contains aloe vera, bisabolol, and trehalose, which are all magic ingredients that help heal sunburned skin.
Review
Skincare routines can be challenging to keep up with, especially when the sun, pollution, and stress are lurking around every corner. The sun's harmful radiation consists of UVA and UVB rays, making the skin look wrinklier. Staying out of the sun during the hottest part of the day will undoubtedly not help overcome this skin issue.
A sunscreen only filters or partially prevents the sun rays from entering the layers of the skin. At the same time, sunblock can block the rays from entering the layers of the skin.
Cheryl's Cosmeceuticals sunblock is slightly more expensive than regular cream or gel-based sunblock. Still, given its good work at covering our body parts with a protective layer, it makes Cheryl's products stand out.
A word of advice – don't just spray and go; blend it in gently with your fingers or a sponge for optimal coverage. Sure, it's pricier than other sunblocks out there, but it's the real deal when it comes to protecting your skin from harmful UV rays. This is one of the five must-have Cheryl's products that'll keep you looking stunning all year round.
2. Cheryl's Cosmeceuticals Oxyblast: 1 Pack Facial Kit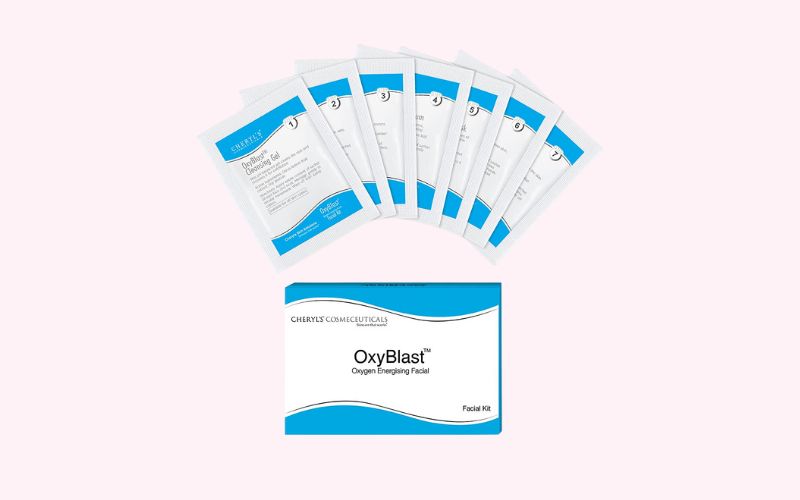 Features
Easy-to-use sachets
Budget-friendly
Can be used by men and women and works wonders on dull, mature skin.
Not made for acne-prone and sensitive skin.
Review
We are all swamped these times with work-at-home chores and deadlines piling up rapidly, which gives us very little time to pamper ourselves.
Though there are many salons where you can treat yourselves to a little piece of heaven occasionally, it would make your wallet lighter and can be too time-consuming. So here, Cheryl's Cosmeceuticals is bringing you the Oxyblast facial kit filled with rich enzymes extracted from real fruits and contains antioxidants.
Why oxygen? As we age day by day, the oxygen content naturally present in our skin reduces due to lifestyle choices. So, to maintain a glowing and healthy skin tone, you will have to inhibit a lot of oxygen-rich supplements like these.
Revitalize your skin with Cheryl's Cosmeceuticals Oxyblast: The ultimate remedy after a stressful week! Each pack is a one-time use, making it hassle-free. Infused with soothing aloe vera, this facial kit will give you a refreshing and radiant glow!
3. Cheryl's Cosmeceuticals Dermabright Face Wash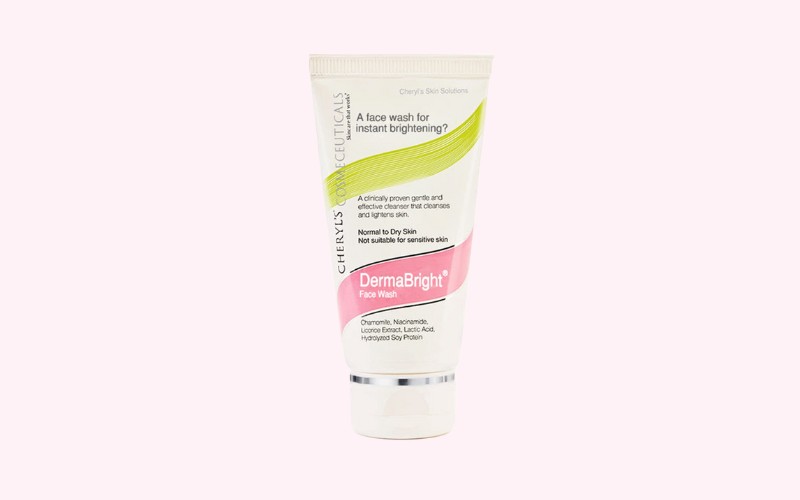 Features
Comes in a gel-like consistency which is easy to spread over the face and neck.
Has a slight fragrance and color that is pleasant to look at.
Has a good moisturizing impact
Review
Another excellent Cheryl product is their Dermalite face wash, a popular face product for cleansing. This face wash can be used to remove light to medium makeup.
After using this cleanser, your skin will not feel harsh or dry like it does after using most face washes. As a result, it locks the moisture within the skin layers.
Cheryl's Cosmeceuticals Dermalite Face Wash can help you say goodbye to dry, dull skin once and for all. This face wash packs a serious punch with just one use, leaving skin feeling smooth and supple for hours.
Cheryl's Cosmeceuticals face wash contains organic ingredients like chamomile tea and licorice extract melanin production so your skin stays dry and oil-free. Plus, it's the perfect addition to any skincare routine as it replenishes dull and dry skin with the right oils.
While it may not clear pigmentation or scars, this product is a must-have for anyone looking to boost their skin tone. Don't wait any longer to uncover your best skin!
4. Cheryl's Cosmeceuticals I-Brite Under Eye Roll-On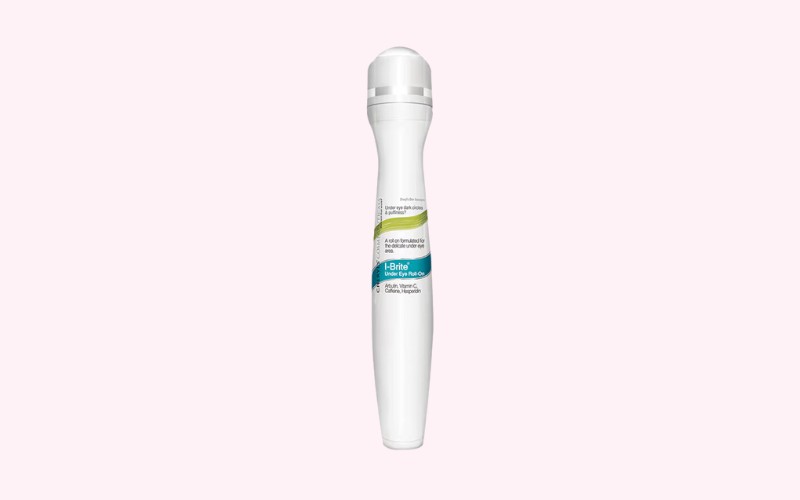 Features
Consists of some common yet miraculous ingredients like coffee beans and sources of Vitamin C.
Easy to handle and shows instant results
Much more expensive for an eye-roller that covers only the dark circles.
Review
Can one find a beauty product that eliminates dark circles and puffiness under the eyes caused by lack of sleep, aging, and low water content?
I-Brite Under Eye Roll-On from Cheryl's products is very effective for any painful signs of stress on our faces.
This roll-on contains some interesting ingredients, including Hesperidin, which relieves dark circles and oiliness, and Arbutin, which restores the gleam under and around the eyes.
When used under the eyes before you hit the road, the eye-roller from Cheryl's products imparts a refreshing glow to your face.
Although it is a good choice to prevent puffiness under the eyes, it is not so compelling when it comes to dark circles. Nevertheless, this Cheryl product deserves high marks. A star has been taken off due to its high price compared to other organic eye creams.
5. Cheryl's Cosmeceuticals Vitalift Cream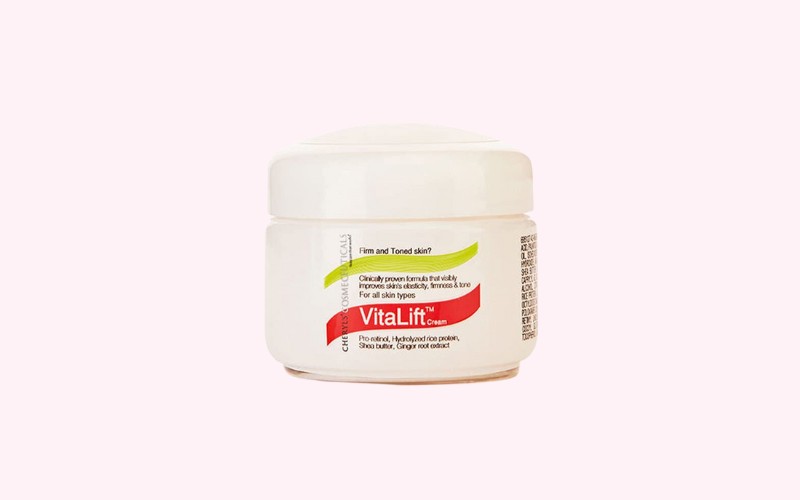 Features
Ginger root extract and shea butter restore the skin's elasticity, making the skin look younger and suppler.
Contains retinol, an essential ingredient for maintaining healthy skin regardless of age.
Provides enough hydration needed for a healthy skin texture.
Review
Looking for a night cream that packs a powerful punch against wrinkles and fine lines? Look no further than Cheryl's Cosmeceuticals Vitalift Cream!
This lightweight formula easily targets pesky crow's feet and eye area wrinkles. Plus, its non-greasy texture won't leave you feeling oily as you sleep. And the best part? You'll see a noticeable difference in just a few days of use!
At a great price point compared to other Cheryl products, Vitalift cream is an easy way to make a big impact on your skin.
What makes Cheryl's Cosmeceuticals better than other brands?
Get ready to step up your beauty game with Cheryl's Cosmeceuticals!
With so many new beauty startups popping up, knowing which brands to trust can be hard.
But fear not, because Cheryl's has been perfecting their products for 30 years before releasing them to the world. That's right, the Cheryl team has done their homework!
Each product targets specific skin issues, so you can be sure you're getting the desired results. And unlike those "all organic" brands, we're not afraid to back up our claims with details.
So, what are you waiting for? Check out our top five products and see the difference Cheryl's Cosmeceuticals can make for you!
The bottom line
As you have seen in Cheryl's Cosmeceuticals reviews, we are talking about some of the best and most scientifically produced natural beauty products. So, what's stopping you? Try these best Cheryl's cosmeceuticals products out on your skin and see how well it rewards you for using them.