Looking for the best DHT blocking shampoos for women? Keep on reading.
Having too much DHT does not affect just men but also women. DHT blockers can reduce the excess production of the hormone, which is a common cause of baldness and other hair problems.
Most articles that list the best DHT blocker hair loss shampoos for women do not include many options.
Nevertheless, many products actually do the job.
With this in mind, we've highlighted the best DHT blockers for women that prevent hair loss and allow your hair to thrive in a healthy environment.
Readers like you help keep The Beautyholic running. When you buy through links on our blog, as an Amazon Associate, we earn from qualifying purchases at no extra cost to you.
1. Kiierr DHT Blocking Shampoo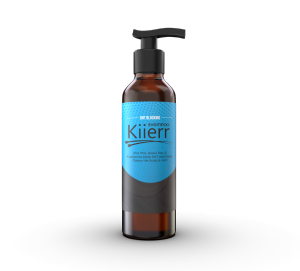 Kiierr DHT Blocking Shampoo is the next-generation hair restoration shampoo to block DHT, the hormone that causes hair to thin and fall out, and restore thicker, fuller, stronger hair in no time.
Featuring a proprietary blend of natural and effective DHT-blocking botanicals, this shampoo helps fend off the effects of DHT.
The Kiierr shampoo blocks the formation of 5-alpha reductase enzymes – which are primary reasons for hair loss and thinning.
For women and men who have thinning hair on their scalps or on their hair shafts, the Kiierr DHT Blocking Shampoo is created specifically for them.
This shampoo by Kiierr has proteins that are good for hair, vitamin E, pro-vitamin B5, keratin, jojoba oil, and collagen amino acids that will inhibit DHT production so you can restore thicker, stronger hair, making it a top hair loss shampoo.
It is an advanced and unique DHT blocking shampoo that is 100% pure and it does not contain any toxic chemicals.
Pros
Formulated with advanced ingredients
Doesn't contain toxic chemicals
Suitable for men as well
Contains collagen, amino acids and keratin
Cons
2. Botanical Green Care Hair Loss Therapy Thickening Shampoo
Shop Now
This is a 100% pure Shampoo that thickens and restores healthier, thicker hair.
This shampoo for hair loss has been formulated with ingredients that combat hair loss, such as saw palmetto, biotin, niacin, caffeine, taurine, guarana extract, arginine, keratin, and grape stem cells.
With regular use, the shampoo can significantly reduce hair breakage and thinning in about two months.
If you've recently started losing hair, try this shampoo to keep it from happening again. You'll also notice your hair is thicker and fuller.
This natural botanical shampoo helps thicken the hair roots and prevent hair loss by providing a moisturizing, balanced environment.
Pros
Free from SLS and paraben
Improves thinning hair
Reduces hair loss
Cons
3. Propidren DHT Blocking Shampoo
Shop Now
Hairgenics Propidren Hair Growth Shampoo is ideal for people who are suffering from androgenic alopecia.
The shampoo keeps DHT from forming using saw palmetto, biotin, and other powerful DHT-blockers.
The shampoo lathers well, smells mildly minty, and cleans hair effectively. And it leaves the hair softer, too.
This product actually stops hair loss and helps grow hair where your hair has begun to thin, particularly in the crown area which makes it one of the best DHT blocking shampoos for women.
After regular use, you will find less hair shedding down the drain.
Using this shampoo together with DHT blocker vitamins increases its effectiveness.
Pros
Contains Saw Palmetto, Biotin, and Vitamin B
Cruelty-free and vegan
Offers 100% money-back guarantee
Cons
4. PURA D'OR Original Gold Label Anti-Thinning Shampoo
Shop Now
The PURA D'OR Original Gold Label Anti-Thinning Shampoo leaves hair soft and silky and protects against damage, making it a favorite among men and women alike.
You won't need to rinse the suds out of your hair, yet your hair feels soft and doesn't feel weighed down.
While it has a natural scent, there is also a floral scent that isn't overpowering.
A unique blend of anti-thinning agents is included in the formula, such as Pro-Vitamin B5, Biotin, Nettle Extract, Pumpkin Seeds, and Black Cumin Seed Oil, that stops hair loss for a long time.
The shampoo is ideal for battling postpartum hair loss and promoting new hair growth. After a few weeks of using it, it makes hair stronger and shinier.
Pros
Herbal ingredients
Slows down hair loss
Strengthens weak and damaged hair
Makes hair more manageable
Vegan
Cons
The formula may have changed
5. DrFormulas HairOmega DHT Blocker Shampoo
Shop Now
A clinically tested DHT Blocker Shampoo containing Argan Oil, Tea Tree, Caffeine, and Biotin increases hair volume, thickens and improves hair thickness, and softens the hair while decreasing frizz and flyaways.
Infused with Moroccan Argan Oil, Caffeine, Tea Tree Oil, and Biotin, it is safe and effective.
A tiny amount of the shampoo lathers pretty well and quickly. It thoroughly cleanses the scalp without hurting the hair follicles. Additionally, it eliminates dandruff.
This shampoo can help you alleviate scalp inflammation or psoriasis as well as stress-induced hair loss.
This DHT blocking shampoo for women stimulates hair growth, especially along the hairline. As a result, hair quality and texture improve.
Pros
Tea tree scented
Calms scalp inflammation
Stimulates hair growth
Sulfate-free
Cruelty-free
Cons
6. Hair Restoration Laboratories' Professional Strength Shampoo
Shop Now
One of the leading hair restoration clinics in the country developed this shampoo.
It is completely pure, so it is safe to use. This product is 100% organic and free of harmful chemicals.
The shampoo's formula contains caffeine, pygeum bark, pumpkin seed oil, and cayenne fruit extract that leaves hair smooth.
Ingredients that promote healthier, thicker hair and make it easier to manage are also included, such as l-arginine and panthenol, strengthening and healing split ends.
Using the product for six months reduces hair fall and makes hair appear fuller. It does not cause new hair to grow, though.
Pros
Free of silicone, sulfates, and parabens
Enhances hair thickness
Significantly reduces hair loss
Cons
Results might take a long time
The scent is like a cologne
For some, it can cause hair to fall out
7. ThickTails Stimulating Hair Shampoo and Conditioner
Shop Now
ThickTails is a new hair shampoo and conditioner product line designed exclusively for hair professionals. Women experiencing thinning hair, breakage from menopause, stress, or recovering from pregnancy can benefit from this DHT-blocking shampoo.
Keratin is highly concentrated in this shampoo, which helps to detangle thick hair and prevent split ends and damage while fighting breakage to protect those long strands.
Vitamin E and biotin are used as a base for ThickTails' shampoo to increase absorption of the conditioners.
When used on an itchy scalp, it calms it down with the first use. Shampoo with a pleasant scent, tingling sensation, and good lather. This shampoo adds volume, bounce, and shape to your hair.
Meanwhile, the conditioner helps with detangling hair.
Pros
Ideal for those experiencing menopause
Free from preservatives, synthetics, alcohols, and sulfates.
Cruelty-free
Cons
Conditioner can be drying sometimes
Does a DHT blocking shampoo really work?
There are several reasons why DHT blocking shampoos work.
If the ingredients have any anti-DHT properties, they will neutralize the DHT in the hair shaft so that it isn't formed by DHT, like androgen isn't formed by testosterone.
DHT will no longer cause hair damage as a result. As a result, there may also be no sebum, meaning that split ends will not form since there'll be no reason for them to form.
DHT blocking shampoos also work by removing androgen from the root of the hair, where it forms. You can do this by using a good root-covering shampoo.
Another way is to use hair products containing natural oils and anti-dandruff or anti-inflammatory ingredients, such as those found in coconut oil.
To prevent DHT from forming, you can apply these products to the roots.
Additionally, it blocks androgen receptors in the hair. As it prevents androgen from absorbing into the roots and the hair, this is the best method.
How do DHT blocking shampoos work for hair growth in women?
When it comes to women's hair, hair loss is often caused by a process called DHT, which results from the female hormone DHT being present in excess.
Men have higher DHT levels, but women can still have higher levels, contributing to hair loss.
Even though this effect is minimal, it may be responsible for other hair loss problems such as alopecia areata (AA) or 'spot baldness,' particularly when these spots show up on the scalp.
Shampoos that inhibit DHT (also known as DHT Blockers) are specially formulated with antioxidants that fight the breakdown of follicles, a key cause of female hair loss.
DHT causes hair follicles to break down, making hair thin, brittle, and triggering hair loss in women.
The use of DHT inhibiting shampoos, however, is one of the best ways for women to stop hair loss permanently.
Is blocking DHT a good idea?
The first time you use a DHT blocker shampoo, you will notice a decrease in hair growth.
Using DHT-blocking shampoos regularly will increase your chances of growing back your hair. It can be effective for hair growth.
During puberty, DHT levels peak around 13 years old and then gradually decrease until around 30 years old.
A rise in DHT levels may contribute to hair loss and the development of new hair on the scalp.
At the same time, DHT is needed to produce hair follicles. As a result, the new hair is not fully developed and does not grow, and appears as mini-bumpy spots on the scalp.
In the end, blocking DHT production with certain products may be effective, but it is important not to go overboard them.
Side Effects of DHT Blocker Shampoos
As a side effect of using DHT blocking shampoos, you may notice hyperpigmentation, unwanted hair growth, acne, and the appearance of body hair.
You'll see that your hair will become thicker and fuller, which is exactly what you want.
When you use hair products like hair cream, hair tonic, or some hair serum, you can pair them with an anti-DHT shampoo.
Using excessive hair products will increase the amount of DHT in your body.
On average, women experience an increase in unwanted hair on their bodies, while men experience an increase in body hair.
Consider switching shampoos if you experience more than two of the above side effects or a replacement product from the list of the best DHT blockers for women listed above.
Final Thoughts
Sadly, women are also susceptible to hair loss, especially as they grow older and their hair becomes thinner and brittle. Moreover, stress and chronic illness can worsen the situation.
We listed some DHT blocking shampoos for women that may help prevent hair loss or reduce its impact.
Using these shampoos consistently for a few months can significantly reduce hair loss and even encourage new hair growth.
DHT-blocking products are primarily used to help hair look healthier, but they can also prevent hair loss.
Before applying any new product, perform a patch test. If you're unsure, talk to your doctor about using a hair loss treatment plan along with a DHT-blocking shampoo.
Related Posts