Everyone talks about the importance of sunscreen. But, why?
Because no matter what great products you use, if your skin isn't protected from the sun, then you've got to deal with fine lines, pigmentation, and sagging skin sooner than you'd like.
Sunscreen is a lifesaver for all skin types. This brings me to the topic of today's review: Aroma Magic Carrot Sunscreen Lotion.
Specifically, I wanted a sunscreen to protect my hands and feet. Since carrots are good for the skin, the word carrot in its name caught my attention. Moreover, this mineral sunscreen lotion is entirely safe for children and cruelty-free.
About the product
I'm free of oxybenzone, paraben, harsh chemicals, alcohol, and artificial fragrances. With my all-mineral, super-light formula, I create a physical barrier between you and the sun. My oil is non-greasy, skin-friendly, and enriched with carrot seed, sea buckthorn, and rice bran oils. They provide natural sun protection, vitamin B5, C, and E, and prevent signs of aging. With lavender, chamomile, and myrrh essential oils, your skin is moisturized, soothed, and protected. A mineral reflector, non-nano zinc oxide, is a mineral found in nature that scatters harmful rays. Extracts of carrot nourish skin cells and provide smart sun protection.
Ingredients: purified water, organic beeswax, zinc oxide, Daucus carota sativa extract, Oryza sativa bran oil, Daucus carota sativa seed oil, vegetable glycerin, aloe barbadensis gel, hippophae rhamnoides oil, Chamaemelum Nobile essential oil, ascorbic acid, Lavandula angustifolia essential oil, Commiphora myrrha essential oil, sodium riboflavin phosphate, panthenol, color (food grade color)
Readers like you help keep The Beautyholic running. When you buy through links on our blog, as an Amazon Associate, we earn from qualifying purchases at no extra cost to you.
Price: check it out on Amazon
How to use it?
As natural ingredients tend to separate, knead the tube with your hands and shake it well.
To get maximum protection, apply generously fifteen minutes before being out in the sun.
To protect your face, use half a tablespoon and cover your entire body with one tablespoon.
Apply a moisturizer afterwards. That complements your makeup routine perfectly.
My experience with Aroma Magic Carrot Sunscreen Lotion SPF 15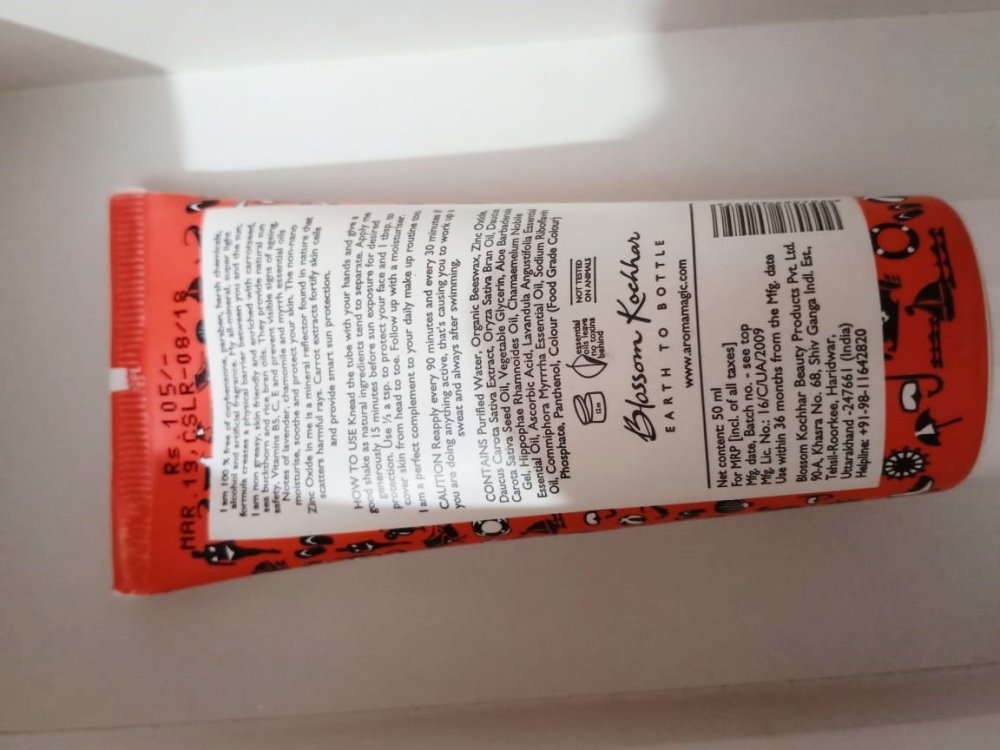 Some appealing bright and sunny prints give the sunblock a beachy vibe. The flip-top cap makes it a breeze to transport. It doesn't require much surface area. The cap seals tightly, so it's leak-proof. The packaging is so tempting and chic to carry around. The opaqueness of packaging makes it somewhat hard to find out how much product is used and how much is left.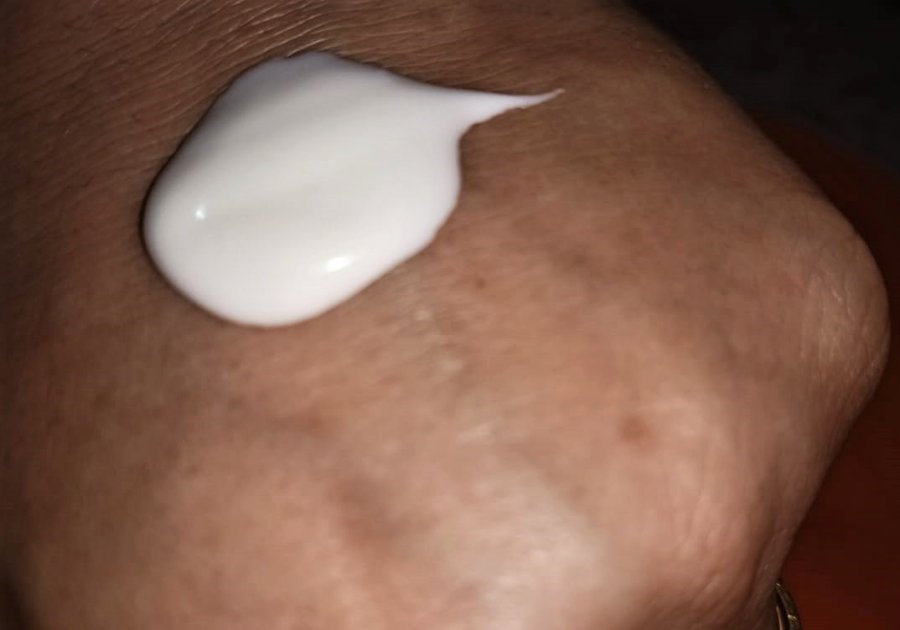 This sunscreen has a creamy and lightweight texture, making it relatively easy to apply. There is no white cast or residue after application, and it provides the right amount of moisture.
Since lavender oil is one of its ingredients, the fragrance is predominantly lavender-like. Even after applying this cream for a couple of minutes, the smell lingers. Nothing about it smells like carrots, but it's quite odd and doesn't smell good.
I immediately bought the sunscreen after its launch. I wanted a sunscreen I could use on my face and uncovered areas of my body.
First, I apply it to one of the exposed areas of my body other than my face. It provides adequate hydration and offers broad-spectrum UV protection.
After applying it to my face, I noticed that my face looked oily. Those with combination or oily skin should skip this step because their faces will look terribly oily. If you apply too much, your face will sweat profusely.
For dry skin, however, this chemical-free sunscreen is a blessing. You can apply a small amount on your face, but be aware that your face will start sweating profusely if you apply too much.
It took my skin two to three days to get used to this sunscreen. If you have dry skin, this may be the best sunscreen for you.
On my face, Aroma Magic Carrot Sunscreen Lotion lasts about 5-6 hours. It's remarkable how well it protects my hands and feet from the sun. The lotion absorbs quickly and does not feel greasy due to its light texture. This will be a holy grail product for dry skin beauties and not a lot for oily skin.
Pros
Affordable and readily available in both online and offline stores
Protects against a broad spectrum of UV rays
Has natural ingredients and is chemical-free
Ideal for normal to dry skin
Travel friendly
Moisturizes adequately
Best for hands and feet
Children-friendly
Cons
For summers, SPF 15 is not enough, as it doesn't offer enough protection from the sun
The smell lingers even after applying for a few minutes
Often causes breakouts on oily skin
A slight dulling effect on the skin
Aroma Magic Carrot Sunscreen Lotion

Final Word
A good sunscreen that moisturizes your skin effectively. If you want to give this a shot, try it in winters since it's generally best for dry skin and has a lower SPF rating, which is not enough for summer. In humid climates, you should avoid it since it can cause your skin to become greasy. However, in winter, it's perfect. If you are looking for affordable sun protection, this sunscreen may be for you.