Electric Picnic 2017… epic as always!
On Saturday, I spent a fun, rainy and windswept day down at Stradbally for day two of EP… to be fair, we were in the middle of a field in rural middle Ireland in early autumn, so I think everybody expected it and came well prepared. I felt like a bit of a nutter for wearing a short skirt, but I did bring a thick pair of sensible black tights in my handbag, plus extra scarves, cardigans, gloves and even an extra coat in the car. It was pretty dry all day until 6.30ish, when the rain came down and we found ourselves huddling in the Three Ireland #3Disco area with some funky choons to ease the chill factor.
Our glitter stayed intact at least 🙂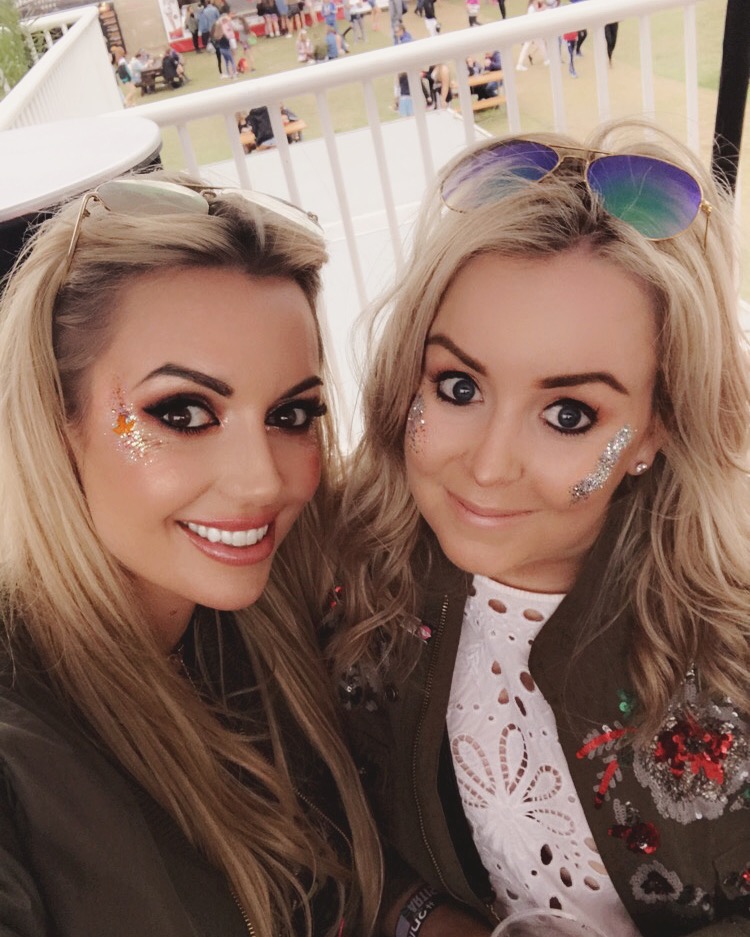 The main reason for me being at Electric Picnic was to do a cookery demo at The Theatre of Food on Saturday afternoon.
I chose a favourite recipe from Eat Yourself Fit to make – the chickpea and sesame cakes with spicy mango salsa. It's simple, tasty and a super recipe for families as the ingredients are inexpensive and easy to buy, plus it can be made in a big batch and leftovers freeze well. I've really noticed a growing demand for healthy vegetarian recipes as people are incorporating more plant-based dishes into their weekly meals 🙂
I love the cakes plonked on a big salad or stuffed into a wrap or pitta with the salsa or even some homemade guacamole. Yum!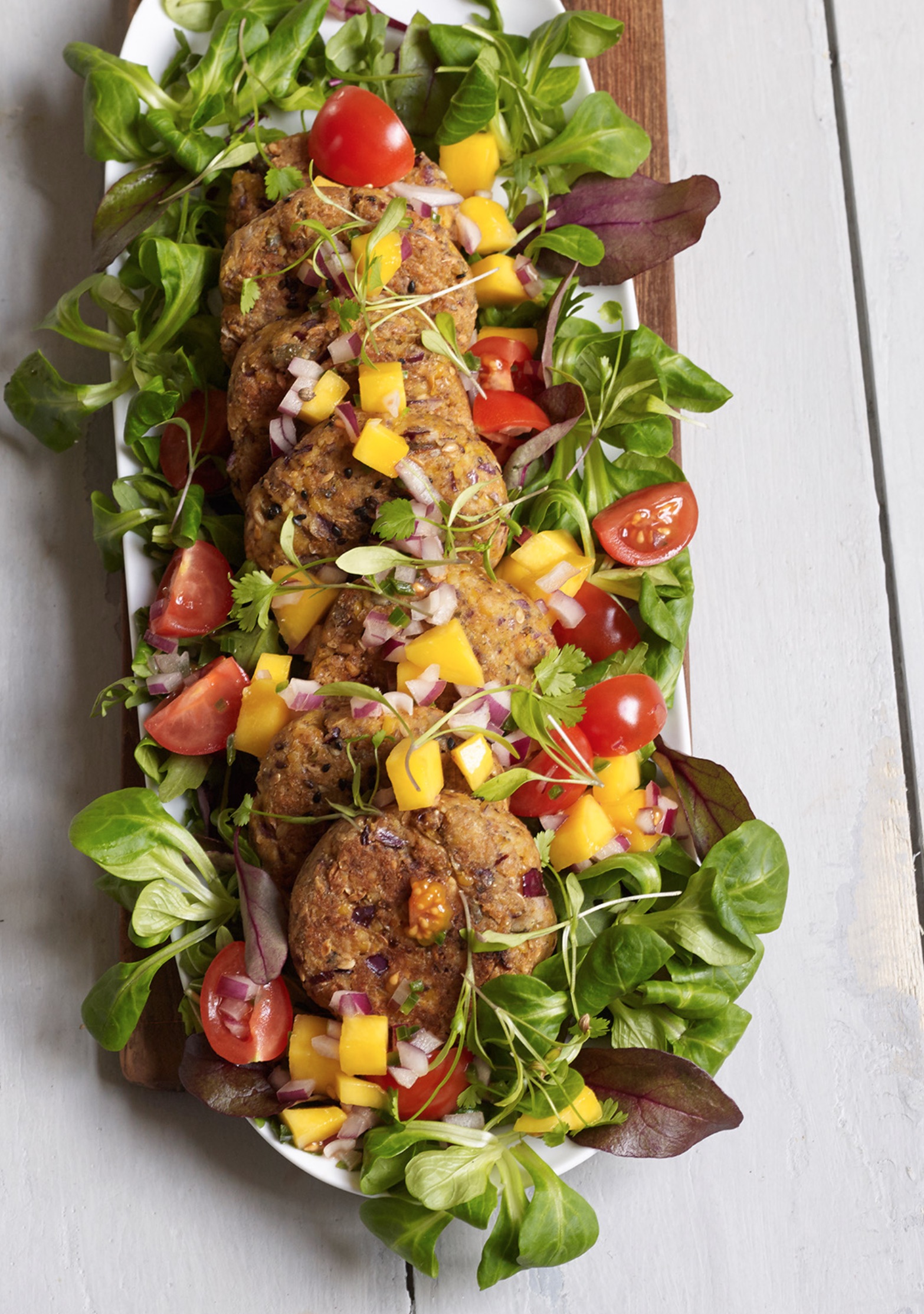 There was a huge turnout for the demo and I enjoyed every moment of it… thank you all so much for coming in and supporting it!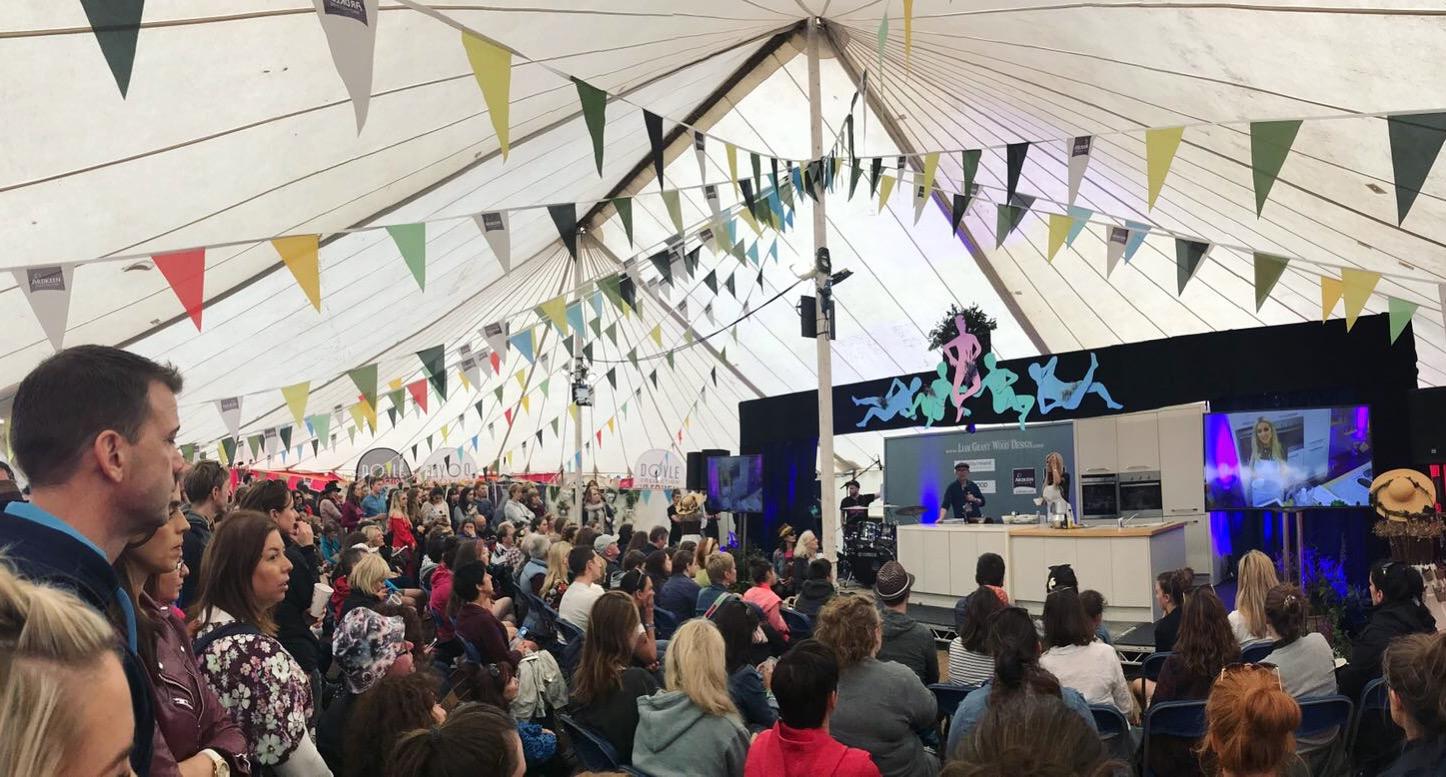 I even managed to get an audience selfie at the end!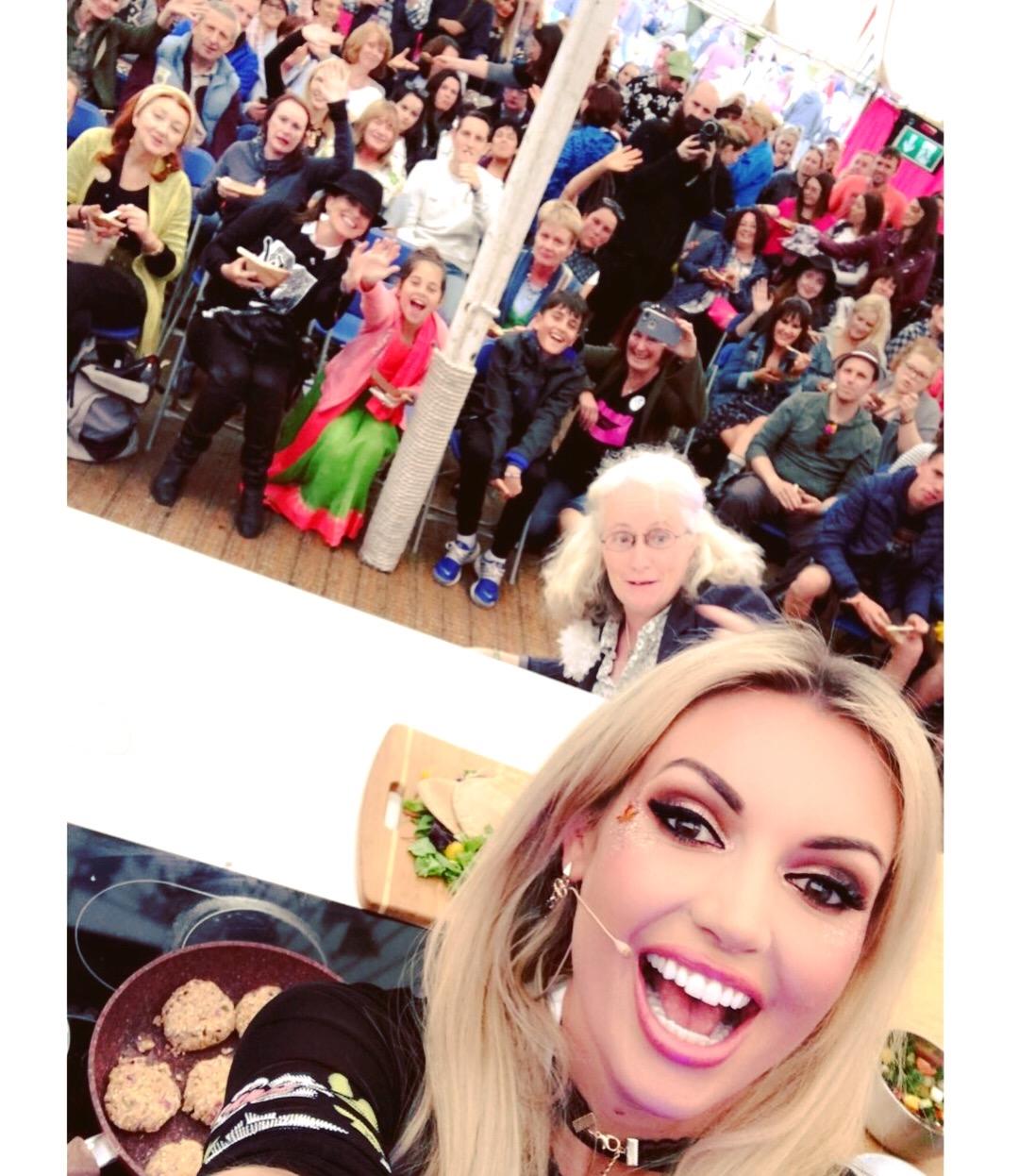 But it's all about teamwork, and I'm so grateful to the fantastic team at the EP Theatre of Food for inviting me to be a part of the day. It was very impressive set-up and a lot of people worked very hard over the past few months to bring it all together.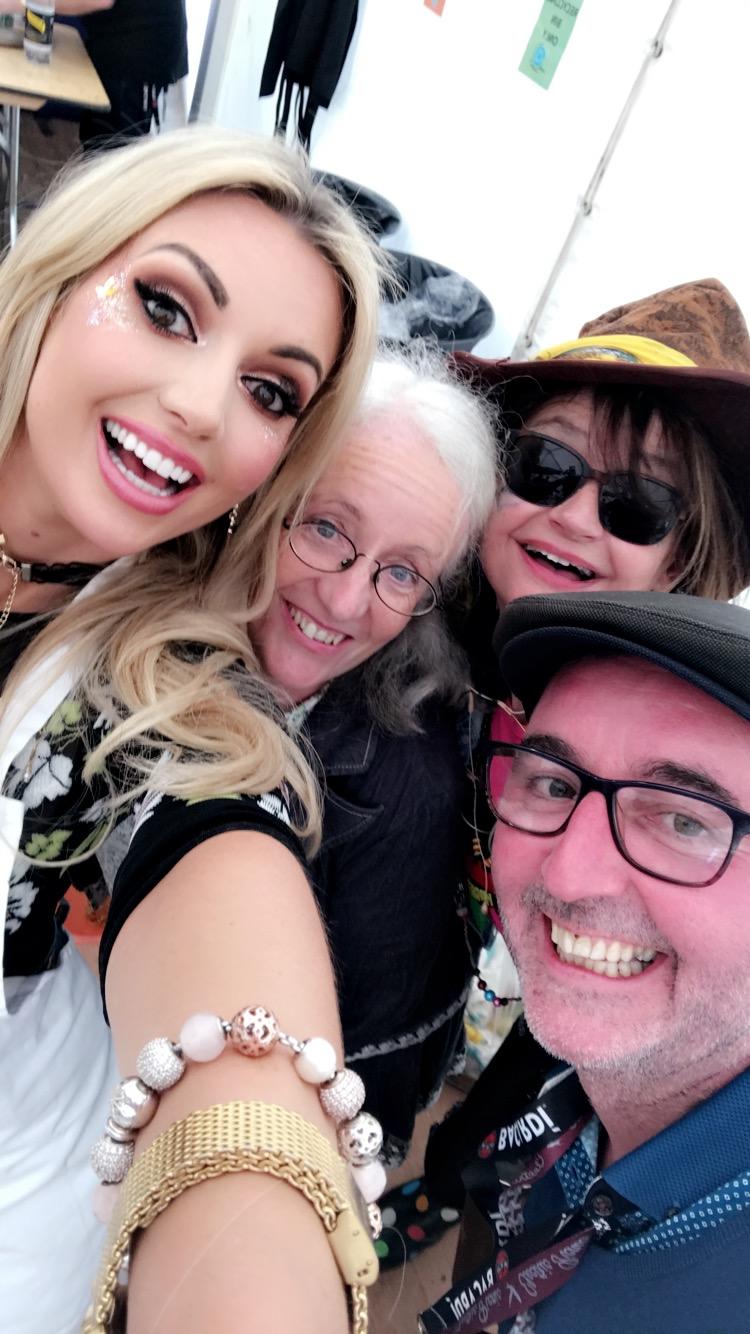 The rest of the afternoon and evening was spent exploring the festival with my husband Wes and friends. We did have a weekend pass but I decided to drive everyone back to Dublin on Saturday night as we feel too old for camping. Leave it to the young 'uns!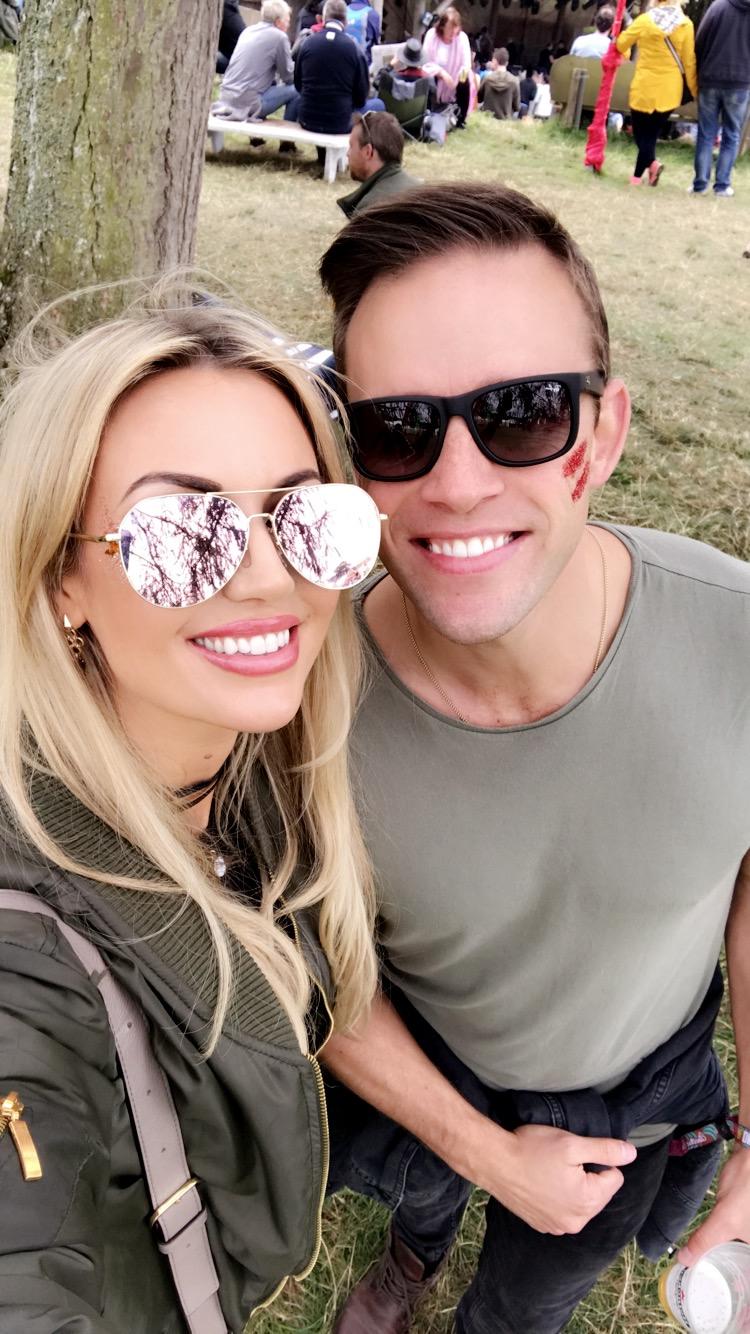 I never really know what to wear to a festival, although comfort and warmth are definitely at the top of the list.
I know you're meant to look effortlessly cool and thrown together,  but to be honest… it took me at least an hour to pull this outfit together!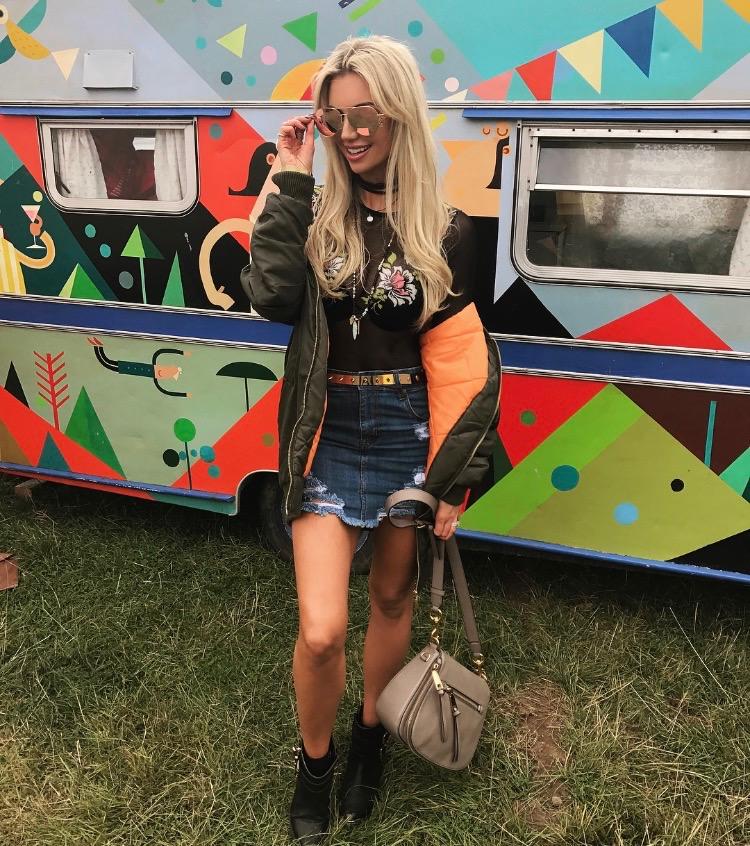 I was very grateful for this cosy and long khaki bomber, plus I love the pop of orange in its lining.
I got both the jacket and denim skirt online:
The bomber is just €35 from Pretty Little Thing…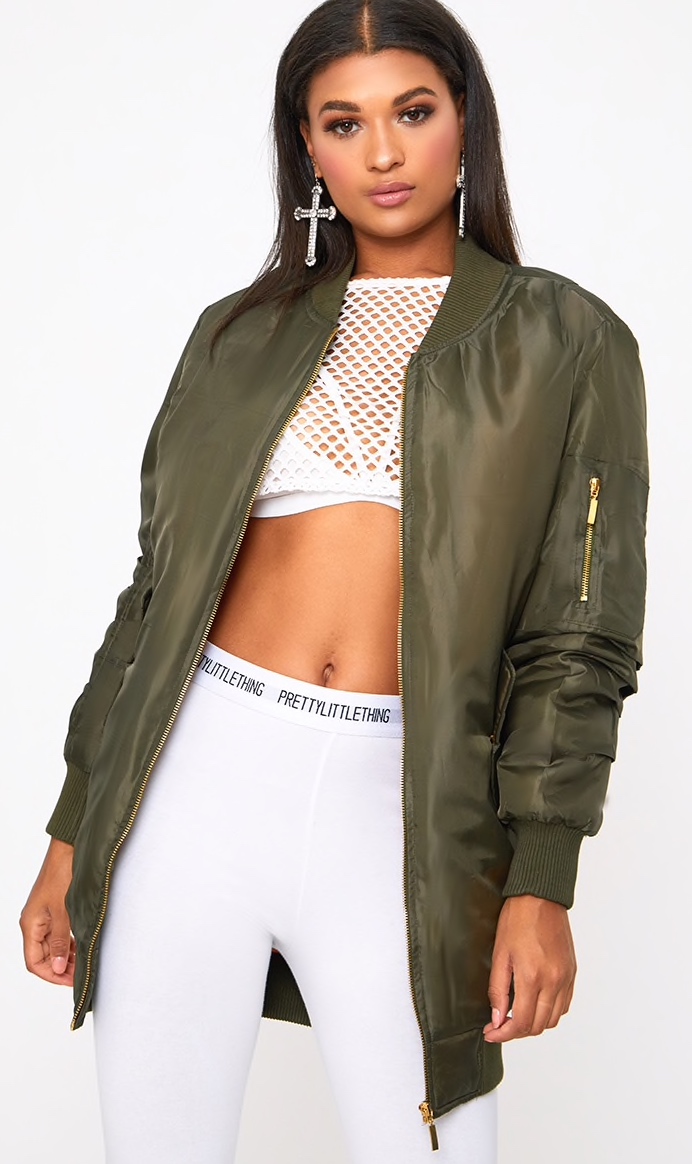 And the super shred denim mini skirt is €27. Hurrah!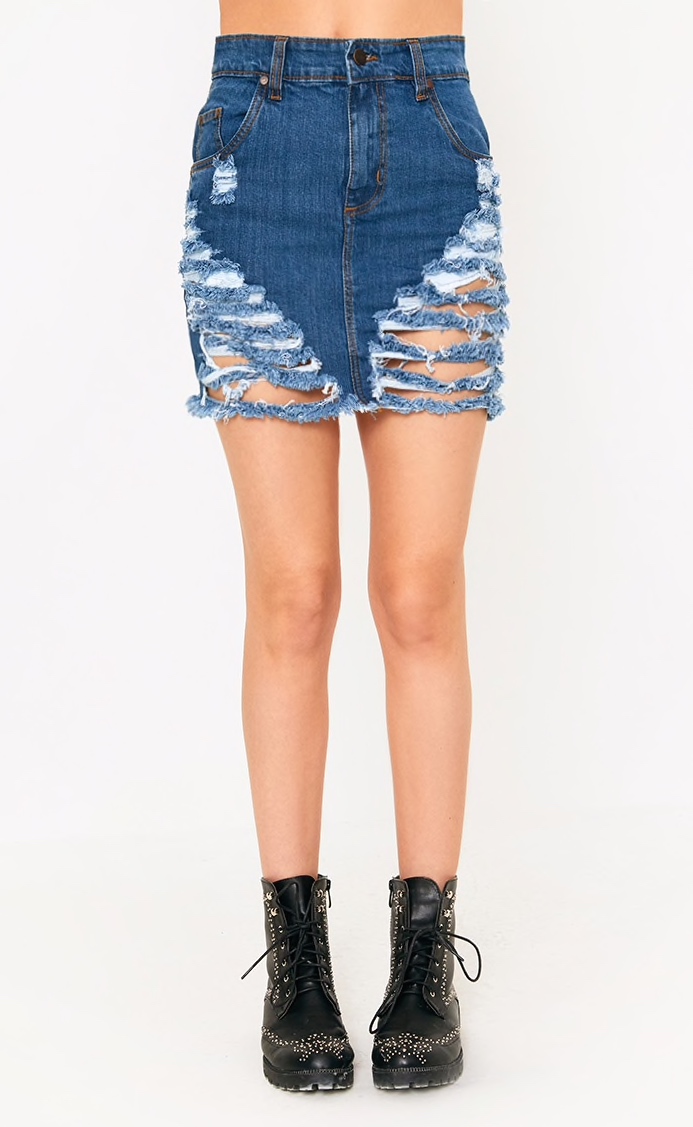 I bought my sheer body top in TK Maxx a few months ago and my bag was a birthday present from Wes.
The black and gold heeled boots are an old purchase from ASOS, but they still have similar versions on the site, such as these heeled Chelsea boots for €51.35.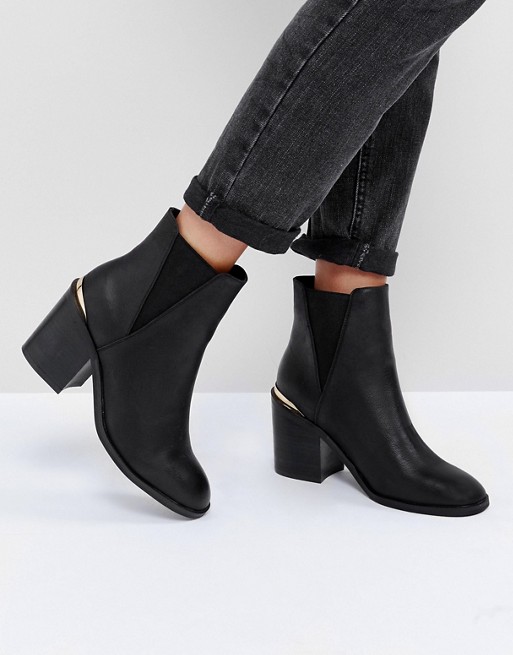 I based my makeup for the day on lots of rose golds, bronzes and browns with a slick of glitter down my cheekbones stuck on with lash glue. Glitter and festivals are the best of friends!
It just took forever to scrub it all off that night and I'm still finding bits of glitter everywhere.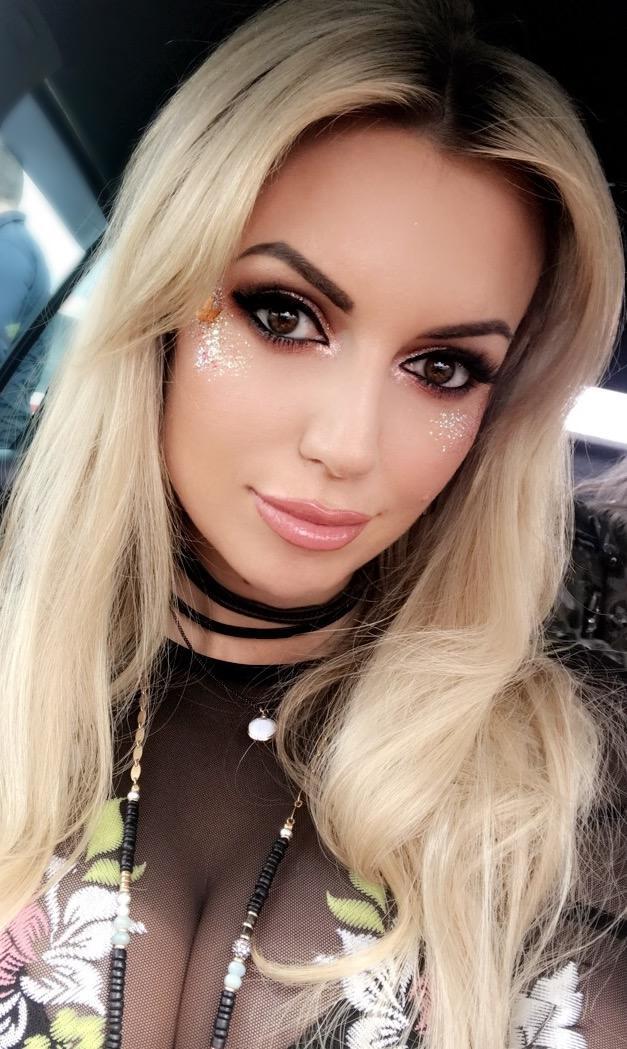 To smoke up my eyes, I used a combo of the new SoSu Hot Fire palette…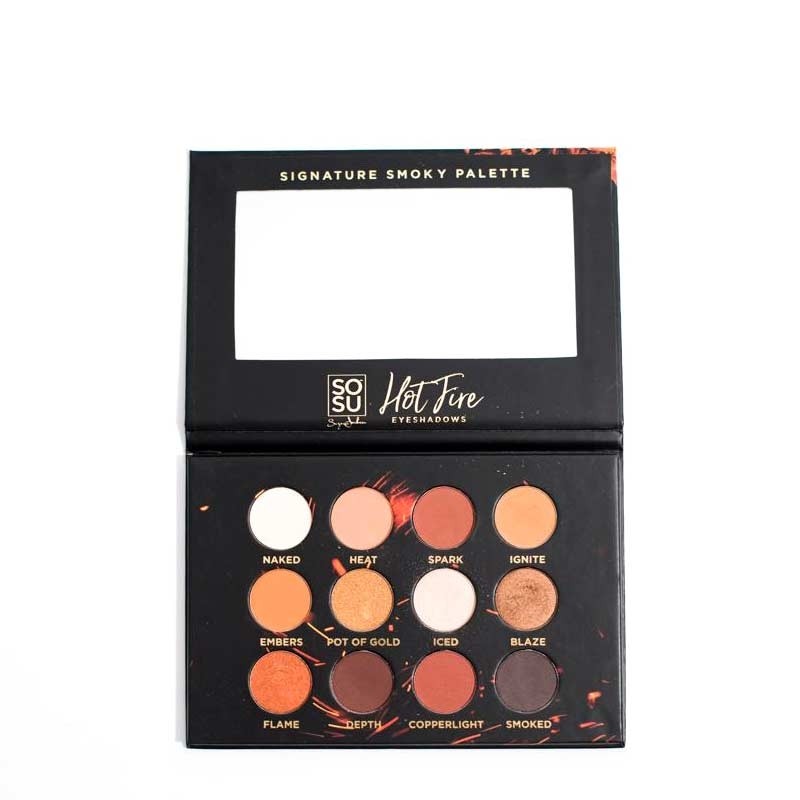 and the Urban Decay Naked Heat palette. Both have some gorgeous warm colours, both matte and shimmery, and I found them easy to blend.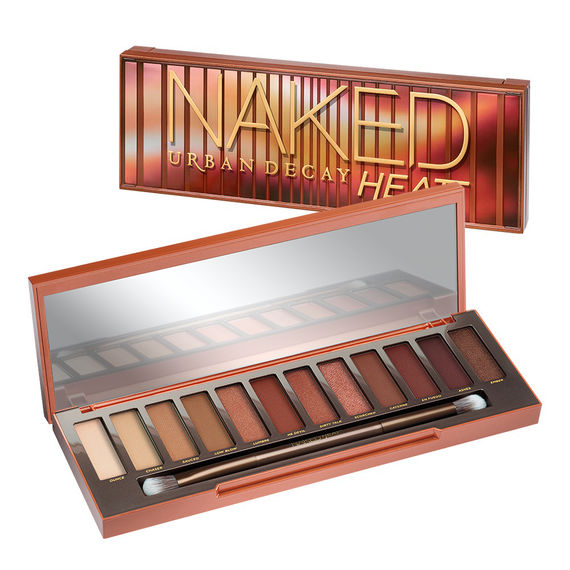 I added some extra sparkle to the inner corners of my eyes and lower lash line with the Stila glitter & glow liquid eyeshadow in Rose Gold Retro. A firm favourite and it really makes your eyes pop!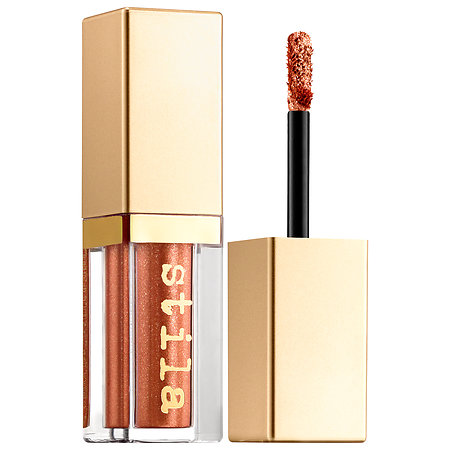 On my lips I used MAC lipliner in Soar..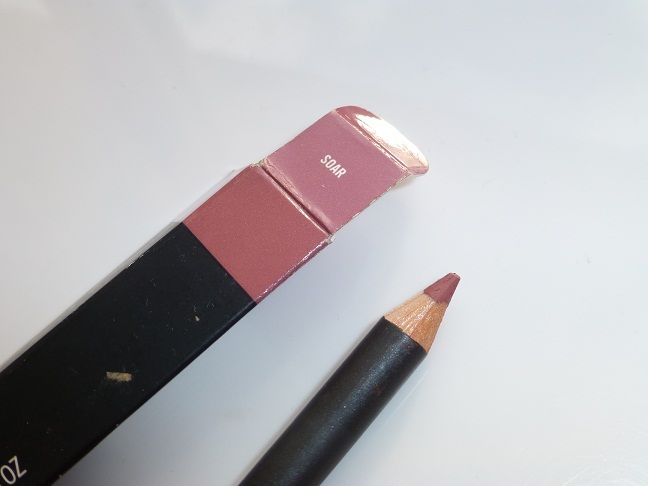 Followed by the Urban Decay Naked Heat collection lipstick in Fuel.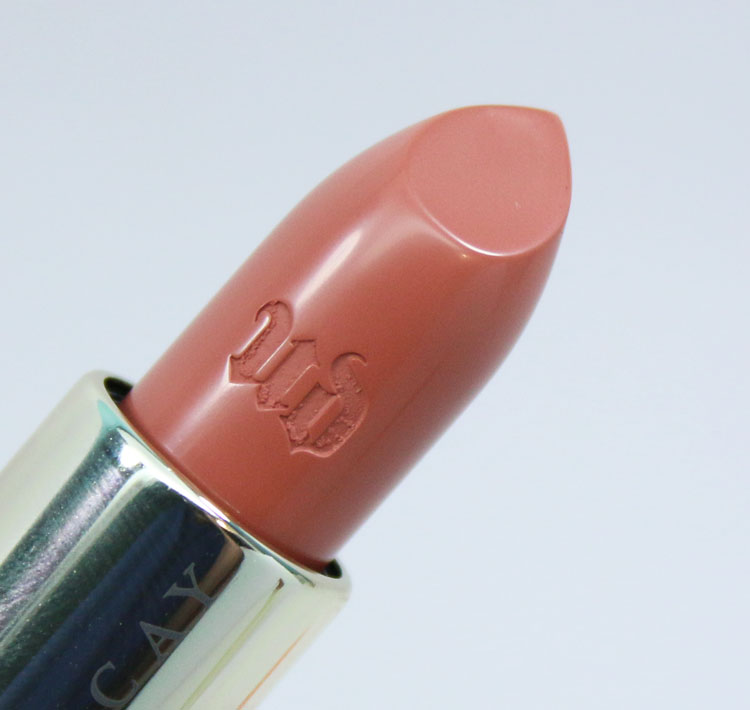 Finally, I filled in my brows using the Anastasia Beverly Hills Dipbrow Pomade in Medium Brown – a gorgeous product and it stayed on all day, despite the rain.