Every now and then, we've all got some spots here and there—I feel you.
Whether it's a pimple, a zit, or just a mark left by an old scar, you want to get rid of it quickly.
Plus, there are so many reasons to want to have clear skin: for one thing, those who have clear skin are less likely to suffer from depression, a study says. Moreover, the same study says those blessed with smooth skin are generally outgoing, friendly, and enjoy going on dates.
Clearly, this is another good reason to invest in quality skin care.
So, I got my hands on FOREO Espada BHA + PHA Blemish Solution Gel, which promises quick healing with no nasty side effects like other topical acne treatments.
It's no secret that FOREO is one of the most popular and highly rated skincare brands, with thousands of glowing reviews and tons of awards, so I thought I'd give it a shot.
Wanna know more? Read on to find out how it fared on my skin.
About the product
A concentrated, lightweight gel that helps to unclog pores and gently exfoliate, relieving redness and blemishes to achieve a clear, spotless complexion.
Ingredients
Water, Propylene Glycol, Salicylic Acid, Polyacrylate Crosspolymer-6, Hamamelis Virginiana (Witch Hazel) Water, 1-2 Hexanediol, Hydroxyacetophenone, Panthenol, Sodium Hydroxide, Niacinamide, Lactobionic Acid, Agarose, Butylene Glycol, Dipotassium Glycyrrhizate, Polysorbate 20, Melaleuca Alternifolia (Tea Tree) Leaf Oil
Price: $29.90 for 15 ml | Shop it from FOREO website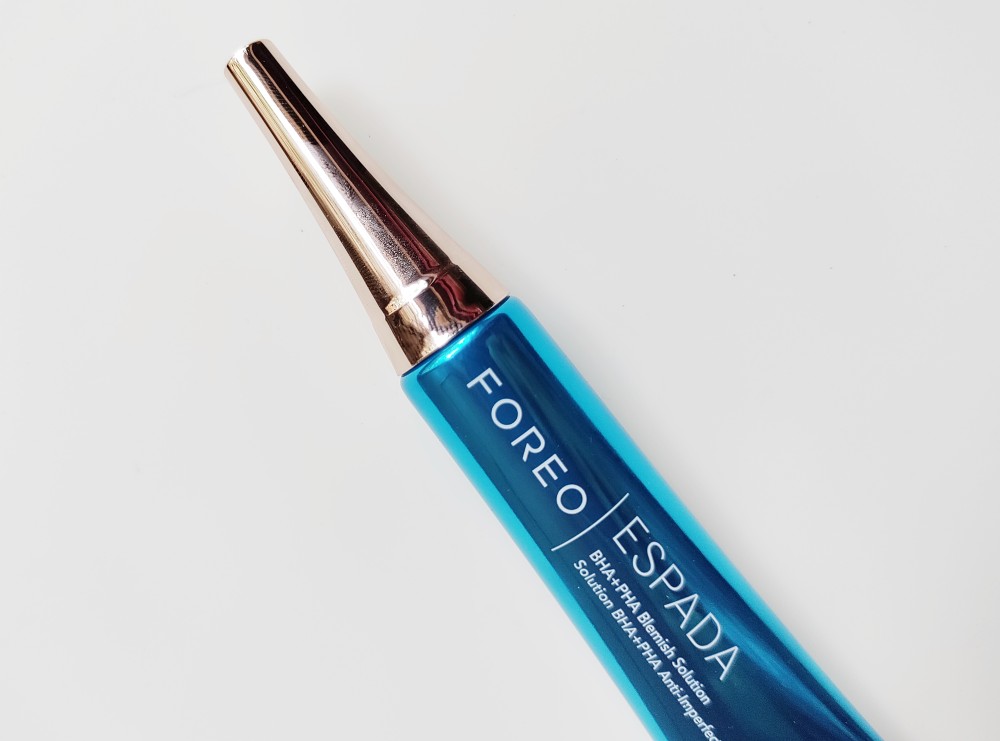 What does FOREO Espada BHA + PHA Blemish Solution Gel claim?
A dermatologist-recommended product, cruelty-free and vegan, and suitable for all skin types
Formulated without Sulfates SLS, SLES, Parabens, Silicones, Formaldehyde, Nanomaterials, Phthalates, Oxybenzone, Mineral Oil, Coal Tar, Hydroquinone, Alcohol, Synthetic Dye, and Fragrances.
Blurs out blemishes within 3 days!
How to use it?
After cleansing, dry the face.
Apply a thin layer of gel to blemishes.
Continue with a FOREO device or leave it on until it is fully absorbed.
Repeat after each face wash until your spots or blemishes disappear.
How does the Espada BHA + PHA Blemish Solution work?
This solution gel features anti-acne ingredients like salicylic acid, lactobionic acid, tea tree oil, niacinamide panthenol, and witch hazel that work together to help clear up your skin.
2% salicylic acid clear blackheads and whiteheads thanks to its exfoliating, anti-inflammatory, and hydrating properties.
Witch hazel clears pores and exfoliates gently because it's so calming and clarifying.
Niacinamide, a skin-loving antioxidant and vitamin help stop future breakouts while relaxing skin irritation.
Tea tree oil quickly shrinks breakouts and soothes redness.
Lactobionic acid helps retain moisture and hydrate the skin, while panthenol relieves skin irritation and itching.
FOREO Espada BHA + PHA Blemish Solution Gel Review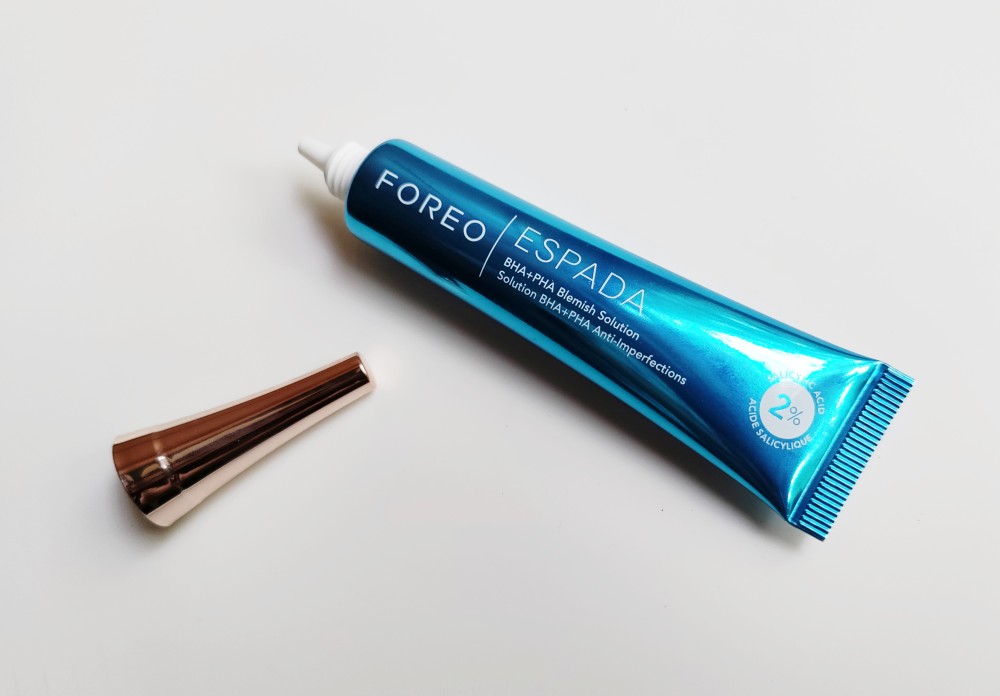 This gel comes in a super-luxe metallic blue tube. I love how retro it looks. While the tube is small, it is enough to target your blemishes whenever needed. For spot treatments, the targeted thin nozzle smoothly delivers gel to the affected area.
My skin acts up in the hot, humid summer, and I get tons of painful zits all over my face, especially around my chin and forehead. It's not a pretty sight, and I have to keep paying attention to it until it looks better.
So, during my active acne phase, my skincare routine simply involves washing my face and applying a product that will help make it disappear.
How does it feel on the skin?
I apply a small amount of the solution directly to my blemishes as a spot treatment. The cooling sensation that follows after is wonderful. I gently tap the area until it absorbs. Initially, there is a sticky feeling that subsides after a while. When the weather is above 35 degrees, I find that the moisturizer leaves my skin feeling oily.
As soon as I have some extra time, I use the ESPADA Blue Light Acne Treatment device after applying the treatment gel for faster results.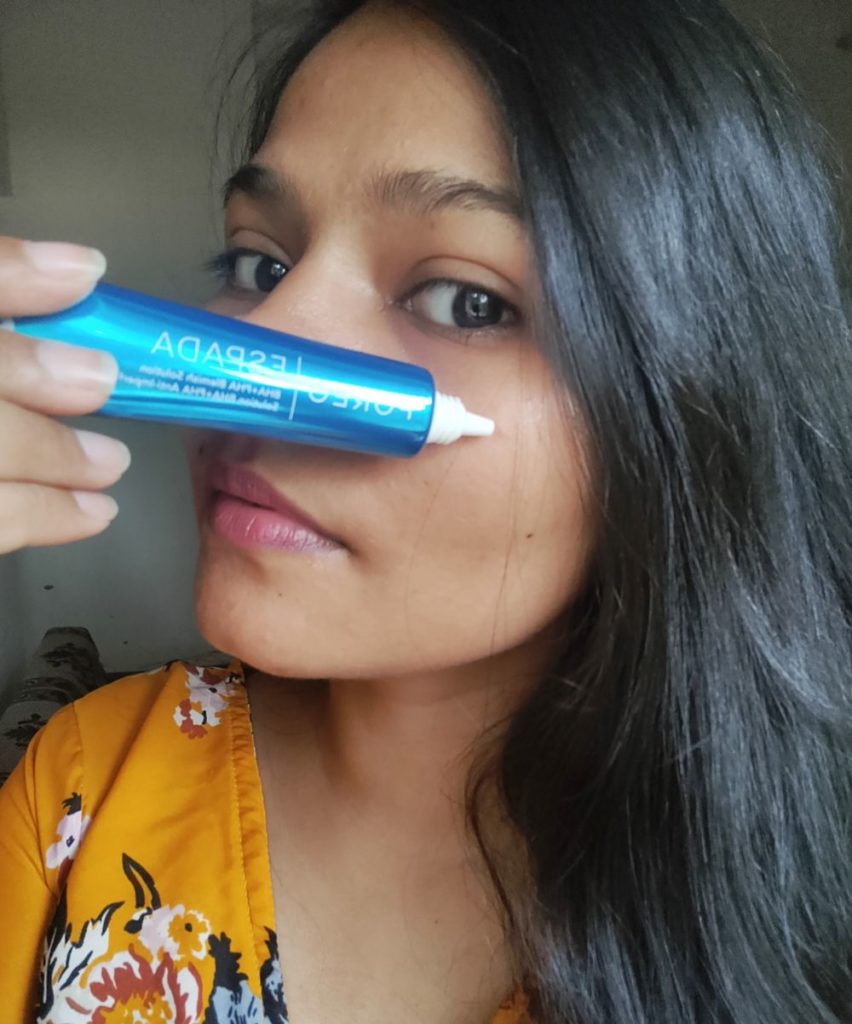 How does it work for me?
Once my skin clears up, I apply a thin layer on my whiteheads, acne scars, and areas where my skin gets most clogged. By doing so, I'm able to keep bacteria and dirt away.
The gel has a clear and thick consistency that is easy to apply and dries quickly. It is also highly absorbent, so it can absorb excess moisture from the skin.
I apply it both day and night every time I wash my face. A heads up, however: because it sunburns, you need to wear a high-SPF sunscreen when you go outside to avoid hyperpigmentation.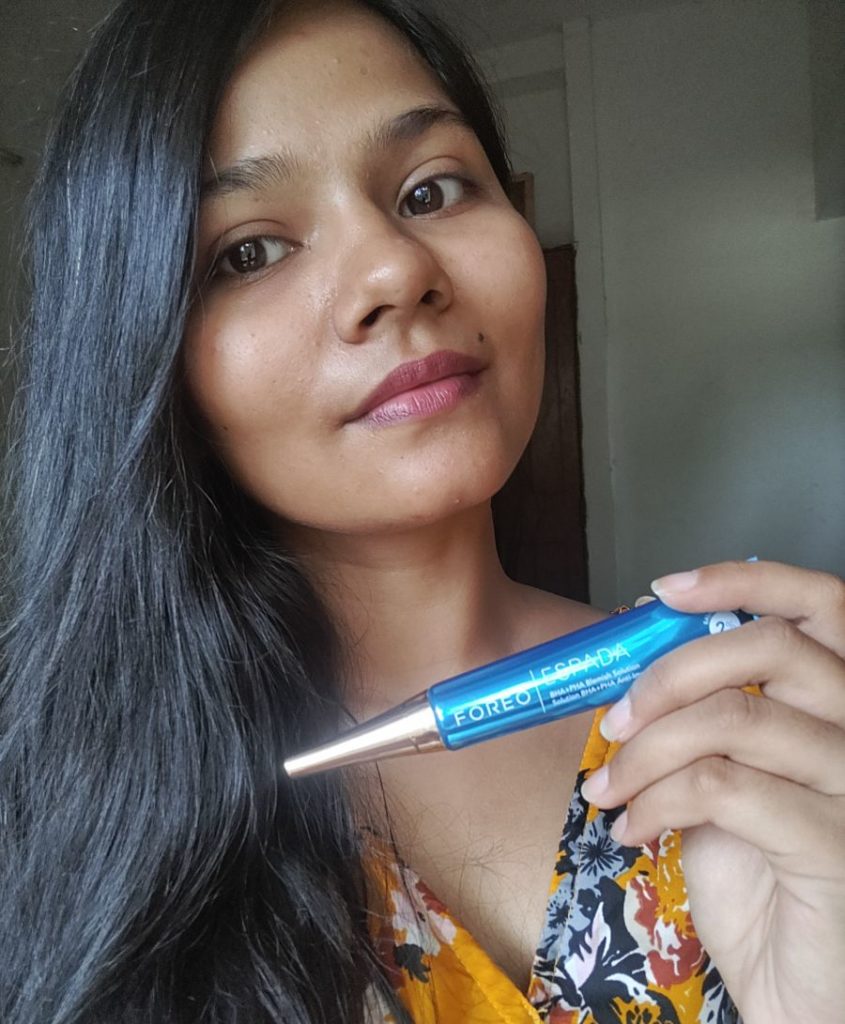 The results
I usually leave on the FOREO ESPADA BHA + PHA Blemish Gel Solution overnight. Unlike other acne spot treatments, I don't wake up with dried-out or peeling skin. No irritation, stinging or burning. Plus, there is no residue left.
After using it for a few days, my skin is less inflamed and more clear. While it may not make zits disappear quickly, it sure does make the acne last shorter. I've also been using it on my whiteheads and they are less prominent now.
My favorite part of this product is that it doesn't have any fragrance; it smells like witch hazel. Fortunately, the scent isn't overpowering and doesn't bother.
Regarding its claim of fading blemishes in 3 days, it depends largely on the size of the acne spot. If it's a small pimple, using it regularly for 3 to 4 days is enough time to speed up the healing process. On the other hand, if it's large in size, it will definitely take more than 3 days: at least a week.
The best part is, that no matter how much I use it, it does not irritate my skin. If you have sensitive skin, use it with caution or as little as your skin will tolerate.
Pros
Leaves skin feeling cool after application
Doesn't feel harsh or overdrying on the skin
Hydrates, while not being too heavy
Helps reduce inflammation
Speeds up the acne healing process
Cons
Can be a bit greasy for oily skin
FOREO Espada BHA + PHA Blemish Solution Gel

Final Word
I love how FOREO Espada BHA + PHA Blemish Solution Gel works on my oily, acne-prone skin. The gel—a combination of salicylic acid, niacinamide, and witch hazel—is an instant hit with its noticeable reduction in acne and new spots. The ingredients of this blemish gel are non-irritating and clean, and it doesn't feel harsh on the skin. Moreover, it soothes skin and minimizes flare-ups. If you're battling blemishes that never seem to go away, FOREO Espada BHA + PHA Blemish Solution Gel may be the answer you're looking for. As an at-home acne treatment, it is an oil-free, dermatologist-tested skincare solution.