While I'm pretty bad at keeping up with what's on the shelves and in the stores, I am trying. However, I wasn't surprised to hear Kiehl's had a serum – Kiehl's Clearly Corrective Dark Spot Solution.
If you didn't know, this is not a new product from Kiehl's. In fact, it's been around for a while, but this time is when I decided to try it out after reading some reviews on it online.
When I first discovered this solution, I wasn't sure what exactly piqued my interest, as it didn't instantly stand out to me while browsing through Kiehl's website — it wasn't until I watched some YouTube videos that I discovered how popular it has become.
Anyway, I decided to try it out since I've been struggling with some hyperpigmentation on my cheeks for over a year now without finding anything that worked.
About the product: Kiehl's Clearly Corrective Dark Spot Solution works by fading dark spots caused by hyperpigmentation. It contains vitamin C and witch hazel extract, which help brighten dull skin. According to the packaging, using this product for four weeks will improve your skin's clarity, texture, coloration, and luminosity.
Readers like you help keep The Beautyholic running. When you buy through links on our blog, as an Amazon Associate, we earn from qualifying purchases at no extra cost to you.
Ingredients
One of the key ingredients in the Clearly Corrective Dark Spot Solution is White Birch Bark Extract, Activated C, and Vitamin C derivative to help brighten and correct dark spots over time.
Salicylic acid
This beta-hydroxy acid (BHA) is widely known for its wide array of benefits when used in well-formulated cosmetic products. Besides being an exfoliant, it can also fight acne, improve photo-damaged skin and prevent wrinkles.
Activated C
This is a stable (potent) form of Vitamin C. The latter is ascorbic acid and is known for its brightening and repairing effects. Due to its oxidizing properties, it usually comes in brown bottles and cannot be exposed to the sun. As a result, Kiehl's has used a potent form to eliminate this flaw. Activated C touts to be an improved version of Vitamin C, offering the same benefits but without its flaws.
White Birch Extract
This ingredient is sugar-derived and helps the skin become brighter, healthier, and softer simultaneously with Activated C. It is best known for its calming and moisturizing properties.
Lavender oil
The oil contains a variety of compounds that are good for the skin, such as linalool, eucalyptol, and camphor. These compounds have anti-inflammatory, antiseptic, and soothing properties that can help treat a variety of skin conditions. Additionally, lavender oil contains antioxidants that protect the skin from free radical damage.
Peony extract
An antioxidant that plays a role in protecting against oxidative stress has anti-inflammatory and antioxidant properties. These properties make it beneficial for the skin in many ways, including reducing the signs of aging, treating eczema, psoriasis, and rosacea, and reducing the redness associated with rosacea.
Complete ingredients list: Aqua/Water, Propylene Glycol, Glycerin, Alcohol Denat., Peg/ppg/polybutylene, Glycol-8/5/3 Glycerin, Hydroxypropyl Tetrahydropyrantriol, 3-o-ethyl Ascorbic Acid, Ppg-6-decyltetradeceth-30, Phenoxyethanol, Salicylic Acid, Xanthan Gum, Hydroxyethylcellulose, Potassium Hydroxide, Citric Acid, Sodium Citrate, Tocopheryl Acetate, Lavandula Angustifolia Oil / Lavender Oil, Disodium Edta, Adenosine, Linalool, Butylene Glycol, Tocopherol, Citrus Aurantium Tachibana Peel Extract, Paeonia Suffruticosa Root Extract
Price: About $45 for a 1 oz or 30 ml bottle, which might seem a little pricey at first, but if you think about how long the bottle would last, then it's not so bad in the end. Buy it on Amazon here or Nykaa.
What causes dark spots?
Dark spot causes vary depending on age, genetics, and recurrent fading from light or exposure. Some persistent discolorations affect the face and appear dull and uneven.
Dark spots are areas on the skin that appear darker or duller than the surrounding area. They can appear anywhere on the body but are most common on the face, neck, and hands.
There are many different causes of dark spots, including:
Sun damage
Hormonal changes
Skin conditions, such as melasma or acne scars
Sun damage is the most common cause of dark spots. When the skin is exposed to the sun, it produces excess melanin, resulting in dark spots.
Hormonal changes can also cause dark spots. Normally, the body produces more melanin when exposed to the sun. For example, people who tan easily usually have very little melanin in their skin. However, during pregnancy or menopause, the body may produce more melanin, leading to the development of dark spots.
Melasma or acne scarring can also cause dark spots on the skin. Melasma is a condition that causes brown patches on the skin and is often triggered by hormonal changes. Acne scars are caused by the rupture of follicles in the skin, which leaves a dark spot behind.
You can treat most dark spots with over-the-counter creams or laser treatments. However, if you have a skin condition causing dark spots, you may need to see a dermatologist for treatment.
How do I use it?
Often, serums are applied after toning and before moisturizing. To use a serum, I recommend:
Apply a mild cleanser to your face, preferably one without harsh chemicals.
Tone your skin with mild rose water if you have normal to dry skin. However, if you have incredibly oily skin and open pores, use a toner with an astringent. (preferably

Kiehl's Blue Astringent Lotion

)
Use your hands to apply the serum on spots, pigmented areas, or even to the entire face as you wish. Make sure you do it in a circular motion so that it absorbs into your skin.
Apply an oil-free moisturizer after the serum has been absorbed by your skin, such as

Kiehl's Super Multi-Corrective Cream

if you have mature skin, or

Kiehl's Ultra Facial Cream

does it all.
My Experience with Kiehl's Clearly Corrective Dark Spot Solution
A glass bottle with a dropper houses the serum. This looks remarkably attractive and luxurious, living up to its brand.
One can easily carry it in one's purse since it is compact. This makes it ideal for travel. A clear glass container discloses the actual amount and transparency of the product. By keeping track of how much is taken out, the dropper helps eliminate wastage of the product.
This treatment contains a clear, light serum. For best results, apply 3-5 drops to all parts of your face. For the chest/shoulder area, I recommend 5-10 drops. Do a patch test first to ensure no allergic reaction.
Because Kiehl's Clearly Corrective Dark Spot Solution contains retinol, I apply it at night to prevent my skin from becoming sensitive to the sun. I sometimes use it during the day, but I make sure I use SPF. The first time I tried putting the product on my skin, I thought it was very sticky. But since then, I've gotten used to the stickiness and don't mind applying the product before bed.
I've been using this daily, about four weeks ago, and I have to say, I'm pretty impressed. Together with Kiehl's Clearly Corrective Brightening and Exfoliating Daily Cleanser, it has significantly faded my dark spots.
Even though the serum is relatively expensive, it may be a good choice if you're looking for a dark spot remover that works on any skin type in general. Results can be seen after just eight weeks of use! Clinical trials have shown that the serum reduces hyperpigmentation by 49%, dark spots by 39%, and post-acne marks by 27%.
There are more than 1400 positive reviews for Kiehl's Clearly Corrective Dark Spot Solution on Kiehl's, Ulta Beauty, and Sephora. You should read the reviews as part of the process and make an informed decision about whether or not to buy it.
If you suffer from hyperpigmentation, this product is definitely worth a try since it really does seem to be working for me.
Pros
Compact bottle suitable for traveling.
Perfect consistency, neither too thick nor too runny.
No parabens or silicons.
Helps brighten skin tone
Noticeable fading of dark spots over time
Can improve skin appearance in 4 weeks of use.
Maintains healthy skin at the same time as it treats specific skin problems.
Suitable for all skin types, including sensitive skin.
Cons
You need to be careful with the glass bottle.
Can be too greasy for some
Has a strong smell which might bother some people more than others.
A bit pricey, but worth it since you get so much product!
Kiehl's Clearly Corrective Dark Spot Solution

Final Word
Overall, I'm really happy with the results I've been seeing from Kiehl's Clearly Corrective Dark Spot Solution. If you're looking for a dark spot corrector and brightening serum that helps visibly reduce dark spots, hyperpigmentation, and post-acne marks or are just looking for something that can brighten skin tone, then this is definitely the solution.
Despite positive results experienced by users, there is still a certain amount of skepticism regarding Kiehl's Clearly Corrective Dark Spot Solution. Many people claim that the product doesn't actually work, while others say that it only works for a short time.
This is good news for anyone considering purchasing this product. It's one thing to see reviews of the product on the Internet and to hear about people's experiences with it. However, it's more substantial when a study is conducted and facts are discovered rather than just rumors and hearsay.
If you are looking for an affordable and effective solution to your dark spots, Kiehl's Clearly Corrective Dark Spot Solution is a good option to consider. It has been shown to produce positive results for many users, and the study conducted provides some proof that it works. Give it a try and see if it works for you!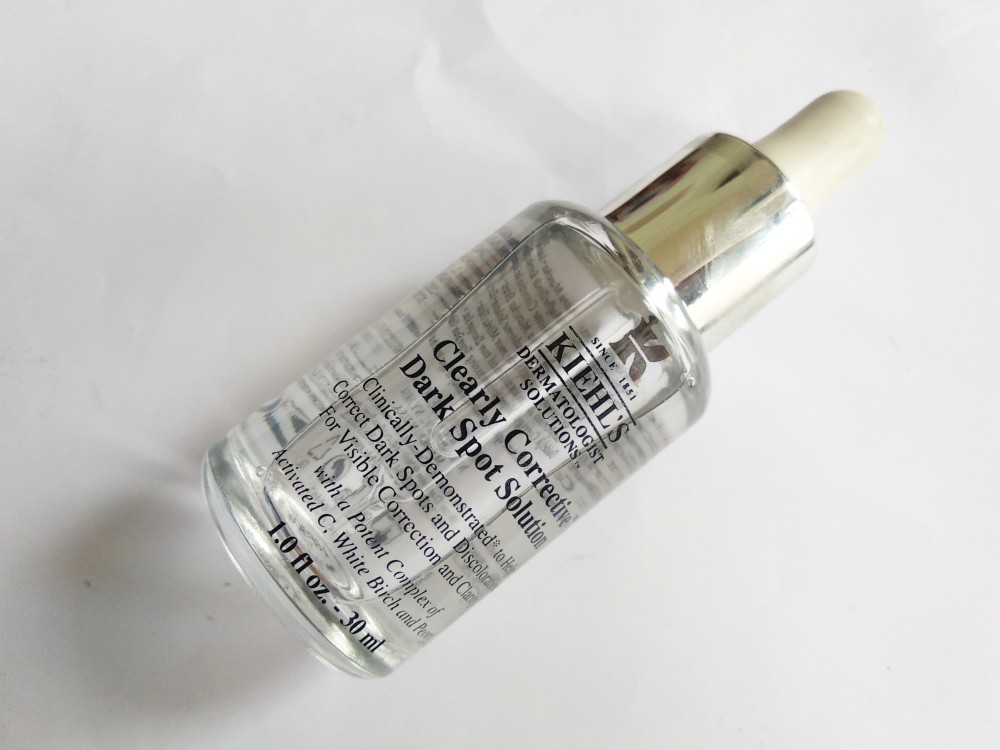 FAQs about Kiehl's Clearly Corrective Dark Spot Solution
Let's answer any questions you may have about this serum!
How to Use Kiehl's Clearly Corrective Dark Spot Corrector in Your Routine
You can use it as a spot treatment or on the entire face. It is recommended to use it as a spot treatment first and then apply it to the entire face if needed. Kiehl's recommends using it twice a day, in the morning and evening.
Is Clearly Corrective Dark Spot Serum Recommended to Use as a Spot Treatment or Entire Face?
To use it as a spot treatment, apply a small amount to the desired area and massage it into the skin. For best results, leave it on overnight and rinse it off in the morning.
To use it on the entire face, apply a thin layer over the face and neck. Use your fingers to massage it into the skin until it is fully absorbed. Make sure to avoid the eye area.
Rather than focusing on dark spots, Kiehl's suggests applying it as a full face treatment and letting it work to reduce hyperpigmentation, facial blemishes, and uneven skin tone. If you prefer spot treatment, make sure to use sunscreen to protect your skin from sun damage.
Does Kiehl's dark spot corrector work?
Since Kiehl's dark spot corrector's efficacy varies between individuals, there is no definitive answer to this question. However, it is safe to say that most people who use Kiehl's dark spot corrector will notice some changes in their skin. For example, the spots may start to fade or disappear altogether.
As a result of its high levels of Vitamin C, Kiehl's dark spot corrector is highly effective in reducing dark spots and improving skin tone. Additionally, the serum's other ingredients may also reduce the production of melanin in the skin, which may fade dark spots.
Kiehl's dark spot corrector has overall excellent reviews and is one of the best dark spot serums in the market, though some users dislike it for various reasons. One of the most common complaints is that it is too heavy or greasy and does not work well on severe dark spots.
How does it work?
Using this serum has been proven to help correct dark spots for quite some time. It works to fade the appearance of dark spots over time by penetrating deep into the skin.
Kiehl's dark spot corrector vs. Clinique
Well, to be honest, there isn't a clear winner. Both products are very similar when it comes to price, effectiveness, and also ingredients.
How can I get rid of dark spots?
Use a brightening serum: serums with ingredients such as vitamin C, arbutin, or kojic acid can help to lighten the dark spots.
Moisturize: If your skin is dry, it can make dark spots appear more prominent. Apply moisturizer regularly to help lighten them.
Use SPF: Using sunscreen can prevent future dark spots from appearing.
Avoid tan: sun damage and constant exposure to UV rays can cause dark spots and wrinkles.
Treat your skin gently: harsh treatment such as exfoliation can cause further dark spots and damage the skin. If you still want to exfoliate, you can use products with glycolic acid or lactic acid.
Can Clearly Corrective Dark Spot Serum be Used on Darker Skin Tones?
Yes, it can be used on darker skin tones. However, it may take longer for the results to show.
How long does Kiehl's Dark Spot Corrector work?
Kiehl's Dark Spot Corrector should be used twice a day, in the morning and evening, for the best results. It can take up to 12 weeks to see full results. It is not recommended to use more than the recommended amount.
Is Clearly Corrective Dark Spot Serum Safe to Use While Pregnant?
Kiehl's Dark Spot Corrector is safe to use while pregnant. However, it is always recommended that you check with your doctor before starting any new skincare product during pregnancy.