I'm a firm believer that every woman needs at least one matte lipstick in her makeup bag.
Matte lipsticks are great for everyday wear and provide a nice matte finish to your face. However, even though matte lipsticks are my go-to for everyday wear, I always like to try new colors.
With 10 gorgeous shades, Maybelline launched its Superstay line of matte lipsticks long ago. Since I crave bold shades, I picked up a dark bold plum color from the range.
Here, I'll review Maybelline Superstay Matte Ink Believer and give you my honest opinion.
About the product: Matte Superstay lipsticks are truly divine. Featuring a range of super-saturated colors, the product promises a matte finish. And Maybelline New Yorks matte super stay lipstick stays for 16 hours. This product comes with an arrow applicator, which is quite unique and helps with precise application.
Price: INR 650 for 5 ml
Packaging
Maybelline Superstay Matte Ink Lipstick Believer comes in rectangular packaging. It is a long, sleek color-coded tube. The lid is white and the same shape as the lipstick container. Because the lipstick container is transparent, it highlights the lipstick's color, which makes it more appealing. It also features the shade name at the bottom to make it easy to choose. Also, the applicator works beautifully and has a pointed tip for effortless lip definition.
Shade
The matte lipstick comes in 10 amazing shades. Shades are quite diverse, and they're meant to fit every skin tone. There are reds, pinks, purples, browns, and nudes in it.
The believer shade is a nice plum color, just like an eggplant. Since it is such a bright color, it exaggerates the streaks and lines of your lips. So, you need to spread the color nicely and even to get a perfect look.
Suitable for people of all skin tones, the shade does not contain shimmer. It's also a wonderful color for festive occasions.
Texture and Quality
Maybelline Superstay Matte Ink Lipstick has a medium matte texture that is neither too thick nor too thin. The texture is creamy and matte, gliding smoothly and evenly over the lips.
It has a delicious chocolate taste and a vanilla scent, which I enjoy. The texture is lustrous and not too dry. A little sticky but not patchy. Neither does it transfer nor peel off. With its matte finish, it dries quickly and sets on your lips.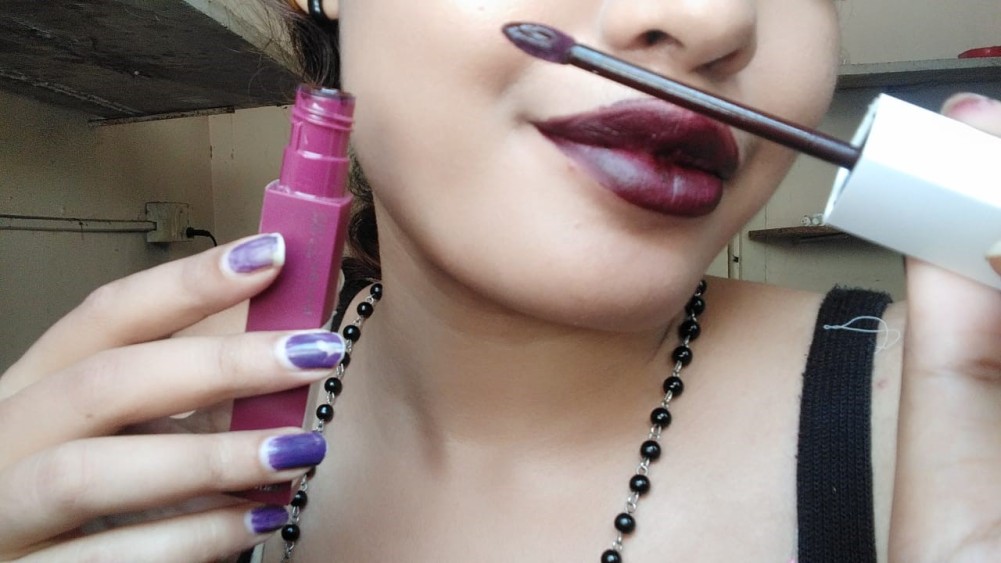 Staying Power
Superstay stays for a very long time, as its name suggests. With all your daily activities, it can last almost 10-12 hours. The color doesn't fade, smudge or transfer, even after a full meal. You don't have to worry about it settling on your lips.
It will flake off from the inner corners of your lips over time, which means it's time to reapply. Since it feels sticky, reapplication can be tricky.
One swipe, and you're hooked. With just one swipe, you're covered for 12 hours. Since it's matte, repeated applications make your lips dry and chapped.
The matte finish prevents it from leaking from your lips. While it is a perfect matte, it dries out your lips and does not keep them hydrated.
Pros
Amazing, rare color
Matte and stays for 12 hours
It doesn't dry out your lips
Smells and tastes amazing
Doesn't wear out
Do not come out of your lips
Cons
The dark color does not suit every skin tone
Has a less hydrating effect
Final Word
With the variety of shades available in the Maybelline Superstay Matte Ink Lipstick Believer, I'm absolutely smitten. It's perfect for parties and special occasions, in my opinion.
The color is gorgeous and lasts up to 12 hours. One swipe, and you got no more worries. While it's a little sticky and sometimes uncomfortable, this lipstick is worth trying. With lipstick of this quality, the price is also quite reasonable.
The matte finish, which is not shabby, is a perfect fit for almost everyone, so I highly recommend buying it. Although I was expecting a matte formula, this is still worth trying.
Related Posts