If you're looking to give the gift of great skin to someone you care about, one of the trickiest things you'll have to do is figure out what to gift them.
Clueless about what to purchase for your special ones? Worry not! We've got you covered.
Here are some of the best skincare gift sets in India for every budget, from affordable to splurge-worthy.
Let's check them out!
#1 mCaffeine Coffee Mood Skin Care Gift Kit
For that friend who'll have coffee any time of the day, this is the best skincare gift set you can get them. With pure Arabica coffee-infused products, this kit is perfect for a skin rejuvenating regime.
Shop at Amazon
What's Inside?
Face wash – With this white-water lily face wash, you'll achieve that fresh and oil-free look you've been craving.
Face scrub – Vitamin E-infused, this face scrub removes blackheads and tan while exfoliating the pores.
Face mask – Put this cocoa mask on to remove dead cells and impurities and nourish your pores with essential nutrients.
Body Scrub – This scrub containing coconut can help with reducing cellulite and ingrown hair.
Every product that goes into the mCaffeine Coffee Mood Skin Care Gift Kit has been specifically chosen to hydrate and nourish skin, helping you attain that perfect balance of youthful radiance and firmness.
Pure Arabica coffee not only gives you a zesty aroma but also has many benefits like skin smoothening and polishing. It soothes and tones the skin and keeps it healthy.
Clinically tested, these products are perfect for both men and women.
#2 Himalaya Pure Skin Neem Facial Kit
With this facial kit, you will find everything you need for a pure, healthy skin regimen.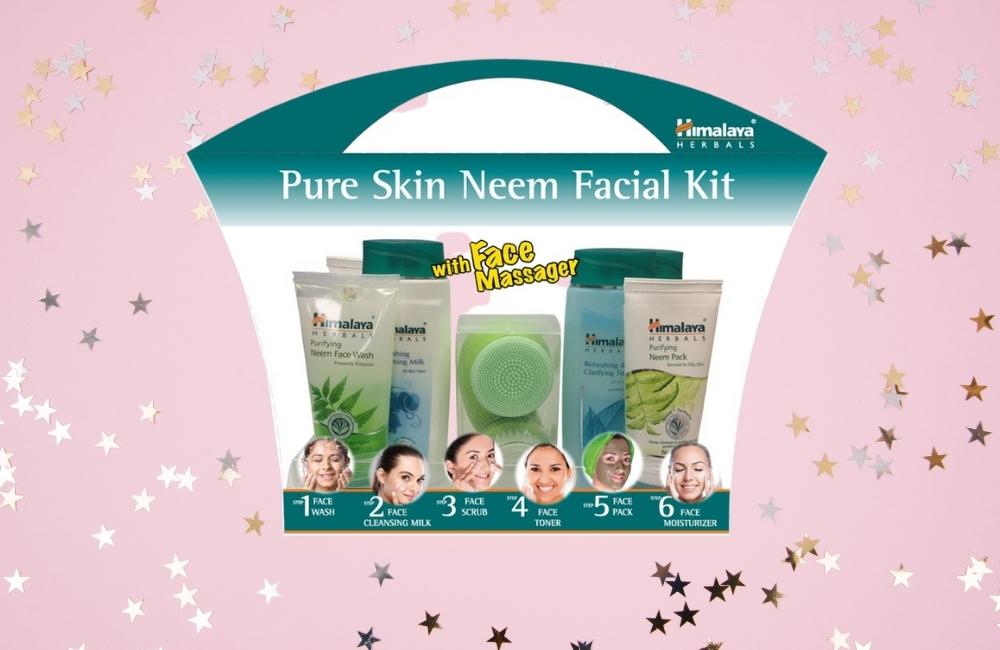 Shop at Amazon
What's Inside?
Purifying Neem Face Wash (50 ml) – Effectively prevents pimples
Refreshing Cleansing Milk (100 ml) – Removes deep impurities
Purifying Neem Face Scrub (50 ml) – Exfoliates tough blackheads
Refreshing and Clarifying Toner (100 ml) – Minimizes the size of skin pores and restores your skin's pH balance
Purifying Neem Face Pack (50 ml) – Soaks up excess oil and dirt and removes pimple-causing bacteria
Nourishing Face Moisturizing Lotion (100 ml) – Revitalizes the skin from within and keeps it healthy
Face massager – Improves the texture and feel of your skin
If you're looking for a high-quality, natural, herbal facial kit with benefits of neem that won't blow your budget, this Himalaya Pure Skin Neem Facial Kit is one of the options for the best daily skincare sets in India.
#3 Forest Essentials Gift Box
Make your favorite person's day by gifting them this fine selection of facial care products for that natural glow. Inspired by Ayurvedic treatments, these products will blend with your skin.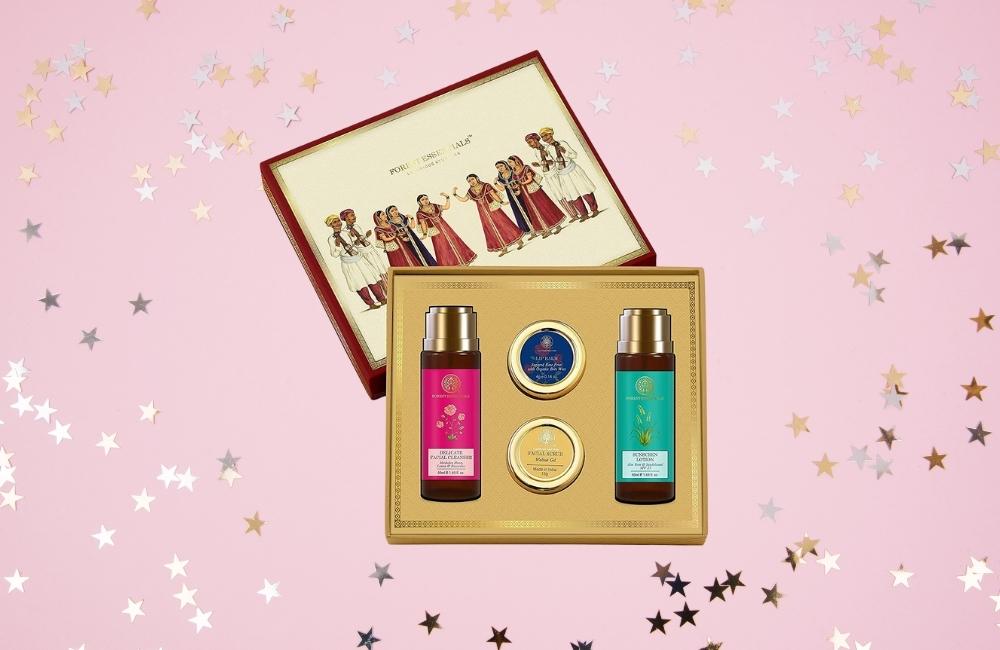 Shop at Amazon
What's Inside?
Honey Lemon Rosewater Cleanser – Antioxidants in honey will replenish your skin's moisture and protect it from damage.
Kashmiri Walnut Scrub – Gently exfoliate your skin with finely milled Walnut powder. The oil-rich walnut will remove dead skin and impurities, and leave you with a brightened complexion.
Aloe Vera and Sandalwood Sunscreen – To stimulate skin regeneration, consider using the soothing properties of Aloe Vera and sandalwood.
Sugared Rose Petal Lip balm – Using this lip balm, you can reduce fine lines on your lips and hydrate them.
Every product in this box has been created to balance, nourish, and rejuvenate the skin. The formulas are free from petrochemicals, synthetic fragrances, and synthetic colors.
Well researched and handcrafted, this set of exquisite products is one of the best skin care gifts in India.
#4 VLCC Nourish & Shine Kit
If you want to gift someone a stylish travel companion kit to fulfill their hair and skincare needs, this is among the best ones out there.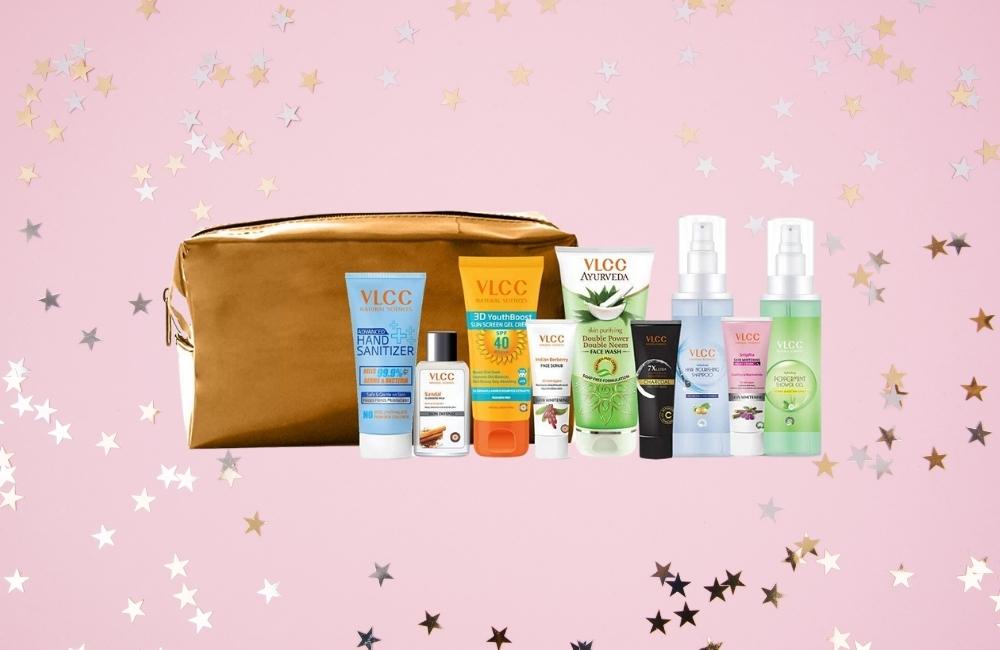 Shop at Amazon
What's Inside?
Ayurveda Double Power Neem Face Wash (50 ml) – Cleanse away all the facial impurities
Refreshing Peppermint Shower Gel with Cucumber and Aloe Vera Extracts (90 ml) – Relax yourself in the shower
Advanced Hair Nourishing Shampoo (90 ml) – with soy protein and amla extracts, to bring back the shine of your hair
3D Youth Boost SPF 40 (50 gm) – Sun protection at its best
Sandal Cleansing Milk (30 ml) – Get rid of makeup and accumulated dirt
Snigdha Skin Whitening Night Cream (15 gm) – Call it a night with lots of hydration
Indian Berberry Scrub (15 gm) – To exfoliate away skin buildup, impurities and dead skin
Charcoal Peel-Off mask (15 gm) – With its impurity attracting formula, you'll be sure to have a clear skin
Advanced Hand Sanitizer – Ensure you have clean hands whenever you need
The VLCC Nourish & Shine skincare kit is the ideal gift for any skin type this holiday season.
From deep cleansing and nourishing, to hydrating and smoothing, this all-in-one kit is sure to leave your skin glowing, supple, and soft.
A highlight of this kit is its eco-friendly and attractive jute pouch! Carry this on your next trip, and you won't need to worry about your skincare at all.
#5 KHADI NATURAL Luxury Spa Kit
Stress and busy schedules rarely allow us to take care of our skin. This spa kit brought to you by Khadi Natural will restore the lost charm of your skin and nourish your skin. It's a gift for someone who has just a little time for a quick spa at home.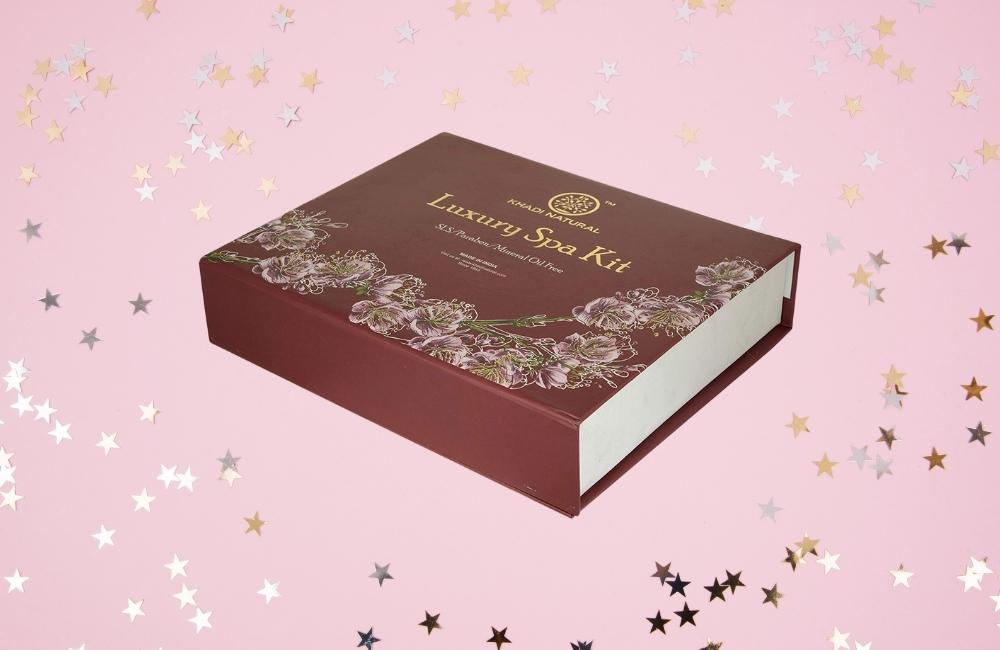 Shop at Amazon
What's Inside?
Lavender & Ylang-Ylang Body Wash (100 ml) – A perfect combination of herbs to refresh your body
Sandalwood Massage Oil (100 ml) – Massage away all the fatigue with this blend
Peach & Avocado Moisturizer (100 ml) – Enriched with Shea and Kokum butter, it will hydrate for hours.
Sandal & Rose Body Wrap (50 gm) – A nourishing mask for the body
Rose & Papaya Body Polisher (50 gm) – For an exfoliated body skin that glows
The kit is beautifully designed and easy to use. More than that, you'll feel fantastically pampered.
The natural ingredients used in these products gently rejuvenate the skin and improve its texture and complexion.
You'll enjoy the aroma of lavender and sandalwood, and you'll eventually have healthy and glowing skin.
#6 Bombay Shaving Company Bath & Skin Glow Kit
For a man who has everything, it's great to let him know you appreciate him by giving him a skincare kit. Essential for fighting skin problems, this charcoal-infused kit is a must-have grooming kit for men.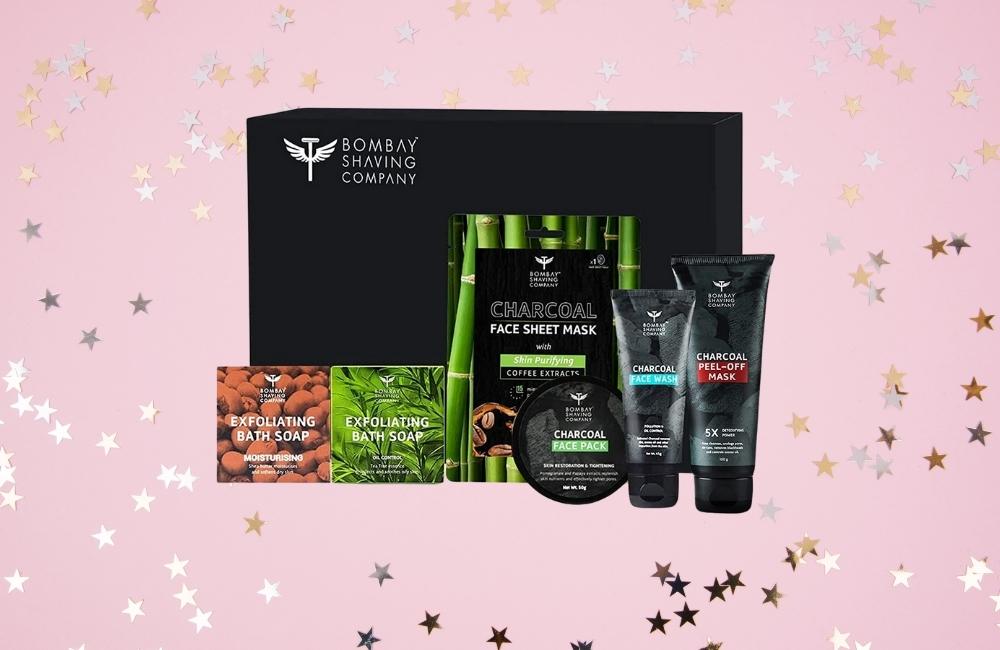 Shop at Amazon
What's Inside?
Face Wash (45 gm) – The activated charcoal draws out dirt and excess oil and reduces blackheads and dark spots.
Peel-Off Mask (60 gm) – This peel-off will detoxify your skin and make it feel refreshed.
Face Pack (50 gm) – The pomegranate and papaya extracts in this will replenish skin nutrients and tighten the pores.
Sheet Face Mask (25 gm) – The coffee extracts will give you clearer skin.
Exfoliating Bath Soaps (2) – These soaps soothe and hydrate your skin with oil-controlling and moisturizing properties.
Those in your life will appreciate the gift of skincare from Bombay Shaving Company. This is a complete skincare routine that will leave his skin feeling soft and hydrated.
With this kit for him, you can make your husband's, dad's, friend's, or brother's day by letting him enjoy some relaxing skin therapy.
#7 Kama Ayurveda Must-Have Skincare Gift Box
If you gift this kit to someone, you'll be giving them a beautifully designed box filled with the goodness of Ayurvedic beauty treatments in the form of must-have skincare products.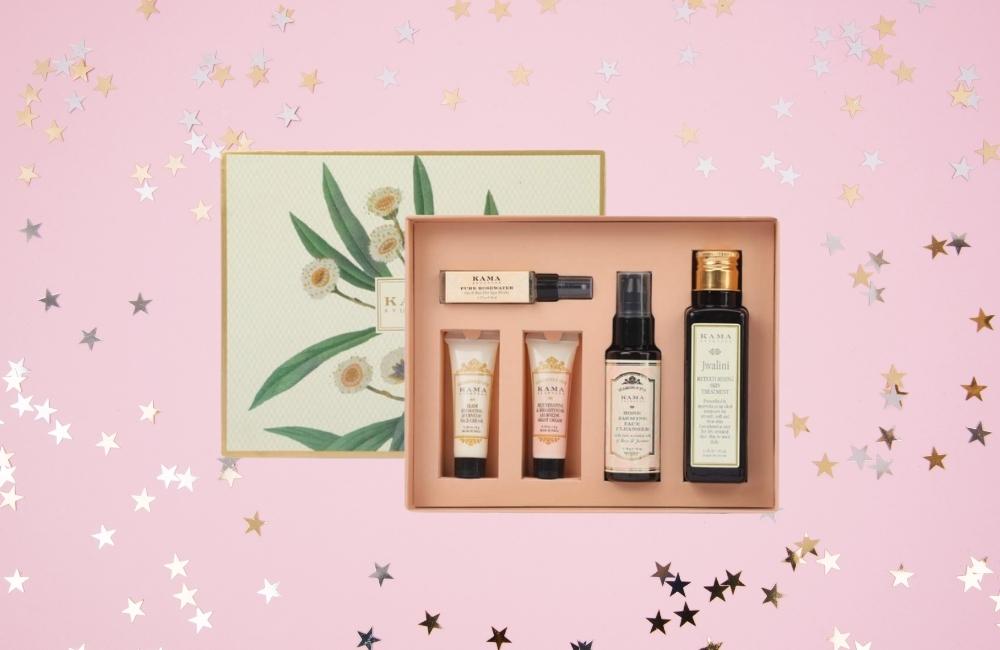 Shop at Amazon
What's Inside?
Jwalini Retexturizing Skin Treatment Oil – The green cardamom, coconut oil, and milk in this will hydrate and tone your skin
Rose Jasmine Face Cleanser – Use this 100% natural facewash daily to get a clean and soft skin you've been craving
Pure Rose Water – This is proven to be an incredible facial toner and natural astringent. Daily use will balance your skin's pH level and help tighten pores.
Eladi Hydrating Ayurvedic Face Cream – Rich in pure ingredients like coconut oil and sesame oil, use this cream to prevent acne and fine lines and keep your skin sun-protected
Rejuvenating and Brightening Night Cream – Reduce blemishes and brighten your skin by applying this daily at night after cleansing
With herbal extracts that enhance moisture retention, this gift box is the perfect pick for the glamorous woman in your life.
This gift is ideal for sensitive skin and will not only illuminate your skin but also reduce aging signs making it one of the most useful skincare gifts out there.
#8 Pilgrim Korean Beauty Flawless Skin Care Kit
This K-beauty combo pack is FDA-approved and designed to keep your skin looking great 24 hours a day. White lotus, volcanic lava ash, vitamin C, and volcanic ash make up the nutrients essential to repairing your skin.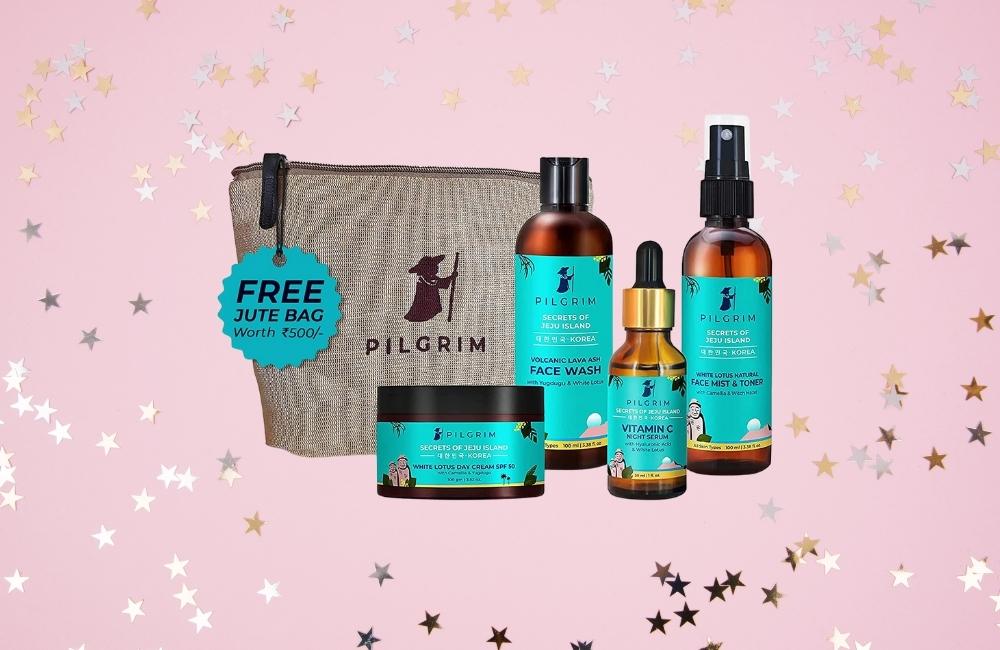 Shop at Amazon
What's Inside?
White Lotus day Cream SPF 50 – Camellia retains moisture and helps collagen form, while Yugdugu reduces dark spots and fights aging
Volcanic Lava Ash Face Wash – Lava ash helps get rid of pollution, dust, and grime, while white lotus in this face wash gives you instant hydration
Vitamin C Night Serum – Vitamin C is an anti-oxidant, reduces fine lines, and contains hyaluronic acid, so your skin stays smooth and elastic.
Face Mist & Toner – Alcohol-free and pH-balanced, it tightens pores, hydrates thirsty skin, and minimizes environmental damage
And an eco-friendly jute bag for storing all your goods!
When that dirt, oil, and makeup are deeply ingrained in your skin, it can be nearly impossible to completely remove them.
That's where the Pilgrim Korean Beauty Flawless Skin Care Kit comes in. This multi-step skincare system is designed to cleanse, exfoliate, and remove impurities from the face.
Gift this to someone and you'll soon be complimenting them on their glowing skin!
#9 Plum Grapeseed & Sea Buckthorn Glow Pack
Infused with the goodness of grapeseed and sea buckthorn extracts, this kit is the perfect gift for radiant, healthy skin.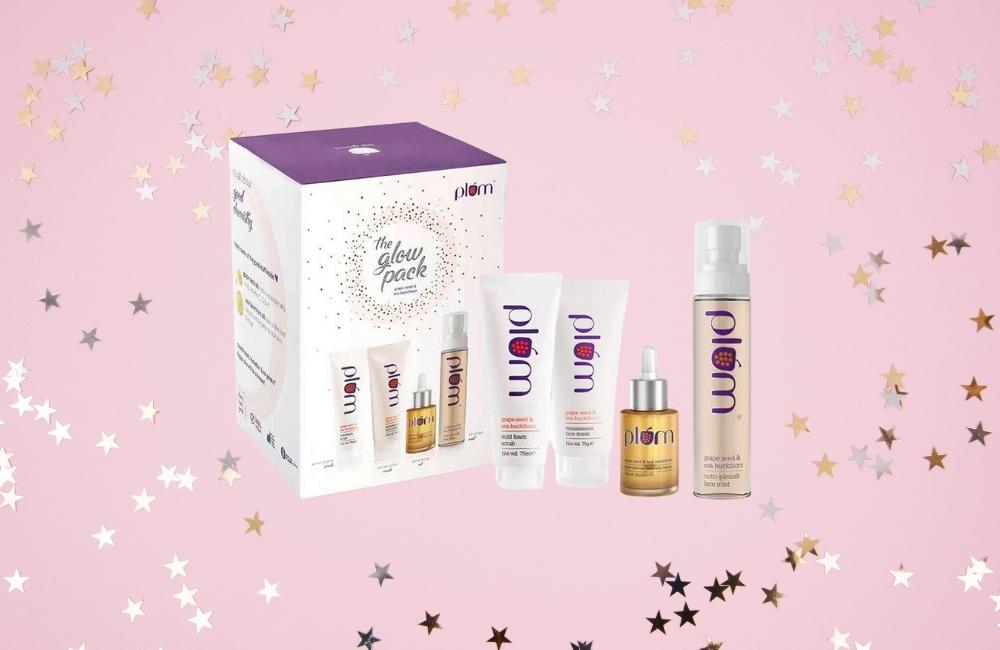 Shop at Amazon
What's Inside?
Mild Foam Scrub (75 ml) – Thanks to the natural cellulose beads in this scrub, your skin will be left feeling smooth and soft for hours afterwards.
Renaissance Face Mask (75 gm) – Infused with natural clays, this mask will purify your skin deep within your pores, while also nourishing and exfoliating it.
Nutri-Plenish Face Mist (100 ml) – This refreshing aloe juice serum will refresh your skin and brighten your spirit.
Glow-Restore Face Oils Blend (30 ml) – With ten natural oils, this will restore your skin's glow and not leave it feeling sticky
Plum Grapeseed & Sea Buckthorn Glow Pack is an all-in-one beauty routine that transforms skin into a glowing, healthy canvas.
The best part? These products are made with 100% vegan, non-toxic ingredients and work for every skin type out there. The perfect gift for any skincare enthusiast!
#10 Plum Green Tea Face Care Kit
You know what it's like to have oily or acne-prone skin. This set of green tea products is easy on your skin and effective.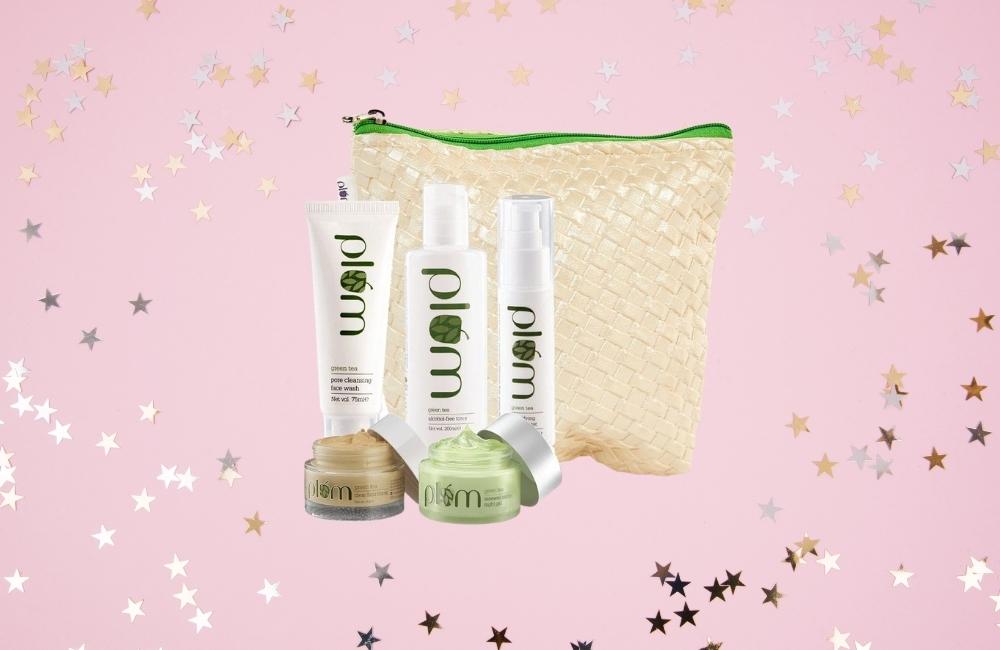 Shop at Amazon
What's Inside?
Pore Cleansing Face Wash (75 ml) – Rich with natural, non-comedogenic ingredients like green tea will make your skin feel fresh and free from excess oils
Alcohol-free Toner (200 ml) – Tackles oil production and hydrates the skin
Mattifying Moisturizer (50 ml) – Instantly hydrates the face with a lightweight formula to keep it oil-free all day long
Clear Face Mask (60 gm) – The natural clays and antioxidant green tea extracts will help clear up all the dirt, impurities, and acne
Renewed Clarity Night Gel (50 ml) – The ultra-light texture of this gel is enriched with plant nutrients and argan oil to hydrate your skin adequately
When you incorporate fresh, organic, anti-aging ingredients into your daily skincare routine, you'll notice that your skin will look and feel better, and you'll have a more youthful appearance.
One of the best skincare sets for women out there, this is a go-to gift when you're thinking about someone close to you.
#11 Biotique Bio Youthful Skin Care Regime Kit
Containing naturally-derived Ayurvedic beauty products complemented with scientific expertise, this is one of the best personal care gift sets you'll find.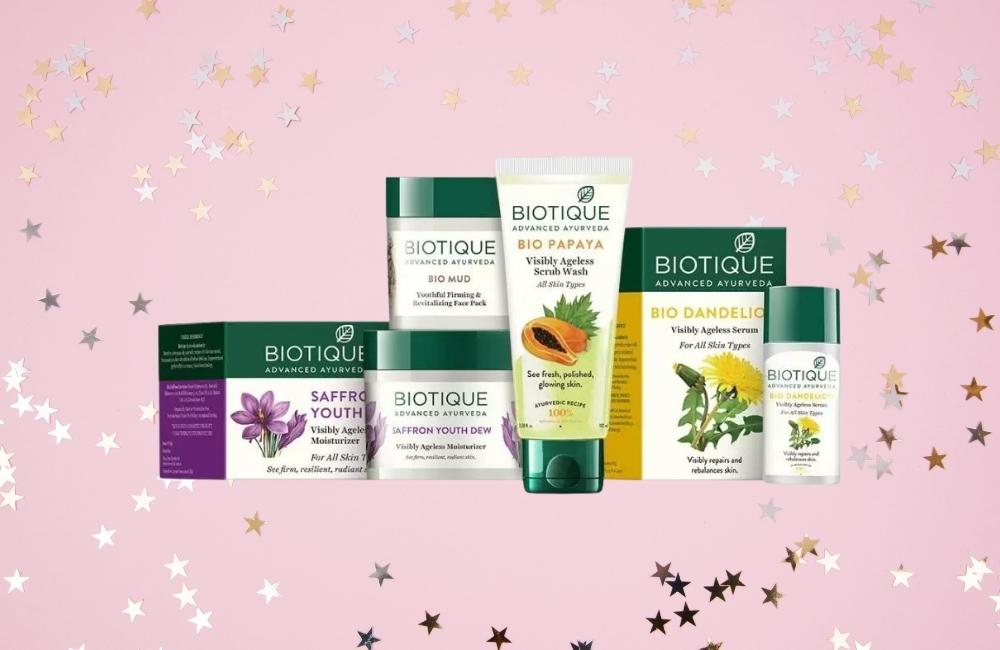 Shop at Amazon
What's Inside?
Papaya Exfoliating Face Wash (50 ml) – This fresh foaming gel will unclog pore openings and give you a younger-looking complexion.
Dandelion Serum (40 ml) – Vitamin E-rich and nutmeg oil-infused, will make dark spots and wrinkles fade away.
Saffron Dew Youthful Day Cream (50 gm) – To replenish and sustain your skin's dewy youthfulness, use this cream, which has almond and pistachio oils and turmeric extracts.
Mud Face Pack (50 gm) – This reviving face pack blended with mineral salts will smooth out lines and wrinkles and help give you a glowing face.
Biotique Bio Youthful Skin Care Regime offers a complete skin care solution. It helps to nourish, moisturize, refine, brighten, revitalize, and even tone your skin.
Made of preservative-free ingredients, this is one of our favorite gift sets.
How to Choose the Best Skincare Gift Set in India
Choosing a skincare gift set is a bit like choosing a gift for any other occasion.
You have to think about what would suit the person the most. That person may be your mother, sister, or best friend—or it may be you!
But before you pop any bottles into those gift bags, here are some tips on how to choose the best skincare gift set in India:
Remember their Preferences
Think about what type of skincare your recipient prefers. Are they more into organic and natural products or luxury brands? Once you've narrowed it down, you can start looking at specific sets.
Consider the recipient's skin type
All skincare products will not work for all skin types, so it is important to choose products accordingly. Find out what the recipient's skin type is by asking them or consulting their dermatologist.
Decide on a budget
By setting a budget, you can easily shortlist products within that price range. If you have a low budget, there are plenty of affordable options like Himalaya Herbals. On the other hand, if you have a bigger budget, you can choose luxe sets like Plum and Forest Essentials.
Look up reviews
The reviews will give you a better idea of what other people think about the set and whether it's worth it. Also, you can find out what products are included in the set and how much each item costs.
The takeaway
A skincare gift set is a timeless gift. Whether it's for your mom, your best friend, or yourself, everyone deserves to treat themselves to it.
The lovely thing about skincare is that while there's no one-size-fits-all, there are products for everyone, and these skincare gift sets in India will help you find the perfect gifts for everyone you care about.
Inspired by traditional ingredients and curated to perfectly fit into your daily skincare regime, these sets are a must-have.
So, next time you're thinking of gifting someone (or even yourself) something special, you know what to choose from!