As we age, our skin can lose between 20 to 80% of the thickness.
And we're drowning in skincare treatments, all with the promise of achieving clear, glowing skin.
Isn't it daunting to choose which products are worth the investment and which will just end up collecting dust in your bathroom cabinet?
The next time you're seeking new ways to achieve glowing skin or restore damaged skin, consider trying an LED face mask.
Clinical treatments do make a difference, however, at-home treatments cost less and are becoming more popular. Here's where the CurrentBody LED Mask comes in.
My super-honest CurrentBody Skin LED mask review will give you the real story and whether it's worth the hype.
So, here goes my in-depth experience.
What exactly is CurrentBody Red Light Mask?
The mask uses LED light therapy, a non-invasive treatment to boost skin health while addressing existing issues.
With this skincare device, you can target specific skin concerns, such as wrinkles, fine lines, age spots, and pigmentation. In some cases, even acne.
Here are its best-known benefits for beauty: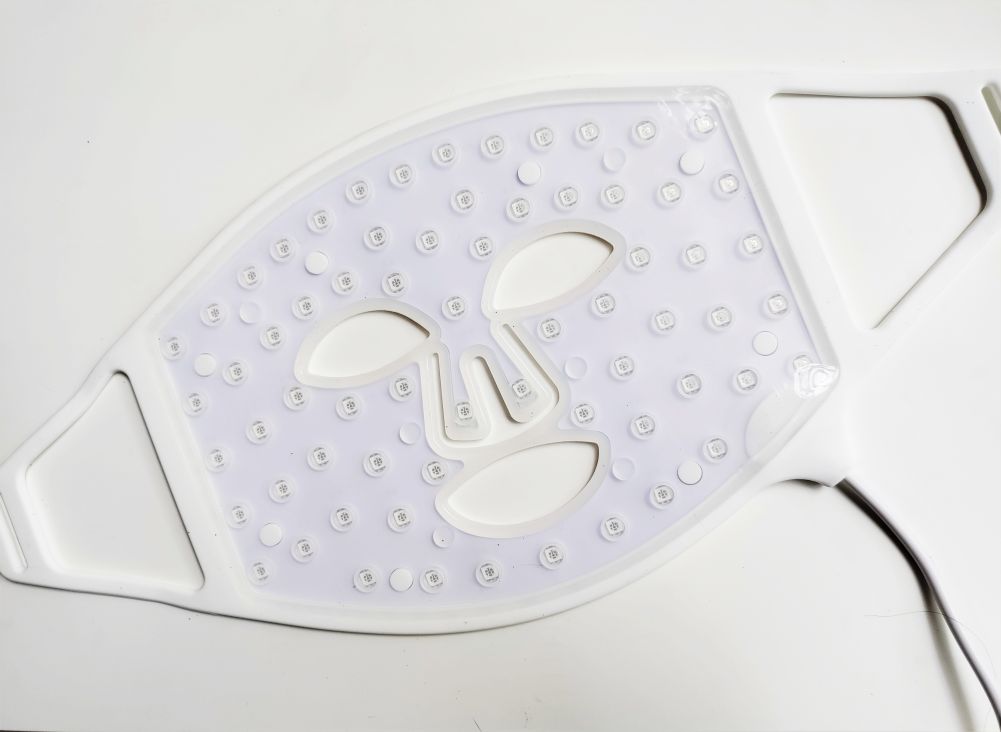 Features
If you're wondering how it differs, this red light mask is one of the most popular at-home RLT treatments.
The mask is fully wearable for a firmer, younger-looking complexion, with the right dose of dual LED light delivered directly to the skin.
Uses the wavelength as professional salon devices. With its flexibility, the mask allows light to reach all areas of the skin. It delivers light deep into the tissue for immediate and long-lasting results.
In just a month, it reduces wrinkles, and 95% of users report improvement in their skin tone, texture, firmness, and tightness.
The device harnesses two combinations of light therapy: anti-aging red (633nm) and near-infrared light therapy (830nm). With its flexible silicone, red light penetrates deeper into every facial area.
Suitable for all skin types
With these features, it's one of the best LED facial light therapy masks on the market.
Price: $380 | Purchase it on CurrentBody's official website or Amazon
How to use the mask?
Using this mask is a breeze!
Put on the mask at the end of your skincare routine with or without a hydrogel face mask.
For visible results within a month, it is recommended that you use it for 10 minutes, 3 to 5 times a week.
Lastly, use a hyaluronic acid serum to enhance the anti-aging effects.
Do LED face masks really work for the skin?
They do, for sure. They've been around for decades, and dermatologists and aestheticians use them. They're just starting to get popular in at-home facials.
Firstly, it's 100% safe to use, provided you're free from any skin or health conditions. Also, it doesn't emit harmful UV rays.
Unlike chemical peels or lasers, the therapy does not burn your skin.
Did you know that Navy SEALs used LED light therapy to heal wounds? In addition to reducing healing time, the same treatment improved over 40% of injuries.
When it comes to skincare, this review of multiple studies shows that these devices can help treat mild-to-moderate acne, psoriasis, wrinkles, and overall skin rejuvenation.
Further, the American Academy of Dermatology notes that this therapy effectively treats mild acne and pimples.
While the FDA has approved some visible-light LEDs for use at home, it's not as powerful as those dermatologists use. Still, don't let that discourage you—consistent use of the device produces results.
How do LED face masks work?
At-home LED devices are becoming a popular beauty tool. By using LED light therapy devices, you can make your skin look better.
Most LED masks use light wavelengths, such as blue and red. On the electromagnetic spectrum, they're between 400 and 700 nanometers. The blue light of 400 nanometres wavelength treats acne-causing bacteria, while the around 700 nanometers of red light penetrates every area of the face and boosts collagen production.
The mask delivers light directly to the layers of the skin and stimulates the cells, rejuvenating the skin and giving it a youthful look. All you need to do is wrap the mask around your face … and do nothing!
Who is a good candidate for using an LED red-light therapy face mask?
The mask is ideal for those who wish to improve their complexion or reduce the appearance of wrinkles but couldn't get the results they want with over-the-counter (OTC) products. The mask helps stimulate collagen production and cell turnover, leading to brighter, smoother skin. Aside from being safe for all skin colors, it doesn't burn.
Who cannot use it?
Currentbody mask is not for you if you are:
Sensitive to light aka photosensitive or taking medications that cause it
Pregnant, considering becoming, or breastfeeding
Diagnosed with Lupus erythematosus, photosensitive eczema, or Albinism
Prone to headaches triggered by light
Having genetic eye conditions
My Experience with CurrentBody Skin LED Mask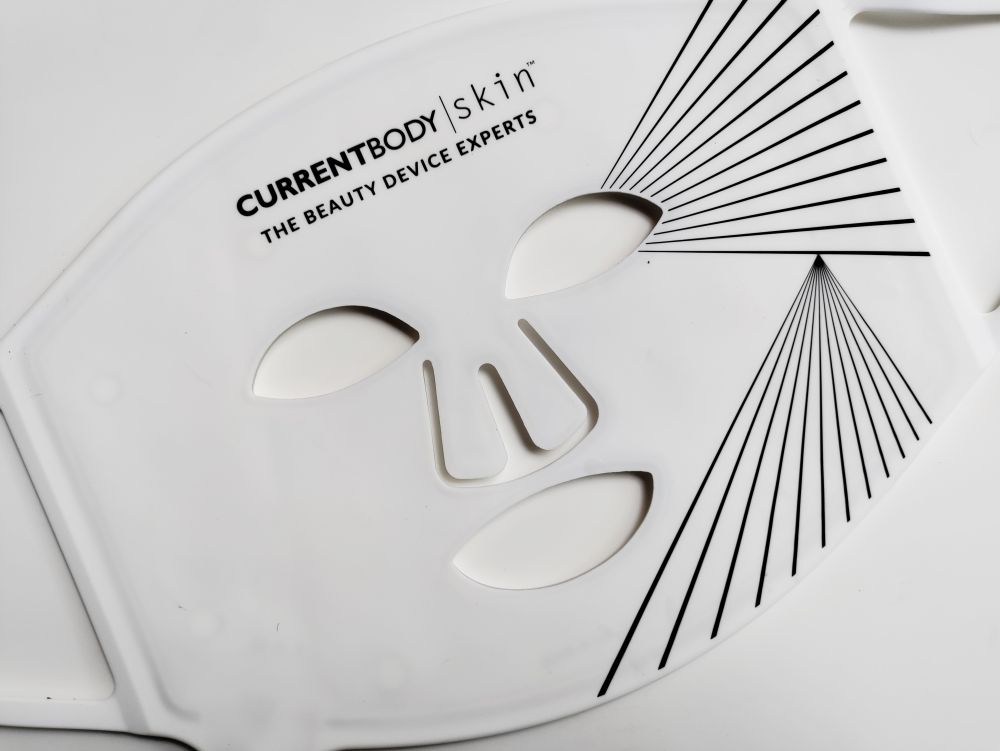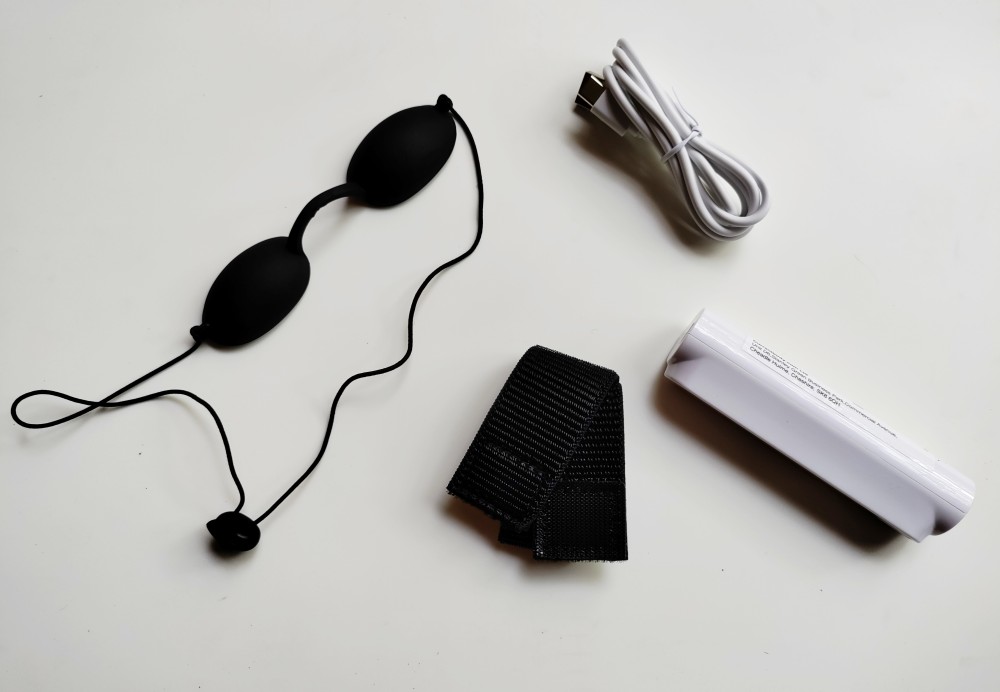 It's never been my thing to have flawless, glowing skin. To begin with, I have oily and acne-prone skin.
The CurrentBody Skin LED mask comes with a RED LED light therapy mask, eye protection goggles, power cable and charging plug, user manual, and a storage bag.
So when I first tried the CurrentBody skin LED mask, I was initially skeptical but also intrigued. I was curious how it would look on me. There was even a moment when I thought, "I hope my skin doesn't burn from these lights." It's perfectly safe to use, though, since dermatologists have used it for decades.
The mask resembles a Korean sheet mask, only sturdier, but in fact, it's made of soft, flexible, and patented silicone material that keeps its shape.
After putting it on, I adjusted it to fit my face shape, then attached the velcro strap to wrap around my face. After pressing the power button, the lights begin to glow.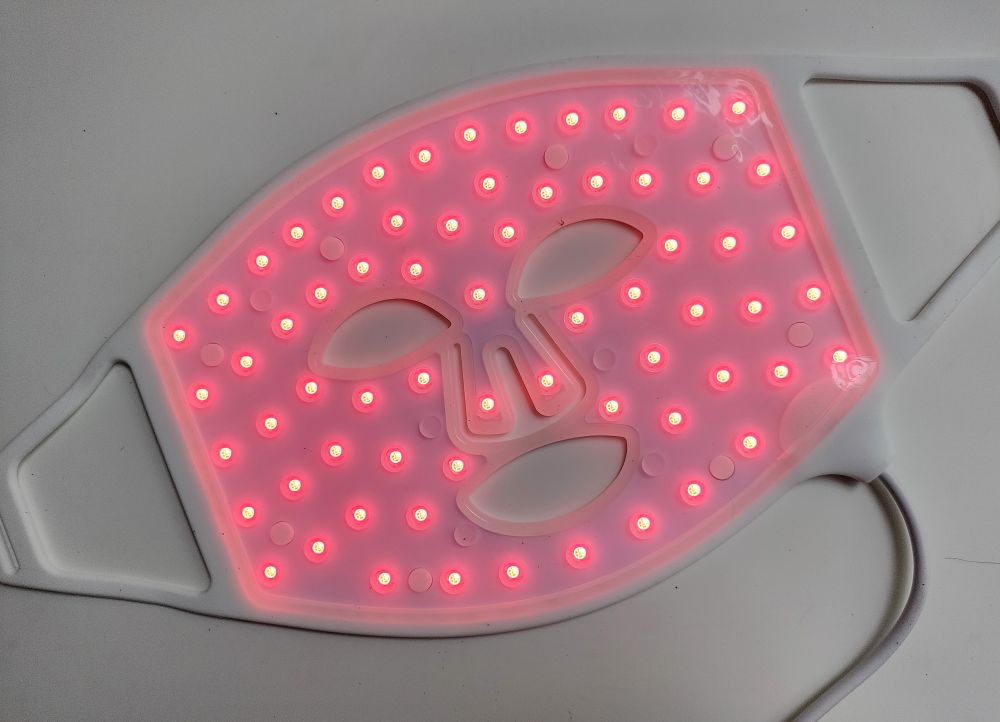 The whole world is red! You will see red and near infra-red lights all over the device after it turns on, along with a warm sensation on your skin. The lights don't irritate or make you uncomfortable, but some people find them too bright. Here's how you do it: use the goggles or close your eyes while the anti-aging led mask works. Finally, I lay on my couch and let this mask do its thing quietly.
I love how it turns off automatically after 10 minutes—perfect if you're lazy like me. An easy-to-use, lightweight device!
My goodness, they are right when they say never judge a book by its cover. I have to say this in my CurrentBody Skin LED Mask review — this mask looks oh-so-plain, but it's jam-packed with technology. The near-infrared lights brim with skin goodness.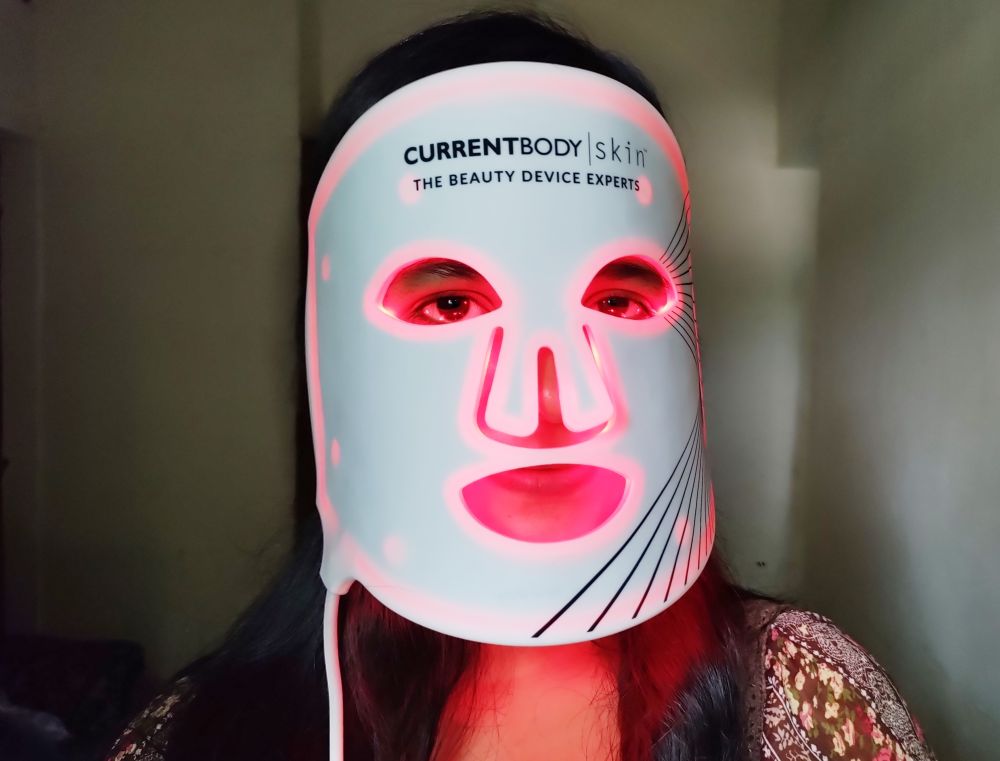 I love that the mask goes on smoothly and targets the skin directly, rather than just bouncing around. Immediately after treatment, I noticed a difference in my skin! Also requires no downtime after use. Even so, it is obviously a must for you to use SPF when out in the sun!
Taking a look at its battery life, one single charge lasts a good 15 sessions and more, surprisingly long.
Since I've been using it for a few weeks, I'm impressed! Skin feels softer and looks more even-toned – my complexion looks better. I recommend using the mask three times a week for at least six weeks.
Best of all, the light doesn't cause discomfort or harshness on my skin like other skin care treatments.
As far as effectiveness goes, when compared to professional treatment, of course, at-home RLT devices don't come with the same level of technology as the devices used in professional clinics. However, the technology used in this mask is pretty close to it.
If you're wondering if the CurrentBody Skin LED mask is worth the purchase, it's undoubtedly a worthwhile investment to eliminate costly spa treatments. There's a 2-year warranty. So if you want visible, consistent results, invest in one of these products.
How is CurrentBody Skin LED RED Light Therapy Mask Different From Other Devices?
This award-winning device emits red light therapy for the face. With a higher intensity of light, it's more effective at improving your skin's appearance than other devices. It has FDA clearance and clinical proof of its safety and effectiveness. This mask fits comfortably around the face, providing better coverage. Also, it shuts off automatically after you're done. That's the first device I've seen that does it all!
Pros
The mask combines red and near infrared light for better results
Completely safe
Requires no additional attachments
Medical grade technology
Travel-friendly
60-day money-back guarantee
Cons
Some find bright lights bothersome
Expecting instant miracles won't work
A little pricey
FAQs about CurrentBody Skin LED Mask Review
How to choose a good LED face mask?
Consider the following factors when choosing one:
Choose the right wavelength. Blue light is good for treating acne, while red light is effective for anti-aging. If you're unsure, an all-purpose mask with both blue and red lights is a good choice.
Light intensity. Ensure the mask emits light at the right wavelength for your skin condition.
Make sure the LEDs are high-quality. There should be a good balance of brightness and spacing on the mask.
Ensure the mask is comfortable to wear. Straps should be adjustable so that the fit is snug. The mask should cover your entire face.
Timeframe for treatment. The mask should allow you to adjust the duration of light exposure. Alternatively, you can opt for one with automatic shut-off.
The manufacturer should provide you with a clear copy of the instructions. If you find one with gibberish, don't buy it. In the absence of the instructions in the copy, you should be able to find them online.
Does the CurrentBody Skin LED mask has any side effects?
This therapy has no side effects and automatically turns off to prevent overexposure, so you can never overdo it.
Is it FDA-approved?
Yes, the mask has been through several clinical trials and is FDA approved, and CE certified.
How to clean CurrentBody LED mask?
Use a damp clean cloth or a water-based wipe to clean the transparent (face side) and rear sides of the mask. Stubborn stains can be removed by a gentle wipe with 70% alcohol.
Can I use it every day?
The recommended dosage is to use three to five times a week for 10 minutes at a time. When used more often, it will cause your skin to dry out.
What serums do I put on my skin before using this LED mask?
Hydrogel masks can be worn beneath or even alone. Hyaluronic acid as an after-therapy works best in conjunction with LED therapy.
Does it make your eyes hurt?
The light doesn't hurt the eyes or damage them; however, according to my CurrentBody Skin LED Mask review, it might be too bright for some, so goggles might be a good idea.
CurrentBody LED mask vs. Omnilux Contour
They are pretty much the same, so it comes down to your personal preference. There might be a slight price difference, but you can get one if you can't get the other.
| | | |
| --- | --- | --- |
| Device | CurrentBody | Omnilux |
| FDA-approval | ✔ | ✔ |
| Red wavelength | 633 | 633 |
| Near-infrared wavelength | 830 | 830 |
| Intensity | 30 | 30 |
| Session time | 10 minutes | 10 minutes |
| Price | $399 | $395 |
CurrentBody LED mask vs. Dr. Dennis Gross
There's also the Dr. Dennis Gross device, slightly stronger than the CurrentBody, as an alternative you can consider.
Device
CurrentBody
Dr. Dennis Gross
FDA-approval
✔
✔
Red wavelength
633
Red: 630 – 700nm
Amber: 590 – 630mm
Blue: 400 – 470nm
Near-infrared wavelength
830
800 – 1200nm
Intensity
30
30
Session time
10 minutes
3 minutes
Price
$399
$435
CurrentBody LED mask vs. Aduro
Here is another light therapy alternative, the Aduro LED mask with seven different colors.
| | | |
| --- | --- | --- |
| Device | CurrentBody | Aduro |
| FDA-approval | ✔ | ✔ |
| Red wavelength | 633 | 7 different LED colors + infrared |
| Near-infrared wavelength | 830 | ?? |
| Intensity | 30 | ?? |
| Session time | 10 minutes | 20 minutes |
| Price | $399 | $399 |
CurrentBody LED mask vs. Boost LED mask
Boost LED mask is another slightly less-expensive alternative to CurrentBody.
| | | |
| --- | --- | --- |
| Device | CurrentBody | Aduro |
| FDA-approval | ✔ | ✔ |
| Red wavelength | 633 | 633 |
| Near-infrared wavelength | 830 | 830 |
| Intensity | 30 | ?? |
| Session time | 10 minutes | 10 minutes |
| Price | $399 | $490 |
More Reviews
CurrentBody Skin LED Mask

Final Word
That was all for my CurrentBody Skin LED Mask review. It's an effective, easy-to-use beauty gadget that treats skin issues like skin aging, dark spots, and uneven skin. The experience was all about the CurrentBody Skin LED light therapy face mask that lights up, and hopefully, so will your skin after regular use. Don't let those esthetician bills haunt you any longer – try it yourself or gift it to someone who enjoys skincare.