We all desire healthy skin and bodies. Plus, not everyone likes chemical-laden stuff. When it comes to beauty products and body care, many avoid parabens, silicones, and the like.
If you're searching for naturally derived products, Adama Minerals products are worth a look. Their product line includes soaps, lotions, shampoos, and more. The problem is there are so many great products to choose from, so it's challenging to decide.
Natural products company Zion Health manufactures Adama Minerals, which beliefs in the healing power of clay. According to the founder, certain kinds of clay possess healing properties that can treat a variety of ailments. The clay toothpaste that started out as a simple natural product has evolved into several products that have become big hits in the natural products market.
Here's a look at the best Adama Minerals products from their product line, so you can get started right away.
Price: $60
This Zion Health hair multiplier serum uses Baicapil and AnaGain, patented hair growth synergies. The serum repairs and prevents thin, weak hair, encouraging thick, strong hair growth. By stimulating changes in the hair cycle, the hair grows longer and stronger, and the resting period gets shorter. Turmeric in the serum also reduces DHT production, a hormone that makes hair fall out.
Benefits
Enhance hair growth
Maintains hydration and moisture
Exfoliate the scalp gently, stimulating cells and clearing away product buildup
Strengthens and thickens hair visibly
Balances oil production
Key ingredients
Baicapil
AnaGain
Arginine
Lactic acid
Skullcap extract
Panthenol
Turmeric
Ionic clay minerals
Other ingredients include pea sprout extract, wheat germ extract, and soybean germ extract.
Why should you use this product?
Zion Health ICI Hair Multiplier Serum has a bunch of ingredients that help address a lot of hair issues. Anyone who wants thick, strong hair should try this product. Aside from improving strength, the serum hydrates the scalp, promotes cell renewal, and helps with scalp exfoliation.
Dropper packaging makes it easy to use. The serum is a leave-in formula that you can apply directly in the morning or at night. Even though it's a little pricey, it's a must-try for people who want thick and strong hair.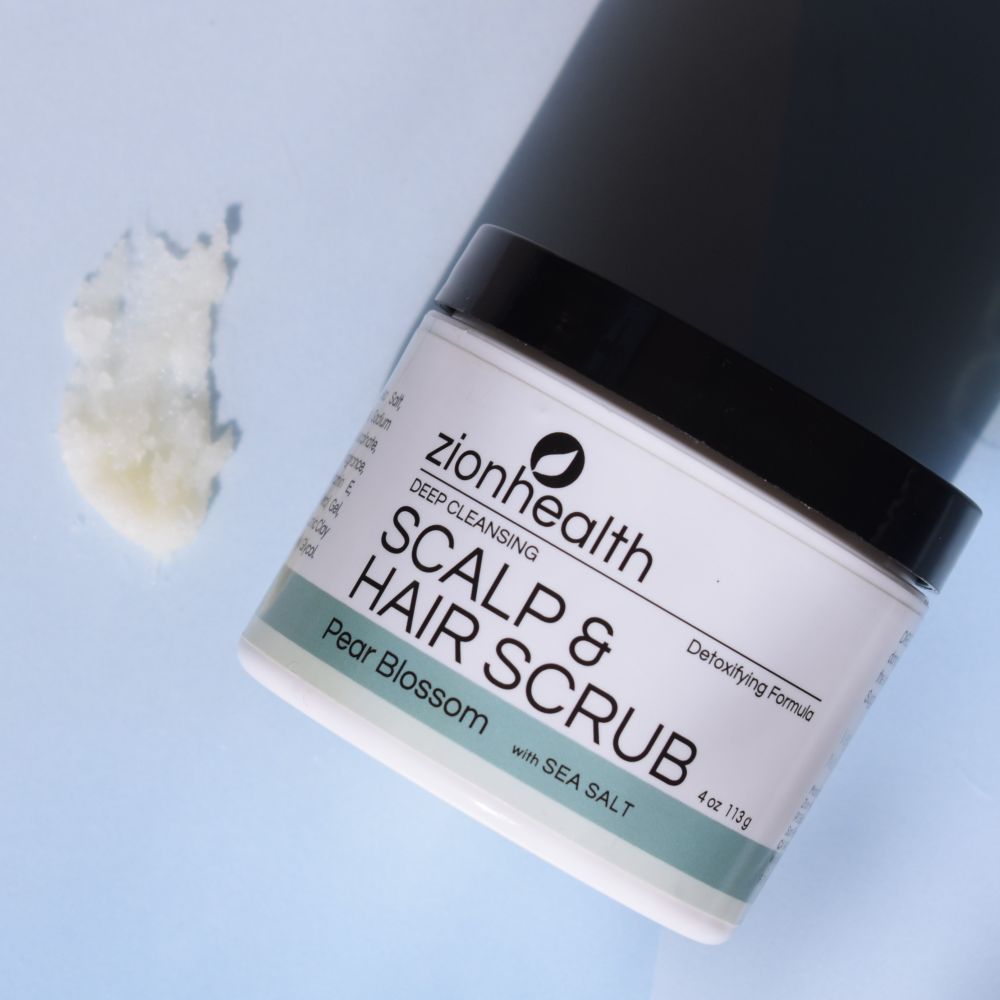 Price: $18
Deep Cleansing Scalp & Hair Scrub revives and restores dry, dead hair. By gently exfoliating your scalp, any buildup, dirt, and excess oil are removed. To maintain healthy hair, the product also adds nutrients to the hair. The product revitalizes hair and leaves it deeply nourished thanks to the healing properties of sea salt and clay minerals.
Benefits
Cleanse and exfoliate the scalp
Intensively nourish the hair
Promote healing
Give your hair shine and flexibility
Nutrients for a healthy scalp and hair
Sulfate, paraben, and gluten-free
Key ingredients
Sea salt
Coconut oil
Biotin
Argan oil
Vitamin E
Clay minerals
Why should you use this product?
If you want an inexpensive scalp scrub that will nourish your hair, this is the product you need. It adds moisture to the hair, prevents damage, and revitalizes dead hair. Combining clay minerals and sea salt helps remove impurities from the scalp and excess oil without stripping the hair of its natural moisture. The scrub also has biotin, a lack of which can lead to brittle, thinning hair.
This scrub also contains aloe, which is helpful for inflammation and circulation, sweet almond oil, which seals moisture in the hair, and mangosteen powder, which contains minerals and vitamins.
Overall, the product cleanses your scalp deeply while nourishing your hair.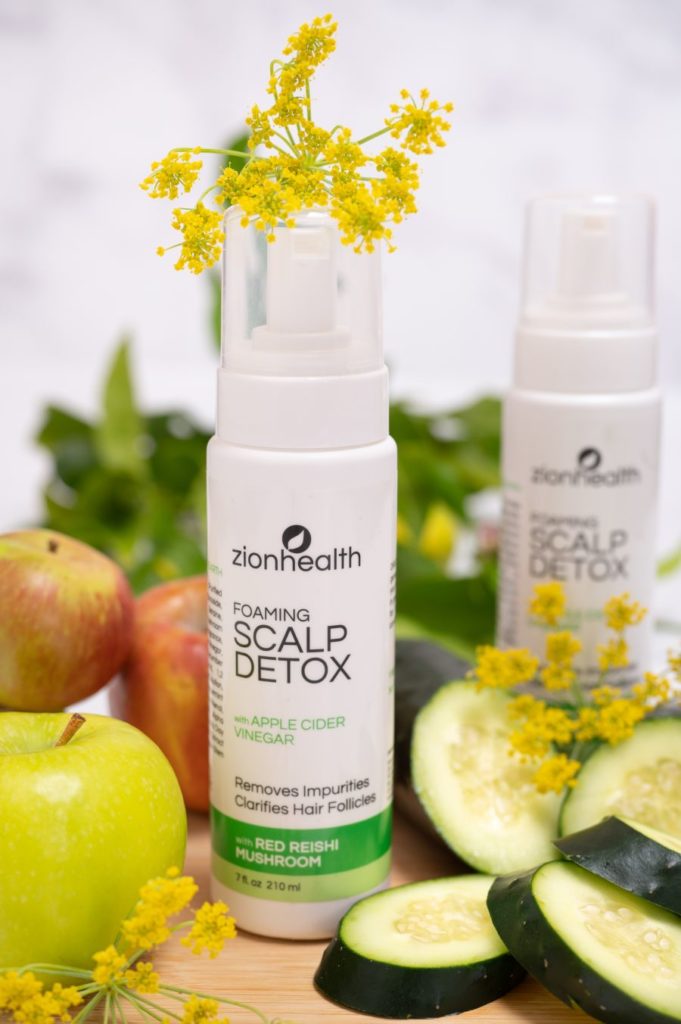 Price: $18
Zion Health Foaming Scalp Detox helps remove dead hair cells and buildup in the hair. Through this, you can avoid lifeless and flat hair and encourage hair growth. As well as promoting collagen, the botanical extracts reduce inflammation through antioxidants. The foam promises hair growth and healthy-looking hair.
Benefits
Cleanse and exfoliate the scalp gently
Maintains healthy hair
Boosts hair growth
Effortlessly removes dead skin cells and excess sebum from the scalp
Anti-inflammatory
Key ingredients
Glycerin
Apple cider vinegar
Apple stem cells
Saw palmetto oil
Salicylic acid
Cucumber extract
Calendula extract
Ionic clay minerals
Why should you use this product?
Foaming scalp detoxes gently exfoliate the hair without weighing it down. Apple cider vinegar clarifies the scalp without stripping hair of its moisture and removes dead skin cells and product buildup. Promoting blood circulation in the hair, hair will grow faster, and your scalp will be less irritated.
Besides the above ingredients, the product contains other ingredients, including Alpha lipoic acid to prevent hair loss, L-Carnitine to promote hair growth, witch hazel to treat dandruff, and panthenol to strengthen damaged hair.
You can easily add it to your shower routine, which helps cleanse your scalp thoroughly. A healthy scalp promotes healthy hair growth. The product has a generous mix of ingredients that thoroughly but gently cleanse the scalp while adding strength and shine to the hair.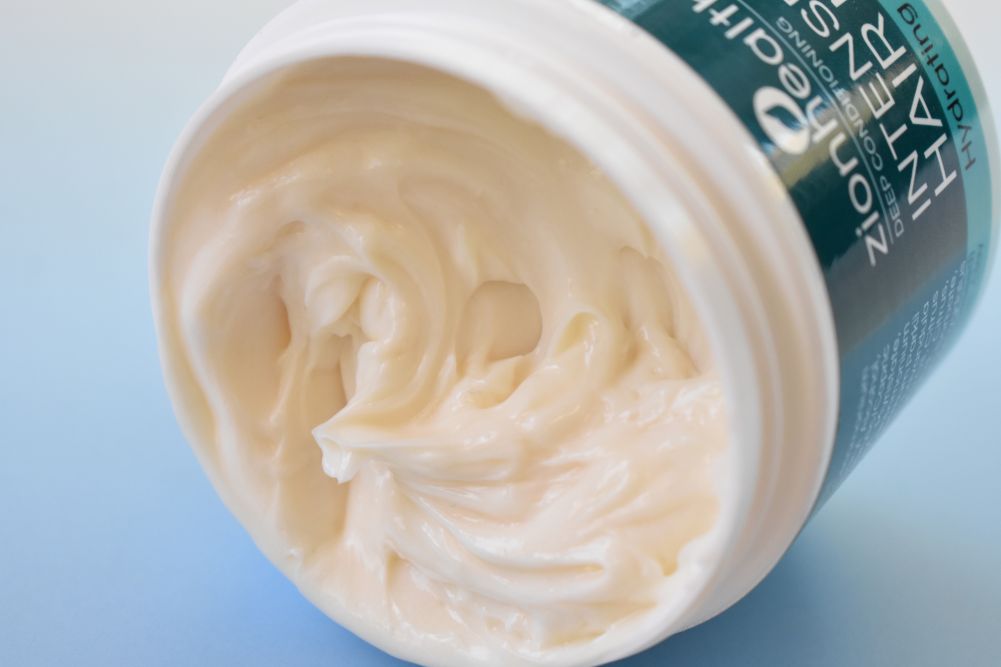 Price: $20
Deep Conditioning Intense Repair Hair Mask adds shine and intense conditioning to your hair. Utilizing nutrients and oils, it revives dull and dry hair.
Benefits
Adds moisture and shine
Revives dull hair
Deeply nourishes hair
Gentle exfoliation
Seals moisture in the hair
Helps protect from damage
Key ingredients
Hydrolyzed barley protein
Panthenol
Sweet almond oil
Argan oil
Ionic clay minerals
Vitamin E
Why should you use this product?
The mask adds shine and moisture to dull and dry hair. It seals moisture into the hair and protects it against damage. Additionally, clay minerals exfoliate the scalp to promote hair growth.
Aside from the above ingredients, the hair mask also contains shea butter and lemon essential oil, enhancing hair's hydration.
It's perfect for dull, damaged hair. Try this product if your hair looks lifeless. Oils are deeply nourishing, while clay minerals exfoliate the scalp gently to promote healthy hair growth.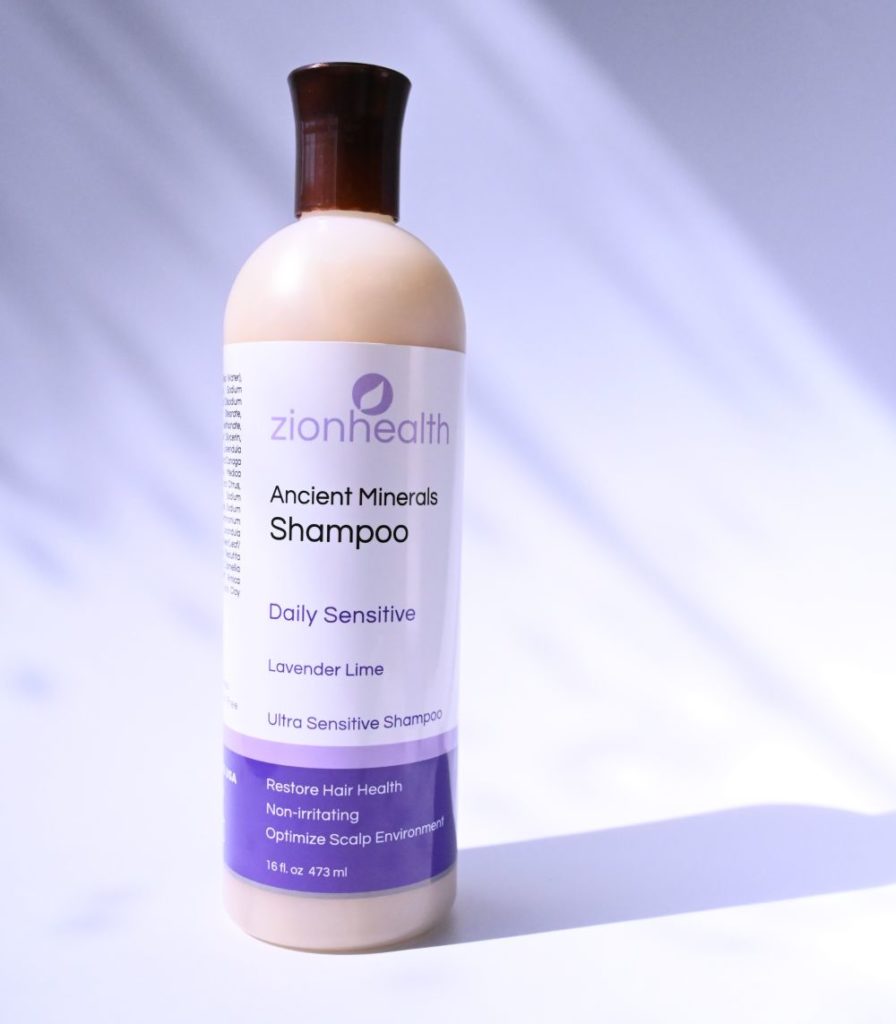 Price: $20
Brittle and sensitive hair has a variety of causes. With a gentle formula, Zion Health Daily Sensitive Shampoo gently removes the buildup from your hair. It replenishes nutrients and antioxidants in your hair, restoring its strength and softness. The ingredients in this shampoo are gentle enough to be used every day without causing further hair damage. It uses natural ingredients to gently clean your hair.
Benefits
Does not strip hair of moisture
Gentle exfoliation to promote a healthy scalp
Supports healthy hair growth
Suitable for daily use
Paraben, sulfate, and silicone free
Key ingredients
Aloe
Glycerin
Panthenol
Allantoin
Ionic clay materials
Arnica extract
White tea extract
Chamomile extract
Lavender oil
Ylang ylang oil
Why should you use this product?
If you're looking for a gentle cleansing shampoo, this is the one. It's gentle and natural, so you can use it daily without causing your hair to dry out. Further, it promotes a healthy scalp and hair growth while adding shine and strength to hair. It's sulfate and paraben free.
Also included are lemon oil and lime oil, which remove dead cells and excess oil, and sodium PCA, which adds moisture and helps the other ingredients work better. Minerals and essential oils neutralize odor and promote healthy hair.
Where to buy Adama Minerals products?
Adama mineral products are sold on their official website adamaminerals.com. You can also purchase it on merchant websites such as Amazon and Ubuy.
Bottom line
With Adama minerals, you can maintain a healthy scalp and hair with a wide range of products. The products are naturally developed and focus on clay minerals. Over 57 trace minerals are in all their products. No parabens or sulfates, and no animal testing. It's all food and drug administration-certified, so it's safe.
As promised, the products work. Adama mineral products are undeniably one of the best brands available in the market that provides excellent results without relying on chemicals. The Adama skincare and hair products are great if you want something paraben- and sulfate-free.