This is a sponsored post.
A recent study out of the University of Notre Dame found that more than half the cosmetics sold in the United States and Canada likely contain high levels of a toxic industrial compound linked to severe health conditions, including cancer and reduced birth weight. That's not very reassuring. But luckily, there are all-natural beauty products out there. And if you're interested in making the switch, you need to know about 100% PURE™ all-natural fruit-dyed makeup.
It isn't a secret, but not all-natural makeup is created equal. Cosmetic companies often slap the word "natural" onto their packaging while selling makeup that isn't all that great for you. The good news? It's relatively easy to figure out what natural makeup is the real deal and what isn't. All you need to do is look at the ingredients.
Faux-naturale cosmetics contain parabens, artificial pigments, silicones, PEGs, and talc. Parabens are often composed of synthetic estrogen compounds, which can create hormonal changes in your body. Meanwhile, artificial dyes can irritate your skin or eyes, and talc (a key ingredient in blushes and powders) may contain asbestos, a mineral silicate linked to severe respiratory problems.
The mark of a genuine all-natural makeup brand is that it never uses harmful ingredients. That's why 100% PURE™ uses fruit pigments to color their makeup, resulting in vibrant products that are good for your skin and health. So you can rest assured that you're getting the purest ingredients nature has to offer.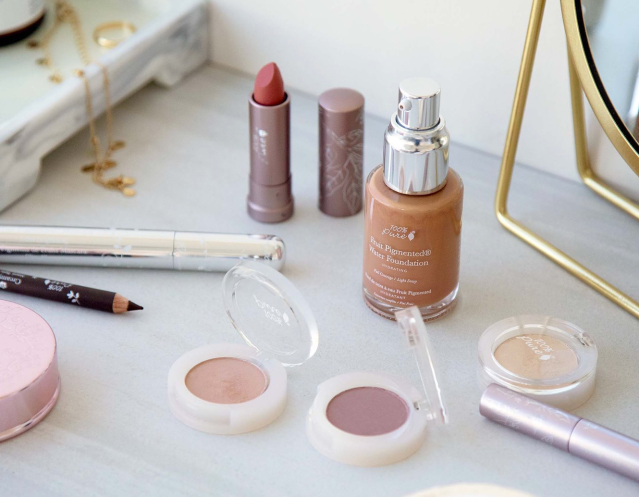 When you need the best all-natural cosmetics jam-packed with vitamins, minerals, and ethically sourced ingredients, you need 100% PURE™. Their unique products are pigmented from fruit, vegetables, tea, and cocoa to avoid commonly used FD&C colorants and heavy metal dyes that can be toxic. Most importantly, all 100% PURE™ formulations adhere to strict purity standards and will never contain harsh or toxic ingredients.
Rather than robbing your skin of its essential nutrients and hydration, 100% PURE™'s line of fruit-dyed natural eye and face makeup comes from nourishing ingredients that promote healthy, hydrated-looking skin. Not only that, but it accentuates your features with fruit pigments that provide incredible hues and colors. These amazing pigments are used in your favorite products like bronzers, blushes, highlighters, luminizers, and natural eye makeup. They're also used in ultra-hydrating lipsticks, glosses, and balms that will keep your lips looking healthy and vibrant.
So shop 100% Pure™ all-natural cosmetics today for brilliant, natural makeup products. Your skin will thank you.