Do you suffer from hair loss? Or maybe your hair no longer looks shiny.
If you start losing your hair, it's a good idea to try products that tackle the problem naturally.
Lately, Traya hair care products are causing a stir in the beauty community, as seen by numerous Traya Reviews, and for a good reason. The collection includes shampoos, conditioners, serums, and oils, all aimed at regrowing hair.
You can try any of these products to strengthen your hair roots, promote hair growth, and lengthen your hair.
Want to know what our top five picks are? Read on.
What is Traya?
Like a tree, hair needs nourishing in many ways. With this in mind, Traya has developed a line of hair care treatment products as well as customized plans designed specifically for each type of hair.
Statistically, three out of five Indians above 25 suffer from hair loss that requires medical attention. When going through Traya Reviews, I could see that the common conditions are pattern balding and androgenic alopecia.
Traya recognizes that some hair is more prone to breakage, and growing beautiful, healthy hair involves more than a regular shampoo and conditioner. Basically, Traya hair products are a blend of Ayurveda, Dermatology, and Nutrition, which is why users and doctors love it.
Rebranding in 2020, the brand aims to treat hair loss caused by underlying health problems. In addition to its successful treatment of over 1 lakh customers whose experiences have been shared through Traya Reviews, the brand has also won awards, thanks to its honesty, transparency, and 93% efficacy rate.
Traya provides some of the finest hair loss products on the market. Here are the top five that will leave you with a healthy head of hair.
1. Traya Defence Shampoo
Traya Health still believes shampoos aren't the only answer to hair loss. Mainly because most of the branded shampoos contain harmful ingredients that damage rather than cure your hair. The Traya shampoo is a mild shampoo designed to get rid of dirt and oil on your scalp while also nourishing it using a mix of Ayurvedic and hair-nourishing ingredients.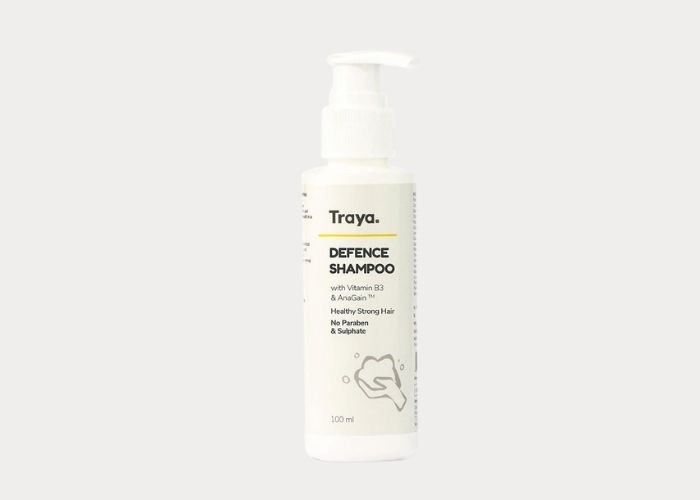 Ingredients: Biotin, Pea Sprout, and Niacinamide
The great stuff:
With no harsh chemicals, this shampoo doesn't strip your hair of its natural oils. We and many other Indians through Traya reviews recommend this if you're trying out their Hair Regime.
Completely safe and without any side effects
Protects against hair damage
Hair fall control
Promotes healthy scalp
Enhances hair health
Packaging: The pump-type bottle makes this shampoo extremely convenient, and its price is modest for 100 ml of product.
How to use it? Lather up with sufficient shampoo, rinsing thoroughly with water twice a week.
Price: ₹300
2. Ultimate Hair Supplements Combo
Ultimate Hair Supplements Combo is among Traya Health's best and must-have for amazing hair health. The combo includes: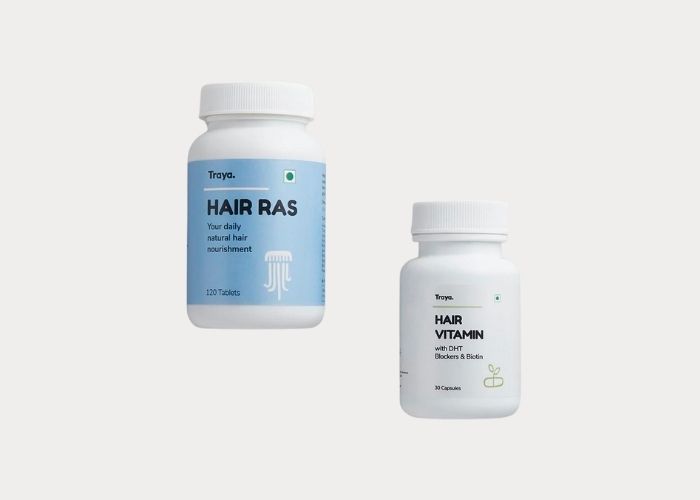 Hair Ras – 120 tablets
Infused with effective herbs like Guduchi, Shatavari, Ashwagandha, and Bhringraj, the Hair Ras stimulates blood flow to the hair follicles, promoting hair growth.
What's great is that it's not only good for your hair but also good for your health.
Hair Vitamins – 30 capsules
With a sugar-free formula, Vitamin C, Zinc, Biotin, and Grapeseed Oil, these hair vitamins provide you with all the nourishment your body needs from the inside to improve hair health.
The great stuff:
Besides hair loss, it also addresses fatigue, stress, and internal imbalances in your body.
This treatment reduces "pitta" in the body and rejuvenates the unhealthy hair follicles.
Calcium, zinc, biotin, and vitamin B3, all promote healthy hair and skin.
DHT blockers such as green tea, pygeum, and pumpkin seed extract block excess DHT and thicken and revive your hair.
Relieves hormonal issues caused by sleep deprivation, poor eating, and a bad lifestyle.
Packaging: These cute little jars could just be the solution you were looking for for your hair issues.
How to use it?
Take two pills of Hair Ras twice a day as part of your diet.
Take one Hair Vitamin a day to keep your tresses looking beautiful.
How long: for results, you need to follow a complete recommended plan for 5-6 months.
Price: ₹1040
3. ReCaP Serum
This serum is formulated with patented ingredients and natural extracts that inhibit DHT from having an effect on the hair.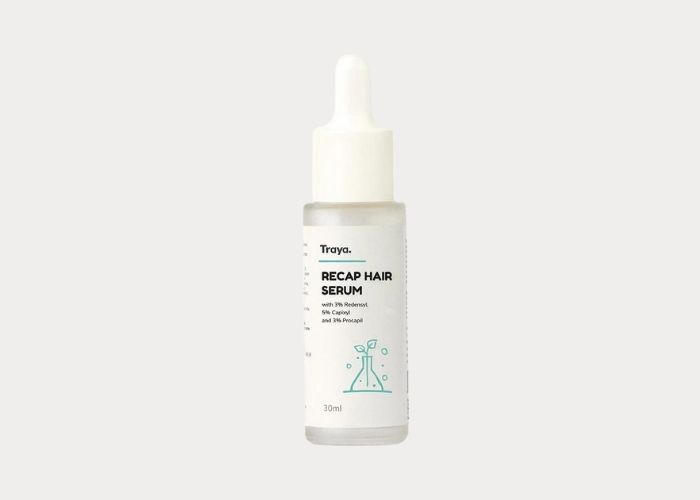 Ingredients: Redensyl, Procapil, and Capixyl, alongside natural extracts like red clover larch wood and castor oil.
The great stuff:
Targets DHT on hair follicles and prevents hair thinning and reduced hair growth. Regenerating aging follicles with natural ingredients gives you thicker, shinier hair.
Once a hair follicle dies, it is impossible to induce hair regrowth. Redensyl and Procapil thus increase blood flow to the hair follicle and rejuvenate and protect it for visibly thicker hair.
Redensyl and Capixyl activate the anagen (growth) phase, preventing hair loss and reducing DHT damage.
Betaine, red clover, larch wood, and castor oil deliver essential nutrients for many hair-boosting enzymes.
Packaging: Comes in a bottle with a dropper for your convenience.
How to use it? Apply 1 ml of serum to affected areas only once a day.
How long: The average timeline for results to appear is 5-6 months. Depending on the age and cause of hair loss, this can vary from person to person. However, Traya Reviews' by people across age groups say that you can see results within that timeframe.
Price: ₹1300
4. Scalp Oil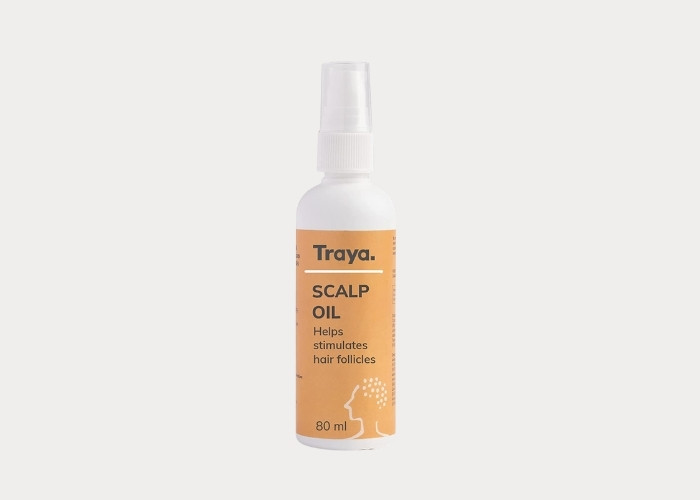 Ingredients: ORPL, camphor, motia rosha, and wheat germ essential oils
The great stuff:
Coconut, goat milk, and wheat germ extracts help heal damage from pollution and heat styling.
Aloe, Amla, ORPL, and Camphor extracts work to balance "pitta" and hydrate the scalp.
Ayurvedic oils, Vitamin E, and natural lecithin increase hair strand quality.
Guduchi, Brahmi, and Bhringraj nourish hair follicles and improve scalp circulation.
Camphor oil inhibits dandruff-causing fungi and helps clear dandruff.
Wheat Germ loaded with vitamin E replenishes hair with fatty acids.
By regularly using ORPL, you can combat flakiness, dandruff, and scalp infections.
Motia Rosha stimulates dormant hair follicles.
Packaging: The oil comes with Growth Therapy oil, which reduces damage, long-term hair growth, and scalp health.
How to use it? Add the Growth Therapy booster oil to the bottle of scalp oil, shake well, and voilà! Massage the oil onto your scalp for a few minutes and leave it on overnight.
How long: A recommended plan may take 5-6 months to see results.
Price: ₹450
5. Minoxidil 2% Hair Growth Serum
Minoxidil is the secret weapon for those who suffer from hair loss, bald patches or thinning, or hair fall. Traya has come up with this topical treatment for androgenic hair loss in women.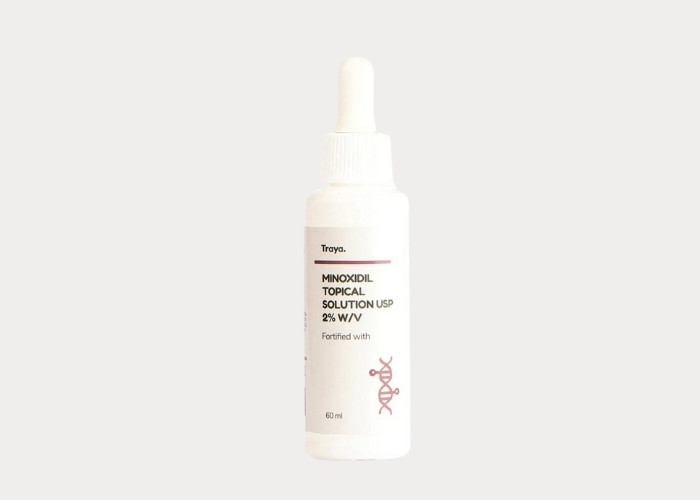 Ingredients: 2% Minoxidil and 3% Procapil
The great stuff:
A vasodilator, minoxidil temporarily dilates blood vessels to increase blood flow to hair follicles.
Reduces the side effects of DHT. The topical action stimulates each hair follicle.
Combined with Minoxidil, Procapil strengthens brittle and thinning hair.
Packaging: Dropper included for your convenience
How to use it? Twice a day, directly treat any areas of concern on a clean and dry scalp.
How long: The recommended plan could take 5-6 months to show results, according to Traya reviews.
Price: ₹430
Why Should You Try Traya Hair Products?
The reason is simple: Traya does not merely manufacture hair products; it manufactures a solution for every kind of hair loss issue. The packaging is also travel-friendly and can tag along with you on every vacation or business flight without any worries.
What are the Benefits of Using Traya Hair Products?
Traya products provide you with everything your hair needs to stay healthy.:
Don't contain any harsh chemicals that can damage your hair.
Prescribed by doctors.
Offer holistic treatments to meet diverse needs.
Open about what herbs go into each treatment.
Use handpicked top-quality herbs and formulate them carefully according to the individual's needs.
Bottom line
Hair experts love Traya because of its transparency regarding its ingredients. Based on their overall experience, customers value the entire hair range highly, making it an industry leader. And if you are still unconvinced, you can go through the Traya Reviews and make up your mind. But I do believe that it is worth giving a shot. And to anyone struggling with hair issues, maybe it's time to #trytraya. Plus, if you don't see results within five months, there's a money-back guarantee.
Related Posts