This post is sponsored by Sally Beauty.
---
How an ad campaign about colorful hair signifies a major movement.
Despite what we learned when we were younger (light makeup, natural hair color, neutral nails were all considered "appropriate"), a new campaign by Sally Beauty is proving that vibrant color can most definitely be accepted. In fact, a new video starring a variety of bold influencers sporting every shade under the sun is sparking a broader conversation about inclusivity and expression, highlighting that colorful hair and professional upward mobility are *not* mutually exclusive. 
Let's back up a little. As an older millennial growing up in the late '90s and early aughts, I messed around with bright hair dyes like a typical teenage girl and had a blast experimenting with reds, purples, and turquoise on my light brown hair. My results were muted, as we didn't have the advanced technology of at-home hair dye have these days—with brands like Ion, and Iroiro (exclusively available at Sally Beauty) and new brands like Lime Crime and Arctic Fox all raising the proverbial bar —but to me, it was a rainbow of happiness displayed on my head. That is, until the day I was called into the principal's office of my very conservative private school and told that I was violating our dress code with my "unnatural" colors and would need to wash it out immediately. This was followed by a gentle talk with that aforementioned guidance counselor about my employability in an office. Impressionable 15-year-old me, worried about my future career prospects, immediately put away the hair dye and didn't deviate outside of the "natural" hair color spectrum for the next decade.
After college, I started as an assistant in the beauty department of a magazine. Suddenly I was writing about glitter eyeshadow and neon nail polish and, yes, hair-color trends. I wanted to play with my hair again, but I was unsure how my bosses would react. Writing about bold beauty trends and wearing them in an office were two very different things. So I started out slowly, eventually bouncing between platinum to dark brown and back again, staying within the boundaries of traditional color options. Then, in my early 30s, the colorful hair trend hit in full force, with opal, oil slick, pastel, and beta fish hair (remember that one?) popping up everywhere. I didn't hesitate, adopting an all-over peach 'do, followed by a lilac and silver masterpiece a few years later. Not one higher up ever pulled me aside to tell me I was incapable of doing my job because my hair was too bright. In fact, I was promoted twice, becoming the head of my department during that very colorful period of my career.
While my story has a happy ending, unfortunately, that hasn't been the case for everyone. Vibrant hair color has become more acceptable in many settings, but there are still people who judge others not on their skill set, but on how they visually present themselves—as if bright hair somehow makes that person less trusted or skilled than if their hair were brown or blonde or red. While we've come a long way, we have further to go if people still think appearance directly correlates with career aptitude.
This is why it's so inspiring to see retailers like Sally Beauty stepping up to support the bright color community with inspirational and educational videos featuring real people — including the CEO of Sally Beauty Holdings! — rocking a range of rainbow hues. Since Sally Beauty is the largest hair color retailer, it offers a wide variety of permanent, demi-permanent, and semi-permanent dyes, temporary hair color, and innovative products for DIY enthusiasts looking to make long-term changes or simply try on a new shade for a weekend or event. Sally Beauty champions bright hair color via their YOU by Sally Beauty campaign, which creates an amazing platform to show people that having colored hair doesn't make you unprofessional.
The YOU by Sally video was made in partnership with musician and TikTok creator Heather Chelan (a.k.a. HebOnTheWeb), whose catchy bop drives home the point that hair color is a form of self-expression and doesn't impact how a person does their job. It features successful people from all walks of life, from a nurse to a mom/ninja (I need a lot more info here because she sounds amazing) to a non-profit founder to everyone's favorite nonagenarian influencer, Baddiewinkle. Their video represents a cross-section of age, race, genders, and professions— and also features some pretty epic looks worth copying, all done using at-home hair colors, available at Sally Beauty. It's a video I wish my 15-year-old self had seen. Maybe I wouldn't have missed out on all those years of expressing myself with the rainbow highlights I so desperately wanted, but was warned not to try.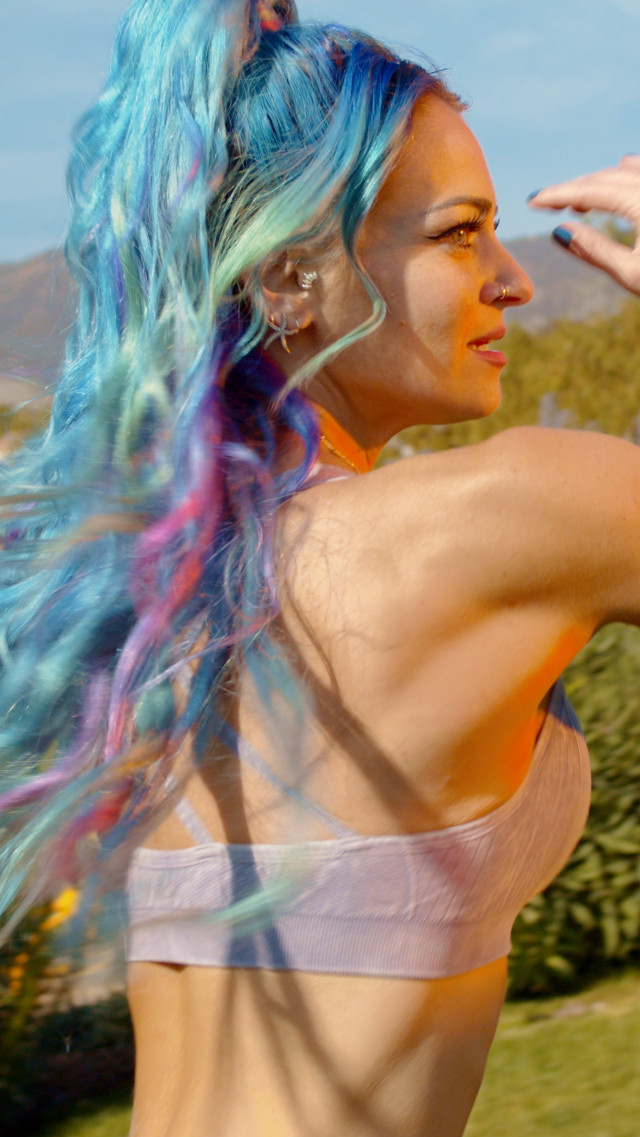 Check out the video now at Sally Beauty. Plus, learn more about the campaign, get inspired by the stories of these colored-hair crusaders, and shop the widest variety of hair color products available anywhere.