When so many hair loss products are available, you're left wondering which is the right one. 
Kiierr vs Capillus? Are you considering a hair growth laser cap but don't know which one to choose?
If you're stuck between the Kiierr laser cap and Capillus laser cap, the two most popular and effective laser caps on the market, this post is for you! We'll compare the two products side-by-side in terms of features, price, and user reviews so you can decide which one is right for you.
How do laser caps work for hair growth?
These are devices that are worn on the head like a baseball cap. Various lasers are mounted on the inside of the cap that shine onto the scalp. They have been advertised as a treatment for hair loss and a noninvasive way to induce dormant hair to grow.
Laser devices use low-level laser therapy (LLLT), often used to treat various medical conditions, including hair loss. The low level lasers emit photons, which are absorbed by the cells in the treatment area. Since the light is at a low level, it does not damage the skin or follicles. This absorption increases cellular activity, which in turn stimulates and supports healthy hair growth.
The laser technology effectively treats androgenetic alopecia, aka male pattern baldness, and female pattern baldness, the common type of alopecia.
Laser hair treatments have been shown to be more effective than pills, solutions, and shampoos. And they are less likely to cause side effects.
LLLT is available in the form of laser helmets, caps, and combs. While an LLLT cap is effective to treat mild to moderate hair loss cases, it's worth noting that it won't help those with severe hair loss.
Credible laser hair caps are FDA-cleared and clinically proven effective hair loss treatment. Not only do these laser hair growth caps increase hair growth, but they also treat receding hairlines and thinning hair.
What is Kiierr Laser Cap?
By the name of Kiierr International LLC, an LA couple developed the device after facing hair issues themselves and deciding to help others with similar problems. 
The Kiierr laser cap is a solid product offering affordable and effective laser treatment to regrow your hair. It has a lovely sleek design and uses a fairly simple laser light treatment.
The cap seems well constructed and will fit most heads. It's a simple concept: you place the cap over your hair and turn it on. It's essentially a baseball cap that emits low-level laser light, penetrating the scalp to stimulate the hair follicle cells, which then start to grow new hair. Use the cap every other day for 30 minutes.
Kiierr is also equipped with its own line of hair care products, so it's no surprise that a complete hair care line backs the cap. You can treat your scalp with add-on treatments (which include topical treatments and supplements with vitamins and minerals).
If you're interested in seeing quick results or just prefer a somewhat easy approach to treating hair loss, this is a pretty good product. It's also one of the few lasers that are FDA-cleared. Kiierr also features a two-year warranty (covers all parts against manufacturer defects for two years from the date of purchase)and a 7-month hair growth guarantee, so you can try it out with an eye on long-term results.
Kiierr offers four models, each with a different number of laser diodes:
148 Pro: 148 laser diodes
272 Premier: 272 laser diodes
272 Premier MD: 272 laser diodes, doctor-recommended
272 Premier-MD-XL: 272 laser diodes, doctor-recommended
The MD-XL size offers 25% more scalp coverage than other models and fits up to 24.5″ head sizes.
Pros
Manufactured by a company that's wholly dedicated to treating hair loss
Uses medical-grade lasers
Use it for 30 minutes everyday while you do other things
7-month hair growth guarantee
Portable and lightweight, making it effortless to use anywhere
Built-in automatic shut-off timer
Affordable pricing compared to other laser therapy devices
Offer more uses per battery charge than any competing product 
You can avail of more discounts by filling out a questionnaire. 
Free, 2-day shipping
Cons
Hair growth is guaranteed in 7 months while competitors are able to provide the same in half the time. 
Requires a longer session time – 30 mins. 
Charging takes a long time.
What is Capillus Laser Cap?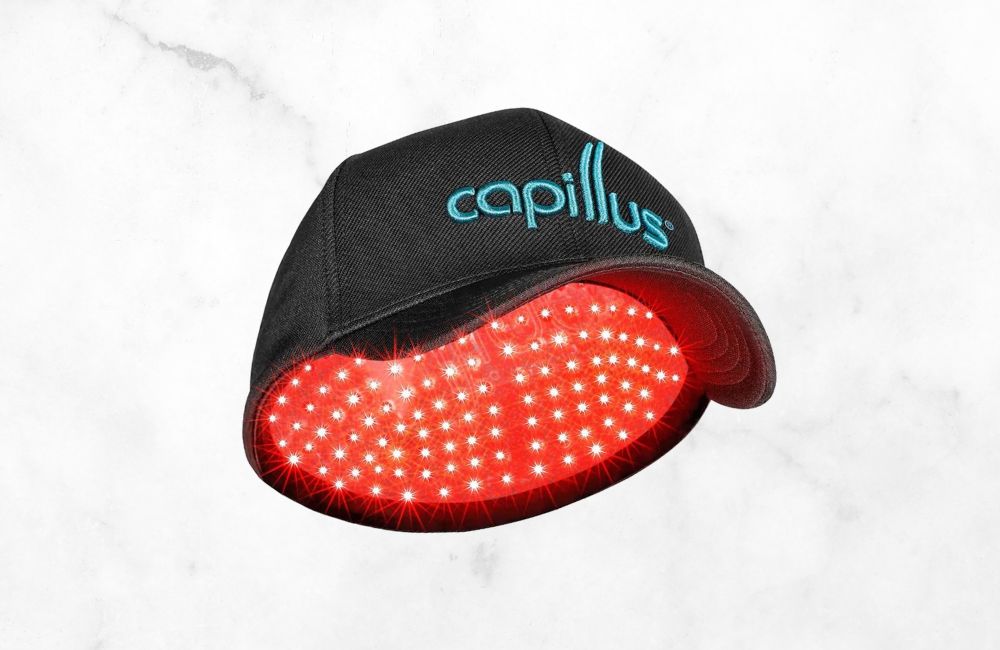 Capillus laser hair caps are manufactured by Curallux, LLC, a Miami-based company. The cap uses near-infrared or red light to stimulate, heal and regenerate hair tissues that have been damaged. 
The Capillus cap is FDA-cleared for the medical treatment of androgenetic alopecia and offers maximum coverage in just 6 minutes per day. It uses cold laser therapy that prevents the device from heating up.
This device uses medical-grade lasers to stimulate hair follicles. It features 1360 mW of total energy output, making it one of the most powerful laser therapy caps on the market. This means that it can penetrate deeper into the scalp to encourage hair growth.
Capillus comes equipped with a 6-minute auto-shutoff feature which prevents any damage from occurring from overuse while you wear the cap on your head.
Capillus offers hair restoration therapy in a truly portable and wearable form. This cap is designed to be used at home or virtually anywhere and delivers laser therapy as comfortably and as conveniently as it can be. It is clinically proven to slow and even reverse hair loss.
It's always nice to know that a product has been assembled in the USA with quality control processes that are ISO13485 certified. This means that you can be confident that the Capillus Pro for hair regrowth is of excellent quality.
Clinical trials back the cap. At the end of the 17-week study, over 95% of participants noticed an increase in hair count.
Capillus hair cap is more expensive than most devices on the market, but it's covered under a 1-year guarantee.
Capillus laser therapy caps are available in three models:
CapillusOne: 112 laser diodes
CapillusPlus S1: 214 laser diodes
CapillusPro: 272 laser diodes
Pros
Easy to use, thanks to the cap design. 
Six minutes of treatment a day is all it takes—super convenient and can fit into any schedule.
Uses medical-grade lasers
Visible red lights that do not heat up
Suitable for men and women
The auto-off feature automatically turns the product off after the required time.
No wires need to be plugged in during operation, so you can use it as you go about your day.
Clinically proven for a variety of hair loss conditions
The company guarantees results within 3 months, the shortest timeframe by industry standards.
Cons
All Capillus models are more expensive than other brands with similar specifications available on the market.
Offers no refunds or returns before the satisfaction guarantee period expires. 
Returns involve extra expenses. 
Kiierr Laser Cap vs Capillus Laser Cap Comparison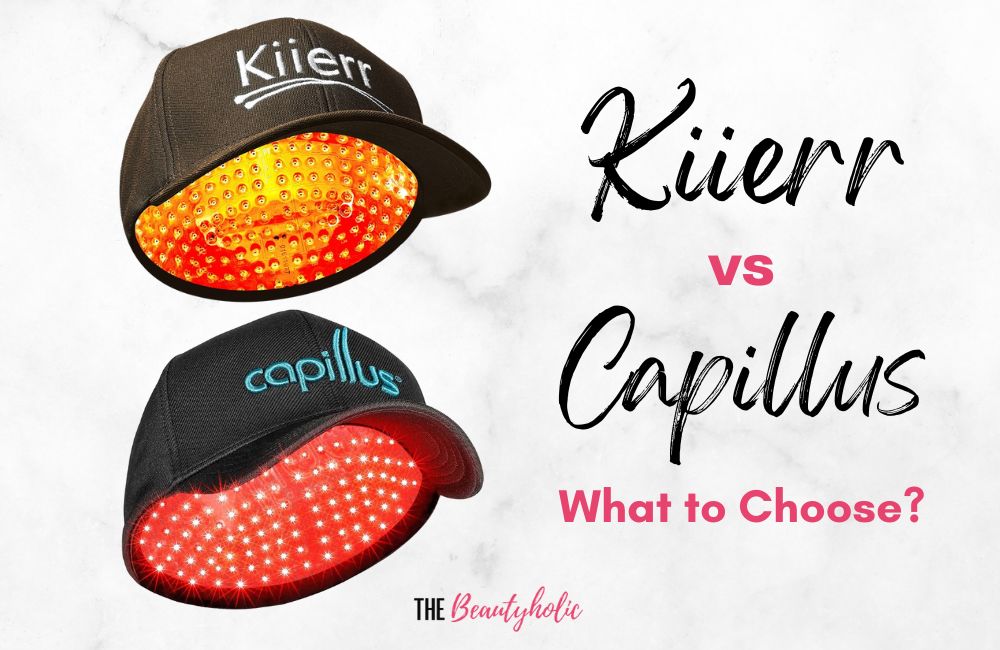 Number of laser diodes
Capillus offers 112 to 272 laser diodes across the three models, while Kiierr only provides two options – 148 and 272. Therefore, Capillus can satisfy a broader customer base. In our opinion, this is a worthwhile offering for those suffering from acute to moderate hair loss issues. 
Winner: Capillus
Price
Perhaps this is the biggest differentiating factor. Compared to Kiierr, Capillus products cost two to three times more. Let's compare them in terms of laser diodes:
Kiierr 148 Pro vs Capillus One: Entry-level models under each brand. While the Kiierr laser hair cap is available at $945 for 148 diodes, the Capillus laser hair cap is priced at $999 for just 112 diodes.
Kiierr 272 Premier vs Capillus Pro: The most expensive versions of each. Kiierr sells its 272 diode model at $1,235 while Capillus sells it at $2,999, a huge price difference. 
While the price difference is small on the low-cost models, Capillus costs more than twice the price of Kiierr when you upgrade to the higher models. This will make a huge difference to someone who is just trying out laser hair loss treatments.
Winner: Kiierr
Result time
A second difference is the time the companies claim it takes for their products to show results in the treatment of hair loss. A Capillus treatment starts showing results in just 3 months. Conversely, Kiierr promises the same in just 7 months. Even though some customers report seeing results in 5-7 months, this is still longer than the competition. 
Winner: Capillus
Usage time
The usage time of the two products is vastly different. All Capillus models require only 6 minutes of daily use, something anyone can do. However, Kiierr cap models require 30 minutes of use every other day. Considering usage time, Capillus is a much better alternative. 
Winner: Capillus
Fit and Comfort
You can wear both devices as caps. Capillus caps have flexible sizing so customers can get the right fit. But Kiierr recently launched MD and MD-XL caps, which offer up to 24.5″ scalp coverage for bigger heads.
Winner: Kiierr
Portability
Considering they do not require plug-ins while in use, both are portable and lightweight. However, Kiierr offers the benefit of attaching it to any cap or hat you desire, and we believe this is a huge advantage. With Capillus, this is not possible. 
Winner: Kiierr
Warranty
Kiierr comes with a 2-year warranty on all its products with an extension of up to 3 years for a small fee. Meanwhile, the Capillus laser cap offers a one-year limited warranty on the cap and a three-year warranty on the AC adapter and battery pack. On top of the already high price, this just makes the product all the more expensive. 
Winner: Kiierr 
Return policy
Since both products take some time to show results, they cannot be returned before the guaranteed satisfaction period expires. With Kiierr, the return process is much simpler. If you're dissatisfied with the product, they offer a full refund and replacement if the product is faulty. 
With Capillus, they have a 6-month return policy but cut 25% of the product cost. Also, the shopping fee has to be borne by the customer. So you know, it's too expensive even to try it. But, it's only an issue if you buy it through the official website. You can get around this by shopping from other online marketplaces.
Winner: Kiierr
Technology
Since both brands have a draw here, we kept it for last. Both use the recommended laser light treatment for hair loss. Both Kiierr and Capillus use laser technology that promises the best results compared to LED treatments. The only difference here is that Capillus has more resources to invest in marketing and product development because of its existence in the market. Kiierr is fairly young in the market. 
Here's a quick comparison to help you understand:
| | | |
| --- | --- | --- |
| | Kiiierr | Capillus |
| Number of laser diodes | | ✓ |
| Price | ✓ | |
| Result time | | ✓ |
| Usage time | | ✓ |
| Fit & Comfort | ✓ | ✓ |
| Portability | ✓ | |
| Warranty | ✓ | |
| Return policy | ✓ | |
| Technology | ✓ | ✓ |
What's similar?
The use of LLLT technology.
Both are FDA-cleared.
Both companies use medical-grade lasers to treat thinning hair, hair loss, balding, and androgenetic alopecia.
Both look like baseball caps.
Both Kiierr and Capillus devices are gender-neutral.
Kiierr vs Capillus – Which is Better?
It's a tough call. Both offer some benefits over one another. Kiierr lacks Capillus' competitive advantage when it comes to results, usage, and laser count. 
Kiierr, however, has two major advantages over Capillus. One, it delivers the same technology at a fraction of the price of Capillus. And, of course, price is an important factor customers consider before making such an investment. Two, it's generous with warranty and return/replacement policies. With Capillus, both of these simply bump up the price. 
These devices require a large investment, costing over $1,000 each. So, there's no surprise people will go for the product with the same quality at a low price. However, if you want to invest in a long-standing brand and have the budget for it, Capillus can be your go-to. 
Our choice? Kiierr, especially its MD model, offers good scalp coverage and an upgraded battery. This will address the major issues at a reasonable price, making it effective for hair loss. We believe the cost outweighs the additional usage time! 
Final thoughts
Hopefully, this comprehensive guide has helped you decide between the Kiierr laser cap and the Capillus laser cap. While both products help promote hair growth, Kiierr is a winner here because it is FDA-cleared, covers a larger treatment area, and is more affordable.
Of course, every person is different and will respond differently to therapy for hair loss. If you are considering trying a laser cap for hair loss, talk to your doctor or other medical professional first to get advice on which laser cap is best suited for your specific type of hair loss.
Related Posts