If you're a beauty geek, you've probably heard about FOREO's mighty bear. For the uninitiated, t's the cutest microcurrent device on the market that sells like hotcakes!
This device combines anti-aging microcurrent with T-Sonic™ vibration to safely tone and train over 65 muscles in your face and neck while providing solid and long-lasting results. Interesting, right?
Looking to get one for yourself? Read on for this super-honest FOREO BEAR review.
About FOREO BEAR Facial Toning Device
It's the first FDA-approved medical microcurrent tool with an anti-shock system.
Like celebrity spa treatments, it claims to improve facial contour, prevent sagging, and smooth out fine lines and wrinkles within minutes. It "feels like face yoga."
This range includes two variants, BEAR and BEAR mini. Also, it comes in two pretty colors: mint and fuchsia.
Features
Anti-shock system™: The technology automatically micro-adjusts the microcurrent intensity to suit your skin's resistance to electricity, ensuring a shock-free, safe experience.
Microcurrent Spheres: The cute design comes with two spheres that deliver intensities to large areas of skin and stimulate underlying facial muscles. The result is taut, contoured features due to reduced fine lines and wrinkles. Obviously, the BEAR ears are the cutest detail.
T-Sonic™ Pulsations: The transdermal pulsations deliver low-frequency massage to muscles underneath the skin surface, increasing blood flow and restoring muscle firmness.
Smart Swedish Ergonomic Design: BEAR perfectly fits all facial curves and contours, is easy to use, and reaches areas much better. A USB charge can last up to 90 uses. We absolutely love this skincare investment because it requires no attachments.
Conducive SERUM SÉRUM SERUM: This water-based serum safely transfers the microcurrent to the skin, all the while nourishing it with squalane and hydrating hyaluronic acid to firm, and renew and replenish, giving way to radiant skin.
Price: $329 | Shop it here
How does FOREO BEAR work?
BEAR device uses very low levels of electrical stimulation. Some call it "microcurrent facials" or "microcurrent face lifts."
As BEAR sends out electrical impulses, it helps improve the facial muscle and tissue function. Microcurrents also work your muscles, giving you a mini facial workout.
The FOREO app connects your device to your smartphone or tablet via Bluetooth. Once connected, the app lets you select one of five microcurrent intensity levels. Once it turns on, apply a good amount of serum to your skin. As you move it around your face, the microcurrents will tone and do the lifting.
After one use, you'll see a difference in how you're looking.
How to use it?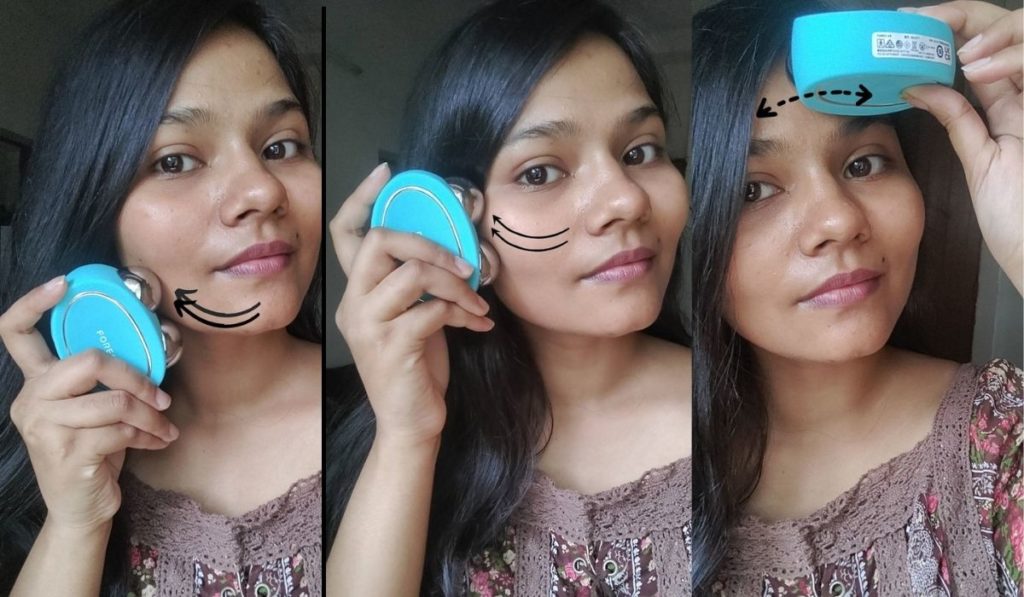 Step 1: Make sure BEAR and your skin are clean with no residue.
Step 2: Generously spread SERUM SÉRUM SERUM over all areas of the face and neck that you wish to treat.
Step 3: Press the universal button to switch the device on.
Step 4: Adjust the intensity by quick-pressing the button once for each level and double-press to turn it off.
Step 5: Access even more options through the FOREO app.
Step 6: Lightly press both metallic spheres to your skin and slowly glide the device upwards across your cheekbones and forehead, around your lips & over your jawline and neck as desired, with light pressure.
Step 7: Once finished, press and hold the universal button for 3 seconds to turn it off.
Step 8: Pat any remaining serum onto your skin or rinse and dry your face.
Benefits of Microcurrents for the Skin
The benefits of microcurrent are plentiful, making it worthwhile to purchase one of these facial yoga devices.
Depuff eyes for a brighter, less puffy look.
Tightens and smoothens the muscles and connective tissues in the face.
Microcurrent treatments can help restore collagen production and promote cell regeneration which helps in reducing wrinkles and fine lines, especially around the forehead area.
Physical therapy has been around for decades, and the treatment is safe and effective.
A pain-free, calming experience, and the most you'll feel is your nerve "jumping" occasionally. Don't worry, it's completely safe.
Promotes healing, reduces inflammation, and improves circulation and muscle function.
Doesn't require needles and anesthesia, unlike facelift, however you need to be consistent for longer-lasting results.
When combined with a quality serum, microcurrent treatments provide significant results for anti-aging and overall skin health.
My Experience with FOREO BEAR
After reading so much about it online, I was intrigued by it. Everyone was raving about how great it is for your skin! I was looking for a little device to help with my skincare routine and give me some extra benefits, like facial yoga or lymphatic drainage.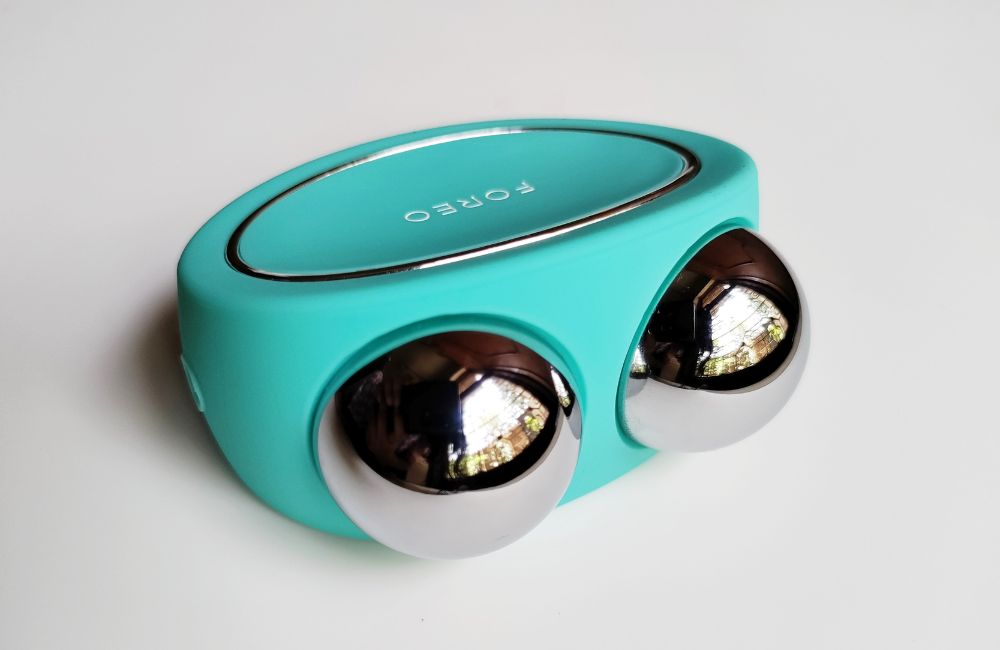 Effortless to use thanks to its elegant design and sleek appearance. The contour heads allow for precise targeting of specific areas.
My hands fit perfectly in it. For the first time, setup is a breeze – charge up my BEAR, install the FOREO app, pair it with my phone via Bluetooth, scan the box's barcode, done. And voila, it turns on!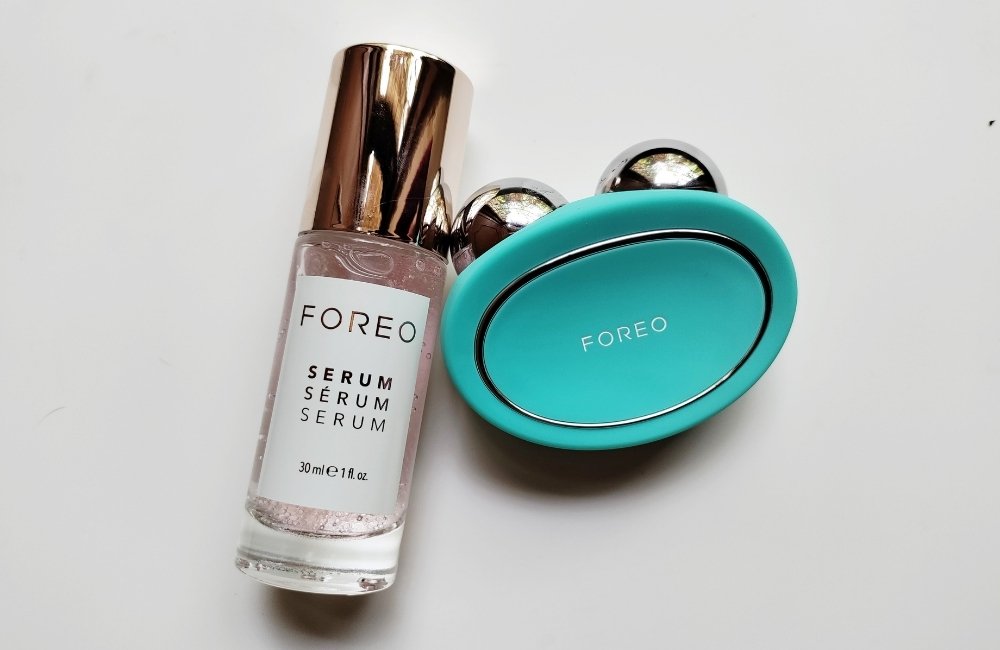 The FOREO app lets me customize settings for personalized toning. On the app, I select the workout, apply FOREO SERUM SÉRUM SERUM to the areas I want to treat, and hit start. The video of an extremely beautiful woman serves as a guide, and I follow along to complete the session. I started with the lowest setting and glided the device in an outward motion across my jawline, cheekbones, and forehead. Also, you can still use BEAR without using the app, just turn on the device and go on.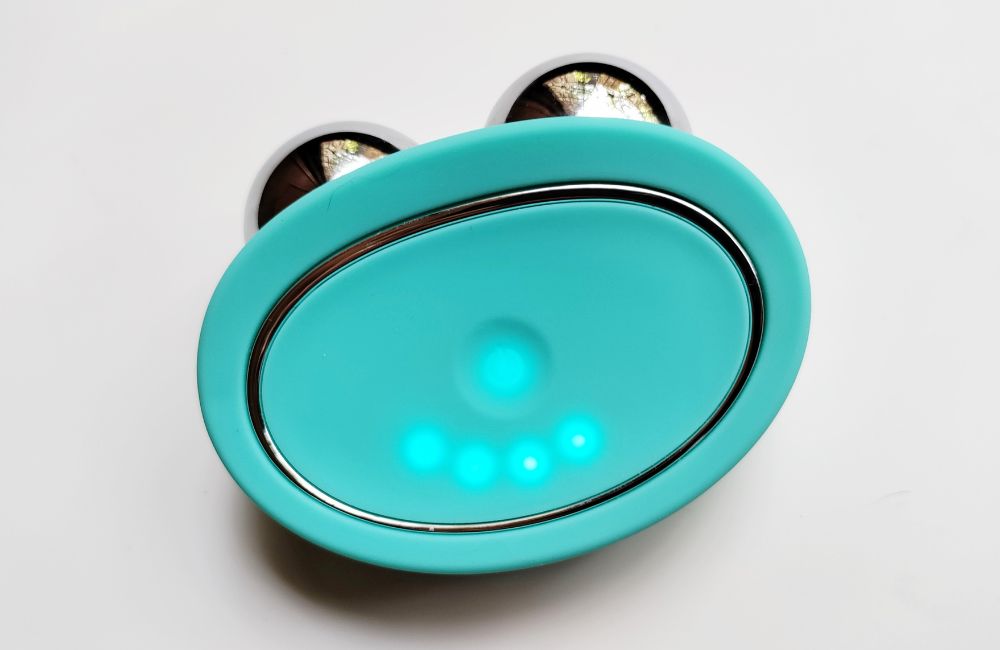 It's nice that there are 5 microcurrent (varying from low to high) intensities for a full-on dreamy facial. There's no pain, and you can adjust the pulsations.
For the first few uses, I experience a mini shock on some spots on my face. As soon as I began using it regularly, I got used to it. 2.5 minutes is all it takes to do a full facial workout. The best thing is its ultra-smart sensors, which stops the device once you take it off your face.
BEAR takes one hour to fully charge, and I just plugged it in once, and it's still running. Power enough for a complete workout for your face or for using the device for massages, for example. Charge the battery with the USB cable it comes with.
Price-wise, this might seem like a lot at first glance. Microcurrent devices can cost upwards of $1,000 or more. BEAR is actually quite affordable when compared to other products on the market.
Here's a little warranty talk. From the date of purchase, the BEAR microcurrent device carries a two-year warranty. You can return unopened products for a full refund within 14 days. In the long run, it's a good skinvestment since the device lasts forever.
Did I notice a difference after using it?
To give you an honest review of the FOREO BEAR, I could already tell the difference the first time I used it. After using it daily for one week my cheekbones looked like they're more defined, and the sides of my face looked slimmer.
After a few weeks of using it, I really like it! My skin feels tighter, firmer, and less saggy. Plus, I love the glow.
My fingers are crossed that this device works its magic over time, and I would recommend trying out this device if you're looking for something to help improve your skin!
How long do the effects of the treatment last?
Microcurrent facial therapy works best when used daily. I've noticed after a few weeks of using the treatment, the signs of aging are significantly reduced compared to before I started using it. My face shape appeared slightly chiseled.
Compared to botox, FOREO BEAR provides longer-lasting results (we're talking about months of daily use rather than weeks) with no negative side effects. Definitely worth a try for those looking for a natural, non-invasive way to tighten their skin.
How to choose the right BEAR for you
First, consider what type of device you want. The market offers two variants: BEAR and BEAR Mini.
Next, think about what areas you want to target. Do you want to focus on your forehead, cheeks, or jawline? Or do you want to treat your entire face and neck? BEAR targets the whole face and neck, whereas the Mini version targets the smaller areas. Choose one that has the coverage for your needs.
Finally, read reviews before making your decision. See what other people say about a particular variant before you buy it. With so many options available, there's no reason to settle for anything less than the best.
FOREO BEAR Review: Frequently Asked Questions
How often should I use it?
Use it frequently and consistently every day for noticeable results, but no longer than 3 minutes.
Are there any side effects?
Although rare, microcurrents can cause redness on some parts of the skin. If your skin is sensitive, it's ideal to consult a dermatologist first.
What serum should I use with this toning device?
For better conductive effects and smoother gliding, FOREO's serum is the best for its hydrating, firming, and lightweight properties. However, any hydrating serum will work since it is completely waterproof.
Microcurrent vs. Face exercises vs. Gua Sha
Both can improve the appearance of your face. They do, however, differ in a few key ways.
Microcurrent is a more invasive option, as it involves using a device that sends electrical impulses to the muscles in your face.
Facial yoga, or facial exercises, on the other hand, is an entirely non-invasive option. These exercises involve using specific facial movements for toning and lifting.
Similarly, Gua Sha is another popular anti-aging treatment that involves gently scraping the skin with a smooth, rounded tool to break down fatty deposits under the skin.
So, which is better? There is no clear winner since all the techniques reduce wrinkles and promote youthfulness. If you're seeking quick results, then microcurrent therapy is more suitable, while if you're looking for long-term results, then face exercises and gua sha are better.
BEAR vs. BEAR Mini
The BEAR also comes in a cuter, mini version for targeting specific areas of the skin.
| | | |
| --- | --- | --- |
| Device | BEAR | BEAR Mini |
| Microcurrent | ✔️ | ✔️ |
| T-Sonic pulsations | ✔️ | ✔️ |
| Anti-Shock System | ✔️ | ✔️ |
| Intensity levels | 5 | 3 |
| Price | $329 | $219 |
| Full charge | 1 hour | 1.5 hours |
| Colors | Mint and Fuchsia | Lavender and Pearl Pink |
| Skin types | All skin types especially sensitive skin | All skin types |
Do dermatologists recommend FOREO BEAR?
Yes, dermatologists recommend it for many reasons:
Gentle and effective at maintaining the skin's elasticity.
Non-abrasive and will not damage the skin.
Safe to use on all skin types.
How To Maintain BEAR Microcurrent Device?
Make sure it's clean and debris-free. Take a soft cloth and wipe it down after each use. Even though it's 100% waterproof, keeping the device dry and moisture-free is also essential. If you notice any build-up, you can clean it with a mild soap and water solution.
FOREO BEAR vs. NuFACE: Device Comparison
| | | |
| --- | --- | --- |
| Device | BEAR | NuFace Trinity |
| What's included? | The BEAR, 2ml Foreo SÉRUM, USB charging cable, stand, travel pouch | NuFace Trinity device and facial trainer attachment, Leave-on Gel Primer 59ml, charging cradle and power adapter, user manual, and quick start guide |
| Design | Lightweight, waterproof silicone | Bigger, made of plastic, detachable attachments |
| Color | Mint and Fuchsia | White, limited editions of color |
| Size | Small | Large |
| Charging time | 1.5 hours | 12 hours |
| Standby | 90 days | 10 days |
| Strength | 1.269 mW and 63.6 Volts | 0.561 mW and 27.2 Volts |
| Frequency | 185 Hz | 50/60 Hz |
| Water resistance | Totally waterproof | Unsafe if exposed to water |
| Length of treatment | 3 minutes | 20 minutes |
| Price | $329 | $339 |
While the choice dramatically comes down to personal preference, FOREO devices are known for their technology and convenience, making it the at-home microcurrent facial device. Most people favor it over Nuface, and to let you in on a secret, so do we!
Where to buy it?
Once you have decided which variant to buy, you can purchase it through FOREO's website or through one of their many authorized retailers. Buying through the official website is the simplest option as you can directly add the device to your cart and checkout. You can also purchase it simply via Amazon.
Final Word
That was all for the FOREO BEAR Review! The bottom line is: buy the device that you like and find convenient to save your wallet from expensive esthetician sessions and indulge in an at-home spa-like experience every single day consistently for a youthful, radiant complexion, and who knows? This little BEAR might just become your best friend for life! We recommend this to anyone looking for a good facial toning device.
More Reviews