Tarte is a brand that most beauty enthusiasts swear by. This makeup brand deals in organic, preservative-free and best quality ingredients. Keeping the brand's goodness in mind, we will help you pick the best Tarte mascara that your lashes desire.
Finding a mascara that provides the perfect length, thickness, volume, lasts long, and curls the lashes is all fun but tricky.
Tarte promises to provide cruelty-free and vegan products formulated without parabens, mineral oils, Phthalates, Triclosan, Sodium Lauryl Sulfate, and gluten. Tarte mascaras can be a great natural alternative to all other mascaras.
Here goes the list of the five best Tarte mascara that will suit all your needs.
Readers like you help keep The Beautyholic running. When you buy through links on our blog, as an Amazon Associate, we earn from qualifying purchases at no extra cost to you.
Tarte Maneater Magnetic Volumptuous Mascara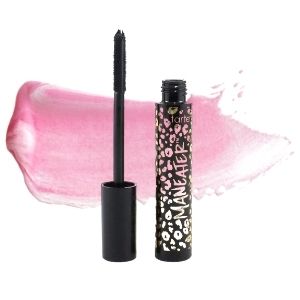 Shop Now
This beauty might be your next favorite. Tarte Maneater Magnetic Volumptuous mascara claims to be a lengthening, curling, and volumizing mascara.
This mascara lifts the lashes at the root, styles, and fans to create thick and fluttery eyelashes with no clumping. It has a soft flex brush and lightweight formula. The wand's brush features over 500 bristles to coat and curl the lashes evenly.
The mascara is intensely pigmented, followed by lash strengthening jojoba and carnauba wax that prevents flaking and protects the lashes. It's perfect for a night out as well as good for daily wear with just one application.
Even though it is not waterproof, it survives sweating. As far as removal is concerned, the mascara doesn't require too much effort to get it off the lashes.
Pros
Provides amazing volume to the lashes.
No flaking or clumping
Intensely pigmented
Made with all-natural ingredients
Contains jojoba and carnauba wax for strengthening and protecting the lashes
Cruelty-free
Long-lasting
Has beautiful and luxurious packaging.
Easy to take off
Cons
This mascara is not waterproof.
Tarte Big Ego Vegan Mascara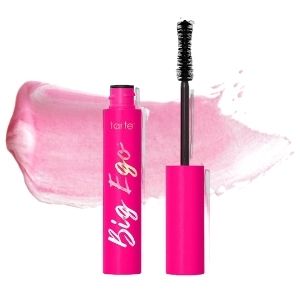 Shop Now
Tarte Big Ego Vegan Mascara comes in beautiful pink packaging. It is a plant-powered mascara that contains Babassu to condition the lashes. It claims to be ultra black.
Tarte Big Ego Vegan Mascara is flake-free that instantly lifts, lengthens, and volumizes the lashes to accentuate them. With just one stroke, this mascara gives a striking and fuller look without flaking.
The formula nourishes and conditions the lash hair. The confiDENSE booster brush mimics the lash line and provides a thick, curly, and natural effect to them.
Tarte Big Ego Vegan Mascara has a clump-free formula that allows multiple coats. It has a staying power for up to 16 hours.
Pros
This mascara is a vegan and plant-powered formula.
Contains Babassu that nourishes and hydrates the lashes.
Sunflower seed wax helps in naturally thickening.
This mascara is flake-free.
Ultra black
Lengthens, lifts, and volumizes.
Safe for contact lens users.
Cons
Might dry out fast when opened.
Wand might be too big for some.
Tarte Cosmetics Lights Camera Lashes Mascara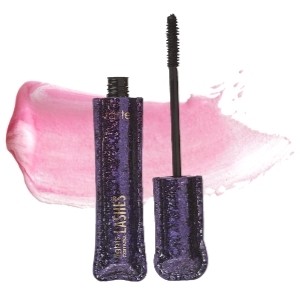 Shop Now
Another hyped Mascara, and for good reasons, is the Tarte Cosmetics Light Camera Lashes Mascara. This 4-in-1 mascara is considered to be a push-up bra for your lashes. Infused with olive esters, it is a lengthening, curling, volumizing, and conditioning mascara and helps treat and protect lashes and make them fuller and longer.
Tarte Cosmetics Light Camera Lashes Mascara is dermatologist- and clinically proven. It increases the lash volume in one application with clump-free lengthening, curling, and conditioning.
This Tarte mascara has a luxurious formula and is free of parabens, petrochemicals, sulfates, preservatives, oil, gluten, dye, talc, and fragrance. As a result, those with sensitive eyes or wear contact lens wearers can give it a shot without worrying about irritation.
If you are not a fan of waterproof mascaras and detest hard-to-remove formula, you can go for this one.
Pros
Conditions, treat and protect the lashes.
Rice bran wax helps to lengthen the appearance of the lashes.
Infused with carnauba wax for smooth application.
Provitamin B5 helps in hydrating.
Contains mineral pigments to soothe the skin
Intensely pigmented
24 hours smudge-free and flake-free.
360 degrees magniLASH and for an instant lift.
Vegan
Cons
Little expensive
Dries out quickly.
Tarte Cosmetics Amazonian Clay Smart Mascara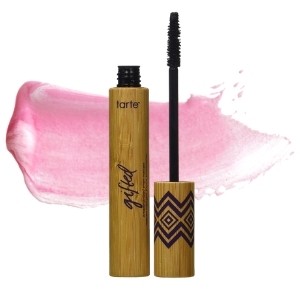 Shop Now
This beautifully packed mascara is the first and a smart mascara that intuitively finds and treats your unique lash issues, delivering the benefits you need and the volume you desire.
Tarte Cosmetics Amazonian Clay Smart Mascara prevents lash loss, promotes lash health, and works over time. Amazonian clay balances, nourishes, hydrates, replenishes, and repairs to promote healthy, more voluminous lashes.
This, one of the best Tarte mascaras, repairs and conditions dry and brittle lashes. If you are allergic to standard-formula mascaras that leave your eyes red and irritated, you will find its formula soothing. Moreover, it is great for sensitive or dry eyes.
Though it is not waterproof, it is definitely water-resistant. Coming to the staying power, this mascara lasts for a whole day.
Pros
Claims to thicken, lengthens, and curls the lashes.
It has a soft, weightless volume.
Gets applied smoothly
It "treats" the lashes.
Has Amazonian clay that balances, nourishes, and hydrates to promote healthy and voluminous lashes.
Vegan and cruelty-free
Safe for contact lens users.
Cons
Slightly expensive
Dries out quickly
Tarte Tarteist Lash Paint Mascara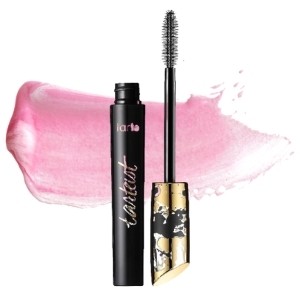 Shop Now
Tarte Tarteist Lash Paint Mascara is a vegan mascara with a molded brush. It provides extra volume to sparse and tiniest lashes. The silicone wand has multi-length bristles.
Tarte Tarteist Lash Paint Mascara coats and separates every lash with great length. It has the remarkable property of lasting all day without flaking or clumping. It gives a lush and dramatic and appearance to the lashes without feeling heavy.
If you crave long lashes, give it a shot. Since the mascara has a watery consistency, removing the mascara is hassle-free. Above all, it lasts fairly long.
Pros
Gives a dramatic look with all-natural ingredients.
It has triple-black painted mineral pigments to provide ultra-black pigment and nourishes the skin around the lash line.
It has cellulose, a plant-derived ingredient used as a thickening agent.
Has a silicone wand with multi-length bristles
Grabs and coats every lash.
Lasts the whole day without flaking.
Easy to remove
Cons
Buying Guide for Mascara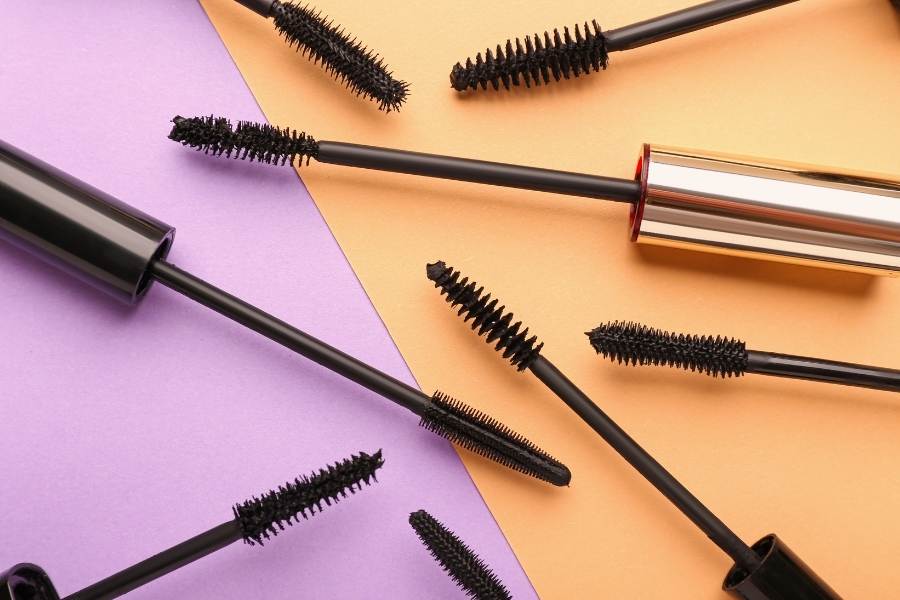 Select the correct wand
Different people choose different-sized wands. Therefore, you need to select the correct wand according to your preferences. Some people prefer long wands, while some go for shorter ones for more precision. Different wands are designed to solve different eyelash issues. Some wands may provide voluminous lashes, while some help in curling the lashes.
There is a huge variety of mascara wands for you to choose from:
Curved wand: perfect for curling the lashes
Cone-shaped wand: perfect for corner lashes
Thin and skinny wand: perfect for people with smaller lashes
Short rubber bristles: perfect for providing length
Thick and dense bristles: perfect for providing thickness and long lashes
Ball-shaped: perfect for curling the lashes by reaching out to every single lash
Bottom lash wand: perfect for bottom lashes
Know the formula
Another factor you would want to consider is the mascara formula. Just like the wand, you have a wide range of formulas too to choose from. We have listed a few of them for you:
Waterproof mascara: waterproof mascaras will last longer, and they won't smudge. These mascaras will provide you with dramatic lashes and won't be affected by tears or sweat. But, save your waterproof mascaras for special occasions as they can be difficult to remove, making your lashes fall out.
Water-soluble mascara: water-soluble mascaras tend to smudge and flake easily. These are not that long-lasting as they can smudge with the slightest touch of water. You can easily take off these mascaras with fewer chances of fall out.
Long-lasting mascara: there's a difference between waterproof mascara and long-lasting mascaras. Long-lasting mascaras will last for the whole day, saving you from reapplying the mascara as reapplying might stick the lashes together.
Lengthening mascara: lengthening mascara can provide length to your lashes and can be great for people with smaller lashes. It adds length to the natural lashes. The mascara combines with the lashes making it appear longer.
Curling mascara: who doesn't like long, uplifted, and curled lashes. Curling mascaras will enhance the look of your eyes, making them look wide and big. The formula of these mascaras helps in holding the curled lashes.
Volumizing mascara: volumizing or thickening mascaras can help you achieve thicker lashes by separating every single lash. These mascaras have ingredients like silicone polymers and wax to provide a fuller and dense look.
Lash defining mascara: it is an all-in-one mascara. One mascara provides length, volume, and thickness.
Check the ingredients
Choose a mascara free from parabens and chemicals as you would not want to use these ingredients. Go for a formula that has natural ingredients and has moisturizing properties.
Quality
Do not compromise on the mascara's quality, even if you are on a low budget. You can choose to buy a mini version of the mascara instead of investing in the full-size product. Go for a good quality product that is safe for your lashes.
Removing the mascara
Choose a formula that can easily be removed. Rubbing your lashes vigorously can lead to eyelashes falling out. Choose an oil-based cleanser to remove the mascara. Alternatively, coconut oil will also do the job perfectly.
Final Word
In conclusion, mascara is an essential part of the makeup kit. So, when you go for a dramatic look or a no-makeup makeup look, mascara is something you cannot miss. It completes your makeup and gives a structured look, enhancing your eye shape.
Depending on your preferences, you can find a variety of mascaras from Tarte. You know, you are doing good to your lashes as Tarte is a cruelty-free brand and uses all-natural ingredients.
Having a good mascara is a must-have for every makeup lover, so we have listed a few of the best Tarte mascaras so that you can find your perfect pick.
Related Posts